Modern Culture
Welcome to Life Without Plastic - shop for the best plastic alternatives - environmental and eco-friendly shop - plastic free products - non plastic products - water dispenser, bottle, food container, lunch boxes, baby dishes, tumblers, plates, water stor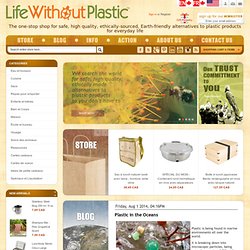 We recently discovered a scrumptious oatmeal cookie recipe that requires only 2 ingredients: ripe bananas and oatmeal. No need for sugar, nor flour, just these 2 nutritious ingredients. We love it so much that we intend to make a huge batch of these cookies for close friends and family over the upcoming holidays, conveniently "wrapped" in one of our awesome stainless steel airtight containers. The container is part of the gift. Here is the recipe:
In Photos: Artwork created from discarded cigarette butts Cigarettes aren't only bad for your health but statistics point out that they're even worse for the environment. According to recent statistics, about 1.1 billion people in the world are smokers and about 10 million cigarettes are purchased every minute around the world. Apart from creating a plume of toxic gases, cigarettes leave a much longer effect on the environment in the form of cigarette butts. Cigarette butts can take up to 12 years to degrade. Moreover, a new study has rated cigarette butts as one of the most ubiquitous forms of garbage in the world that have been found to be toxic to saltwater and freshwater fish.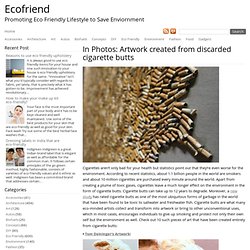 In Photos: Artwork created from discarded cigarette butts
"The Scream" Trash Art by Bernard Pras - CulturalBook
East Van Vodka March 31, 2014 | 0 Comments Designed by Cause+Affect | Country: Canada "Odd Society Spirits is a small-batch craft distillery in the heart of East Vancouver and Cause+Affect was responsible for its entire brand including naming, logo, brand story and website as well as the distillery and tasting lounge interior design and individual product naming and packaging design along with copywriting.
Lovely Package | Curating the very best packaging design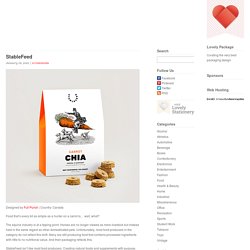 Top 20 World Most Beautiful Living Spaces | Ultra Home
03 Mar 2013 March 3, 2013 If you are browsing internet for Home Ideas, Decoration and Remodeling Tips you are on the right place. In today's article we collected the top 20 most beautiful living spaces around the world.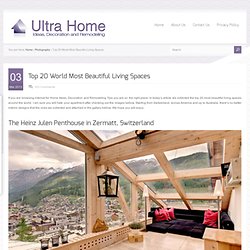 The principle inspiration for the project is the meeting of the collective and the individual, a characteristic inherent to the dormitory building type. The simple circular form of the Tietgen Dormitory is an urban response to the context, providing a bold architectural statement in the newly planned area. The building's circular form - symbol of equality and the communal - is contrasted by projecting volumes expressing the individual residences. The upper levels are organized with 360 residence units along the perimeter and the communal functions are oriented toward the inner courtyard. Facilities common to the entire dormitory are grouped at ground level. The apartments are set at differing depths in an alternating rhythm, which expresses the individual's unique identity through its form and gives the exterior form of the building it's characteristic, crystalline expression and neutralises the possibly monumental shape of the cylindrical space.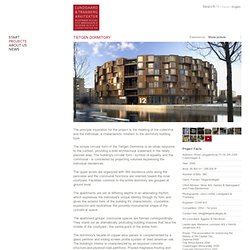 Lundgaard & Tranberg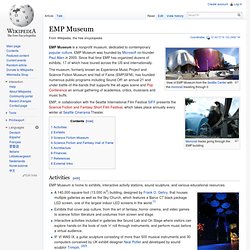 EMP Museum
Monorail tracks going through the EMP building EMP Museum is a nonprofit museum, dedicated to contemporary popular culture. EMP Museum was founded by Microsoft co-founder Paul Allen in 2000. Since that time EMP has organized dozens of exhibits, 17 of which have toured across the US and internationally.
Terroir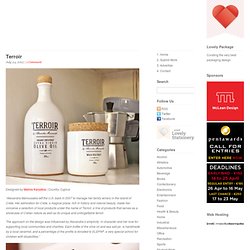 July 24, 2013 | 1 Comment Designed by Marios Karystios | Country: Cyprus "Alexandra Manousakis left the U.S. back in 2007 to manage her family winery in the island of Crete.
Metro Mensch in Washington DC
In Washington D.C. at a Metro Station, on a cold January morning in 2007, a man with a violin played six Bach pieces for about 45 minutes. During that time, approximately 2,000 people went through the station, most of them on their way to work. After about three minutes, a middle-aged man noticed that there was a musician playing. He slowed his pace and stopped for a few seconds, and then he hurried on to meet his schedule.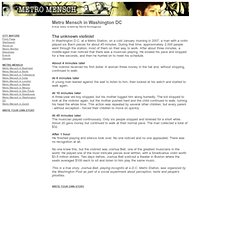 Washington DC The Bad Decision Bar: where one little drink leads to one little ride home on the Metro where you sleep past your stop only to awaken with four texts from "Skintern Blonde"… more Washington DC People often talk about the fat cats in Washington, which always seemed odd because you look around town and most of the cats… more Washington DC Because even the firm, possibly soon-to-be fired hand of Mike Shanahan can't shut down the DC dining scene, you have a hefty… more Washington DC You're going to have the Best Night of Your Life on December 21st, because you're going to embrace the longest night of the year with an equally long list of… more Washington DC The Best Night of Your Life is less than two weeks away (December 21st!), when you'll be taking advantage of the longest night of… more Washington DC The Best Night of Your Life is happening December 21st, not just because it's the longest night of the year (science!)
Nation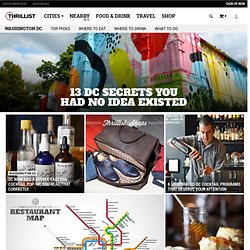 About Marcel Mauss More about Marcel Mauss Give It Away by David Graeber Ububweb Wants to be Free by Kenneth Goldsmith George Bataille & The Notion of the Gift Abbie Hoffman books About Yippies Steal This Millenium The Free Store, New Yorker 1967 The Digger Archives Situationist International Online A User's Guide to Detournment Situationist International Archives Situationist International Anthology Lettrist International Bibliography Situationist International Bibiliography Dada Situationist Situationist Definitions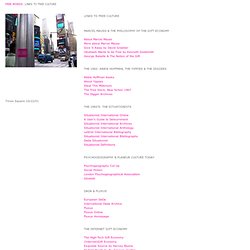 Links to Free Culture
HUNGER TV | HUNGER MAGAZINE | Fashion, Beauty, Music, Photograpy, Art & Culture, Documentary, Film
Art & Culture Shanghai 2013: Year In Pictures – Part 2 Published on 12 January 2014
Paul Marks, senior technology correspondent (Image: Comicon de Montréal 2012) Truth got stranger than fiction in low Earth orbit this week as the crew of the (fictional) starship Enterprise entered into a fascinating dialogue with the crew of the (non-fictional) International Space Station. The exchange sent sci-fi fans into uncontrolled paroxysms of geeky rapture. The catalyst was the arrival of Canadian astronaut Chris Hadfield at the ISS (via a Soyuz space taxi) on 22 December. A major-league online social networker, he has been tweeting some stunning images of the Earth and the atmosphere in between his shifts as the station's flight engineer.
Short Sharp Science: Fact and fiction blur as Captain Kirk tweets astronaut
Enterprising Captions Trek @ Twitter
Language: English Bahasa Indonesia Bahasa Melayu Dansk Deutsch Español
2011 in Lego: the year's news - in pictures | Life and style
Polyvore
Design Milk: Modern Design
TREND HUNTER - #1 in Trends, 2013 Trend Reports, Fashion Trends, Tech, Style, Design & Pop Culture
Pinterest / Home
Terry Richardson's Diary
January 18, 2014 Bruce LaBruce at the Smile. January 16, 2014 Congratulations Diane on 40 amazing years of The Wrap Dress!! January 16, 2014 Diane Von Furstenberg as Me January 16, 2014 Me and Diane Von Furstenberg at my studio. January 16, 2014 Me and Bar Refaeli at my studio. January 16, 2014 Bar Refaeli at my studio #4 January 16, 2014 Bar Refaeli at my studio #3 January 16, 2014 Bar Refaeli at my studio #2 January 16, 2014 Bar Refaeli at my studio #1 January 16, 2014
Your Online Portal for Movies, TV, Video Games and Unreal Stuff
Apr 04 2014 Go here to see why sitcom finales are hard to pull off. "Backlash to the series finale of How I Met Your Mother started pretty much the moment the credits rolled.
Zemi web presentations
Fanpop - Fan clubs for everything. What are you a fan of?
Jason Silva's Videos on Vimeo
Vimeo, Your Videos Belong Here
Video School on Vimeo
Guidelines
API License Agreement on Vimeo Developer API
Privacy Policy on Vimeo
Terms of Service on Vimeo
Explore on Vimeo
What Are We Eating?
5 organic wine-of-the-month clubs to try
Imbibe Magazine - The Ultimate Drinks Magazine, Exploring Wine, Spirits, Beer, Coffee, Tea and Every Beverage In Between - Imbibe Magazine
Timeline Photos
Bright Photographs Using Rainbow Colors
TheKnot.com - Wedding Planning - Wedding Ideas- Wedding Dresses
Expert Consulting to the Wedding and Honeymoon Industry | Engaging Concepts