Modern Culture
Welcome to Life Without Plastic - shop for the best plastic alternatives - environmental and eco-friendly shop - plastic free products - non plastic products - water dispenser, bottle, food container, lunch boxes, baby dishes, tumblers, plates, water stor
In Photos: Artwork created from discarded cigarette butts Cigarettes aren't only bad for your health but statistics point out that they're even worse for the environment.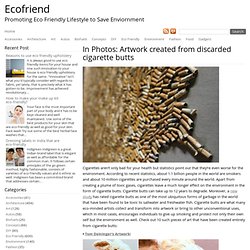 In Photos: Artwork created from discarded cigarette butts
"The Scream" Trash Art by Bernard Pras - CulturalBook
The principle inspiration for the project is the meeting of the collective and the individual, a characteristic inherent to the dormitory building type. The simple circular form of the Tietgen Dormitory is an urban response to the context, providing a bold architectural statement in the newly planned area.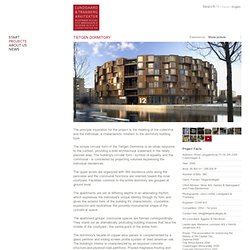 Lundgaard & Tranberg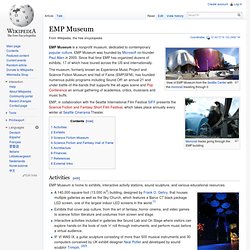 EMP Museum
Monorail tracks going through the EMP/SFM building The EMP Museum (formerly known as Experience Music Project and Science Fiction Museum and Hall of Fame or EMP|SFM ) is a museum dedicated to the history and exploration of popular music , science fiction and pop culture located in Seattle , Washington . The Frank Gehry –designed museum building is located on the campus of the Seattle Center , adjacent to the Space Needle and the Seattle Center Monorail , which runs through the building. The EMP Museum was founded by Microsoft co-founder Paul Allen , and opened its doors in 2000.
Metro Mensch in Washington DC
In Washington D.C. at a Metro Station, on a cold January morning in 2007, a man with a violin played six Bach pieces for about 45 minutes.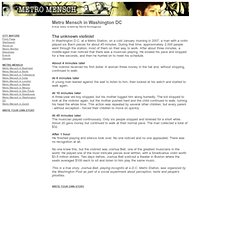 Designed in the retro style of minimalist, early 20th century furniture, the limited edition SNE iPad stand is a masterfully molded,... more Next time you're in Munich pry yourself outta the Hofbrauhaus long enough to hit... more Meticulously assembled from found California cypress, Split Grain's sculptural lamps "explore the hidden beauty of the grain and growth of trees" by stacking thin,... more From a crew who previously developed an innovative (and super-popular) line of auto-watering plant pots, the Smart Herb Garden's... more Should you make it to Abu Dhabi one day, perhaps you'll stay at the Ritz Carlton's new waterfront property, which was... more If the return of Game of Thrones and The Walking Dead last night wasn't enough to satisfy your TV binging, get excited.
Nation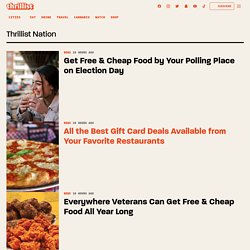 About Marcel Mauss More about Marcel Mauss Give It Away by David Graeber Ububweb Wants to be Free by Kenneth Goldsmith George Bataille & The Notion of the Gift Abbie Hoffman books About Yippies Steal This Millenium The Free Store, New Yorker 1967 The Digger Archives Situationist International Online A User's Guide to Detournment Situationist International Archives Situationist International Anthology Lettrist International Bibliography Situationist International Bibiliography Dada Situationist Situationist Definitions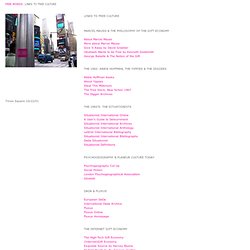 Links to Free Culture
HUNGER TV | HUNGER MAGAZINE | Fashion, Beauty, Music, Photograpy, Art & Culture, Documentary, Film
Paul Marks, senior technology correspondent (Image: Comicon de Montréal 2012)
Short Sharp Science: Fact and fiction blur as Captain Kirk tweets astronaut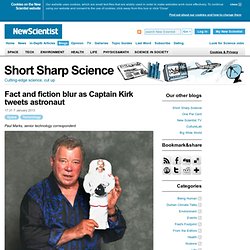 Twitter
2011 in Lego: the year's news - in pictures | Life and style
Zemi web presentations
Jason Silva's Videos on Vimeo
Guidelines
API License Agreement on Vimeo Developer API
Privacy Policy on Vimeo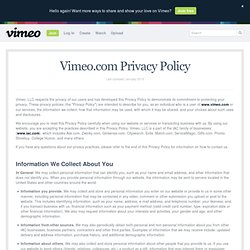 Vimeo, LLC respects the privacy of our users and has developed this Privacy Policy to demonstrate its commitment to protecting your privacy.
PLEASE READ THIS DOCUMENT CAREFULLY. Vimeo, LLC ("Vimeo," "we," or "us") offers an online video sharing platform and community through its website located at Vimeo.com (the "Vimeo Site") and related domains (including VimeoPRO.com ), mobile applications, desktop applications, and PC television applications (collectively, the "Vimeo Service"). By registering as a member or by using the Vimeo Service in any way, you accept these Terms of Service ("Agreement"), which forms a binding agreement between you and Vimeo. If you do not wish to be bound by this Agreement, do not use the Vimeo Service.
Terms of Service on Vimeo
Explore on Vimeo
Organic wines — made from grapes and other ingredients grown without synthetic fertilizers and pesticides — are ideal for oenophiles concerned about their health and the planet. But what if your wine store doesn't carry organic brands? One way to expand your palate is by joining an organic wine-of-the-month club. By subscribing to an organic wine-of-the-month club, you will regularly receive a specified number of chemical-free offerings selected from vineyards around the globe.
5 organic wine-of-the-month clubs to try
Imbibe Magazine - The Ultimate Drinks Magazine, Exploring Wine, Spirits, Beer, Coffee, Tea and Every Beverage In Between - Imbibe Magazine
Timeline Photos
Bright Photographs Using Rainbow Colors