Game Design Blogs
How do we get players to play together in a manner that fits their schedules? This is a key logistical challenge a designer faces when building multiplayer games. The promise We are seeing a blossoming of innovative multiplayer systems. In previous eras there were a handful of default models that games might use (matches, play-by-mail). Games today exist on a spectrum from fully concurrent to fully asynchronous and everything in between. A game like Dark Souls is predominantly single player, but includes interactions that are asynchronous (the leaving of messages and deaths) or fully concurrent (the joining of another player into your game for PvP or Coop.)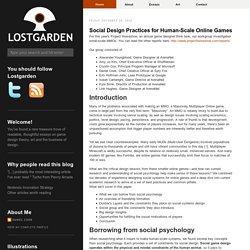 Quick Access to Course Pages Posted on July 1, 2008 by altug isigan Play is Older Than Culture Filed under: Uncategorized | Comments Off Paper Presentation at the ICIDS 2013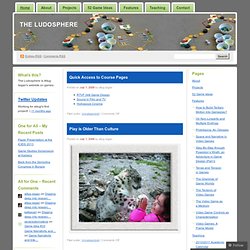 The Ludosphere
Что заставляет игроков переигрывать игры по несколько раз | Хитри - блог о хитростях разработки флэш-игр, игровых баннеров и флэш-анимации
Недавно меня спросили: "Есть ли у меня забавные игрушки с высокой реиграбельностью?" Немного подумав, я понял, что почти ничего не знаю о том, как сделать игру, в которую игроки будут возвращаться снова и снова. Следующие несколько недель я рыскал по интернету в поисках всего по заданной теме. Полученная информация вылилась в доклад для GameDevSat в Днепропетровске, который проходил 24.09.11. Итак, почему же люди переигрывают одни и те же игры по несколько раз?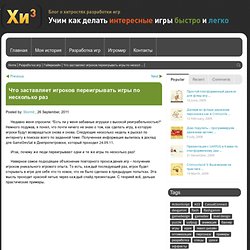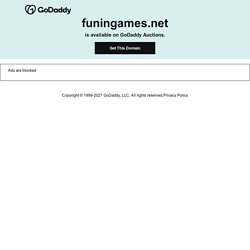 Fun in Games — Otherwise yer doin' it wrong!
ムダ毛の無い生活 時代が進むにつれ、人間のオシャレってより多くのバリエーションが生まれていますよね。 夏はもちろん、冬でもちょっとした肌の露出を意識したようなファッションもあります。このように人の趣向が多様化する世の中だからこそ、人はよりムダ毛という存在が気になるのではないでしょうか?
Mana Obscura | Tales of Magic from Strange Worlds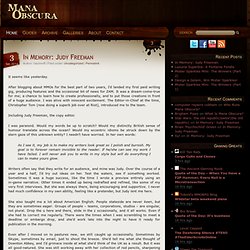 I've never wanted to wash my hands after playing an iPad game. That is, until I'd played Luxuria Superbia. At first glance it reminded me of rhythm roller-coaster Audiosurf, although perhaps with a seedy seventies vibe. The truth, it turns out, was even more peculiar, with my fingers playing as unwitting servants to the sultry demands of a digital flower. Continue reading
I'm not a massive fan of the press, games or otherwise, being told they can't report on something and it's happened twice this week so far. Last night at Midnight the BBC announced that two recovered Patrick Troughton Doctor Who stories were being released at that moment on iTunes. Everybody was happy, especially as it includes both The Enemy of the World and The Web of Fear (one episode still missing but reconstructed), which sees first appearance of then Colonel Lethbridge-Stewart fight Yetis on the London Underground. They just don't make TV like that anymore. The dumb part of this story is that the press were told in the early afternoon and everybody was sworn to secrecy so that, presumably, the official announcement could be the second that they went up on iTunes.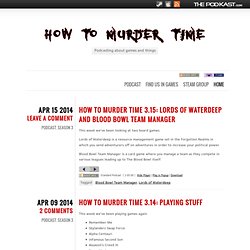 How to Murder Time » Podcasters without portfolio
Raging Monkey's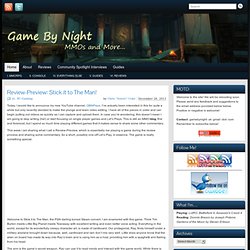 It feels like the video game industry – and, more importantly, its consumers – have just about cast off the shackles of social stigma. Mainly owing to the explosion of mainstream gaming, it's no longer commonly seen as a pursuit of the lonely nerd (or violent psychopath in the making). The act of making a good game is finally being considered the art that it is. Not only are more people enjoying them, but it's no longer a niche pipe dream to study it for career purposes, as evidenced by the increased enrolment at NYFA's game design school.
Game By Night
Dear Reader, Today was my first day back at work, "thanks" to the two snow days we had due to the "polar vortex." What that functionally means is that instead of 5 light days of work, I instead have 3 heavy days of work.
Sheep The Diamond
In this article, aspiring game designer Gabby Taylor discusses the evils of microtransactions and how it has changed attitudes and practices in the game industry. Microtransactions have completely fucked the game industry. But first, a couple explanations: for those who may not be aware, microtransactions (also known as "in-game purchases") are most rampant in casual games like Angry Birds Go or Candy Crush Saga, but they exist in more hardcore titles too like Grand Theft Auto Online or Gran Turismo 6.
Game Design Aspect of the Month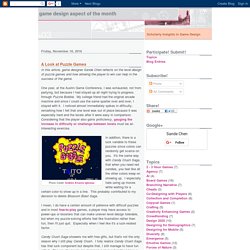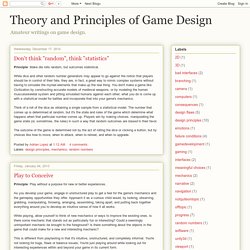 Theory and Principles of Game Design
The holy grail of narrative game design is a game with a carefully constructed narrative that players can influence to the same degree as their real lives. The goal is to have stories that are every bit as engaging as traditional narratives but created in such a way as to enable a rich variety of player experiences. For games in which content is written primarily by human beings, creating such flexible narratives is almost certainly impossible given the number of potential choices for the player -- far too many for any author to account for. On the other hand, for games in which content might be generated dynamically with the aid of computer algorithms, current Artificial Intelligence approaches aren't advanced enough to produce engaging narratives.
Fig 1. Games are simple. They are designed activities that produce certain kinds of pleasure. They are interesting in various ways – as problems to solve, worlds to explore, comforting rituals, or novel ideas to consider. And they are voluntary, we do them instead of working.
Game Design Advance › Home of New York's Intellivisiongentsia
U.S. demand for digital games grows 11% in 2013 The U.S. digital games market continues to expand at a brisk pace thanks to expanding demand for mobile and free-to-play titles, including global sales juggernauts like CrossFire and League of Legends. Subterfuge: Designing a strategy game that takes a week to play
The Game Prodigy
Gone Gaming
Since we're sharing, here's the original approach to me and Fraser back in December 2005 to join what we saw as the pre-eminent boardgaming blog. Hello Fraser, Melissa, "BIGGIE" & "lil`un" and the 'critters'-if many as I send this for your to read upon and answer quickly please, thanks for reading over it. We would like for the BOTH of YOU to join in at the 'blog' for ONE 'day' out of the WEEK for a "Weekly" upkeep about YOUR 'gaming experiences' with insights, etc. and you could even alternate or however you'd like to approach this:"FROM: the BGG 'group of geeks"I'd suggest EACH of us write to them(you folks~edit.) with our very OWN 'notions' as well, in order to foster IDEAS from them or even US. The better MEANS would be for ALL of us to gather in the CHAT here and maybe some of YOU would be able to LISTEN in for 'moi' TALKING through that as well as ANY others capable for this? I've been on for hours with folks ALL over the world at NO Cost 'extra' for it.
I want to share a little discovery, a trick easing the creation and development of games. First a short motivational and historical introduction. I don't know if you have it too, but when I'm creating a game, I often add to it a lot of keyboard shortcuts – even a few dozens.
Open Editorial January 3rd, 2014 Games of the Year: The 2013 AiGameDev.com Awards ... In our 2013 Awards for Game AI, find out the winning games in categories from technology to design and of course the overall winner. The games this year have raised the bar in many places for artificial intelligence, including autonomous buddy behavior, search-based techniques to find optimal moves, and non-character AI such as music ... Open Tutorial July 16th, 2013 Lazy Theta*: Faster Any-Angle Path Planning