Cool Products/Gadgets/Objects
Sand Flea Jumping Robot. Sand Flea is an 11-lb robot with one trick up its sleeve: Normally it drives like an RC car, but when it needs to it can jump 30 feet into the air.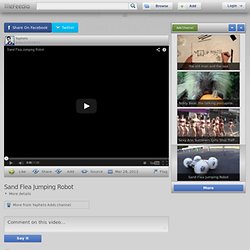 An onboard stabilization system keeps it oriented during flight to improve the view from the video uplink and to control landings. Current development of Sand Flea is funded by the The US Army's Rapid Equipping Force. For more information visit www.BostonDynamics.com. Bed1.jpg (JPEG Image, 640 × 480 pixels) 25 clever ideas to make life easier. Via: amy-newnostalgia.blogspot.com Why didn't I think of that?!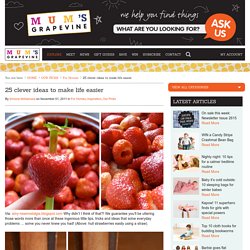 We guarantee you'll be uttering those words more than once at these ingenious little tips, tricks and ideas that solve everyday problems … some you never knew you had! (Above: hull strawberries easily using a straw). Simple Ideas That Are Borderline Genius (35 Pics) SWYP: See What You Print. Human-Body-Facts-2-copy.jpg (JPEG Image, 620x8050 pixels) Chasing Vivid Dreams. Cubelets Engineering Prototypes. PASTASAURUS™ FOOD FACE™ Hug Chair by Ilian Milinov. A Chair for Clingy Lovers If you've ever had someone sit in your lap, you know that 15 minutes is about the max your legs can handle.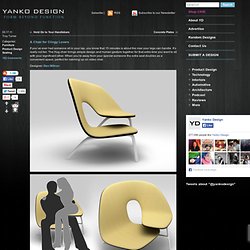 It's really not fair. The Hug chair brings simple design and human gesture together for that extra time you want to sit with your significant other. 11 cheap gifts guaranteed to impress science geeks. Science comes up with a lot of awesome stuff, and you don't need a Ph.D, a secret lab, or government funding to get your hands on some of the coolest discoveries.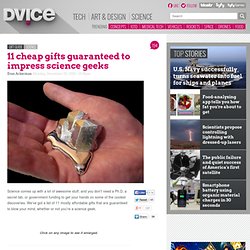 We've got a list of 11 mostly affordable gifts that are guaranteed to blow your mind, whether or not you're a science geek. Click on any image to see it enlarged. 1. 60 Small Ways to Improve Your Life in the Next 100 Days. Contrary to popular belief, you don't have to make drastic changes in order to notice an improvement in the quality of your life.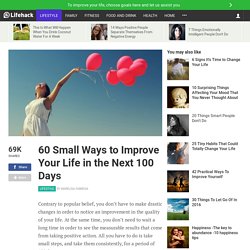 At the same time, you don't need to wait a long time in order to see the measurable results that come from taking positive action. All you have to do is take small steps, and take them consistently, for a period of 100 days. Funny Pictures on your Mobile. Simple Ideas That Are Borderline Genius Part 8. Japanese Museum Unveils A Giant Globe Made of 10,000 Live-Updating OLED Panels.
Geo-Cosmos If you want to see what Earth looks like from space, become an astronaut (or, barring that, a space tourist). For the next best view, pay a visit to Tokyo's National Museum of Emerging Science and Innovation where a massive, nearly 20-foot spherical OLED orb--the world's first large scale spherical OLED --offers a satellite's-eye view of the planet in super high resolution. All-in-One Modular Fold Out Living Room Furniture Set. This incredible all-in-one furniture set from Matroshka is still looking for funding – so if you want to have one you might need to become an investor.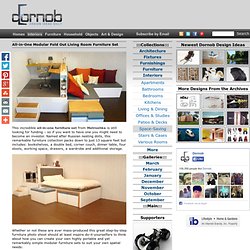 Named after Russian nesting dolls, this remarkable furniture collection packs down to just 13 square feet but includes: bookshelves, a double bed, corner couch, dinner table, four stools, working space, drawers, a wardrobe and additional storage. Whether or not these are ever mass-produced this great step-by-step furniture photo shoot should at least inspire do-it-yourselfers to think about how you can create your own highly portable and yet remarkably simple modular furniture sets to suit your own spatial needs:
This Awesome Urn Will Turn You into a Tree After You Die | Design for Good. You don't find many designers working in the funeral business thinking about more creative ways for you to leave this world (and maybe they should be).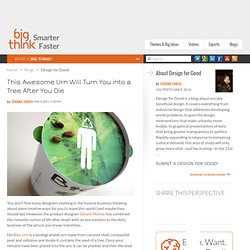 However, the product designer Gerard Moline has combined the romantic notion of life after death with an eco solution to the dirty business of the actual, you know, transition. His Bios Urn is a biodegradable urn made from coconut shell, compacted peat and cellulose and inside it contains the seed of a tree. Once your remains have been placed into the urn, it can be planted and then the seed germinates and begins to grow. You even have the choice to pick the type of plant you would like to become, depending on what kind of planting space you prefer. I, personally, would much rather leave behind a tree than a tombstone.
Stick POP Portable Printer by Jihun Kang, Youngho Lee, Jieun Lee & Changsu Lee. Printouts In A Jiffy, Anywhere It was about time that someone came up with this, I mean we are in the portable era!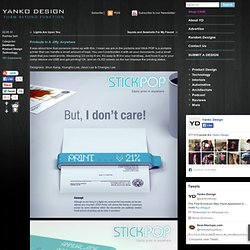 Stick POP is a portable printer that can handle a small amount of load. You can't overburden it with all your documents, just a small stash that you need pronto. TetraBox Light by Ed Chew. Liquid to Light Designer Ed Chew takes a green step in the right direction with the TetraBox lamp, a light object made from discarded drink packets that would have otherwise ended up in landfills already packed to the brim.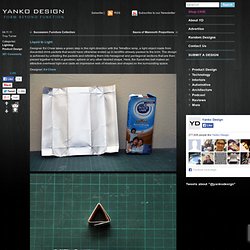 The design is achieved by unfolding the packets and refolding them into hexagonal and pentagonal sections that are then pieced together to form a geodesic sphere or any other desired shape. Here, the Epcot-like ball makes an attractive overhead light and casts an impressive web of shadows and shapes on the surrounding space. Designer: Ed Chew.
---