Food
Bake or Break | Outrageous Chocolate Cookies. Quinn and I are not among the throngs who celebrate Valentine's Day.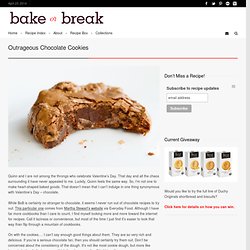 That day and all the chaos surrounding it have never appealed to me. Luckily, Quinn feels the same way. Food - Recipes : Garlic and chilli king crab with steamed rice. Homemade pop tarts. I never had a Pop-Tart until college.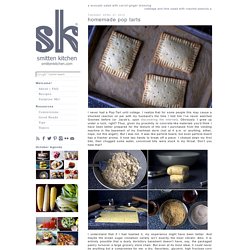 I realize that for some people this may cause a shocked reaction on par with my husband's the time I told him I've never watched Goonies before (or Jacob's, upon discovering the internet). Obviously I grew up under a rock, right? Thus, given my proximity to concrete-like materials you'd think I have been better prepared for the texture of the one I purchased from the vending machine in the basement of my freshman dorm (not at 4 a.m. or anything, either, nope, not this angel!). But I was not. 60 Second Chocolate Chip Cookie A la Mode. I had so much fun developing this recipe.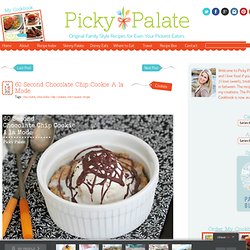 Talk about kinda dangerous though. This baby is baked in 60 seconds, no lie!! The cookie dough recipe is prepared right in your ramekin, so we are also talking about minimal dishes. Cybercandy Ltd. For the Love of Cooking. Homepage. Cooking for 2 recipes. Vegetable Tian. This is a recipe I adapted from one I found in "Barefoot in Paris".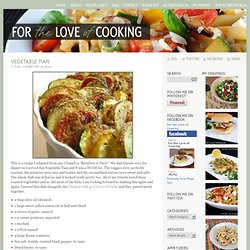 We had friends over for dinner so I served this Vegetable Tian and it was a HUGE hit. The veggies were perfectly roasted, the potatoes were nice and tender and the caramelized onions were sweet and salty. The whole dish was delicious and it looked really pretty too. All of my friends loved these roasted vegetables and so did most of the kids. Bake or Break |  Recipe Index. <div class="no-js-alert"> Please enable JavaScript to view this website.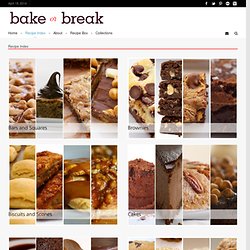 </div> Subscribe. How to Make Thai Iced Tea From Scratch. The past few days we've had summer-like temperatures here in New York and we ate outside on our tiny balcony for the first time this year.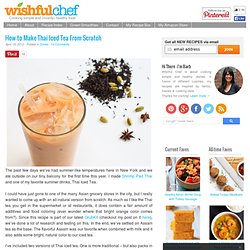 I made Shrimp Pad Thai and one of my favorite summer drinks, Thai Iced Tea. I could have just gone to one of the many Asian grocery stores in the city, but I really wanted to come up with an all-natural version from scratch. As much as I like the Thai tea you get in the supermarket or at restaurants, it does contain a fair amount of additives and food coloring (ever wonder where that bright orange color comes from?). Chocolate Mint Brownie Bites. I didn't know what to call these things.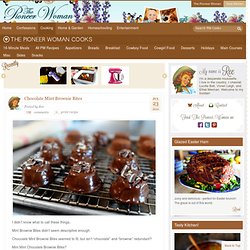 Mint Brownie Bites didn't seem descriptive enough. Chocolate Mint Brownie Bites seemed to fit, but isn't "chocolate" and "brownie" redundant? Mini Mint Chocolate Brownie Bites? Chocolate Mint Mini Brownies? Nutella Krispie Treats. I don't know what happened, but all of a sudden we're on a huge Rice Krispie Treat kick in our house.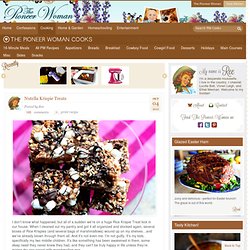 When I cleaned out my pantry and got it all organized and stocked again, several boxes of Rice Krispies (and several bags of marshmallows) wound up on my shelves…and we've already blown through them all. And it's not even me. Supreme Pizza Burgers. A couple of weeks ago (or was it a couple of years ago?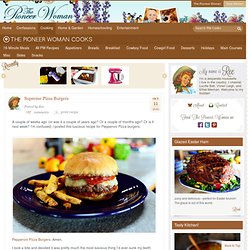 Or a couple of months ago? Or is it next week? I'm confused) I posted this luscious recipe for Pepperoni Pizza burgers: Pepperoni Pizza Burgers. Amen. Mexican Charred-Corn Dog. Most gawked all-time. The 45 Best Street Food Stalls in London. - Compiled by Victoria Philpott Street food in London is tasty, cheap and plentiful – when you know where to look.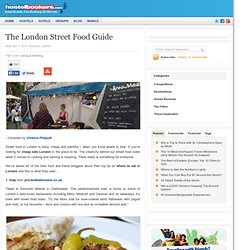 If you're looking for cheap eats London is the place to be. The creativity behind our street food stalls when it comes to cooking and serving is inspiring. Baked Zucchini Fries. Avocado Fries. Oh dear. I never should have done this. This may be one of my biggest mistakes all year. Can't take it back now. So we're totally enjoying our grilled avocados, but my husband innocently asks "What else can you do with avocados?"
Sloppy Joes Recipe. The trick to this recipe is to brown the meat well, on high heat. Don't crowd the pan, work in batches, and don't stir the meat until it is well browned on one side. It helps to use a large cast iron pan, or an anodized aluminum pan, as these pans can handle the heat and are relatively stick-free. Method 1 Heat olive oil in a large sauté pan on medium high heat. Perfect Guacamole Recipe. Ingredients 2 ripe avocados1/2 teaspoon Kosher salt1 Tbsp of fresh lime juice or lemon juice2 Tbsp to 1/4 cup of minced red onion or thinly sliced green onion1-2 serrano chiles, stems and seeds removed, minced2 tablespoons cilantro (leaves and tender stems), finely choppedA dash of freshly grated black pepper1/2 ripe tomato, seeds and pulp removed, chopped Garnish with red radishes or jicama.
Serve with tortilla chips. Recovered espresso chocolate chip shortbread cookie recipe. Recipe: espresso chocolate chip shortbread What new views through the lens? I went leaf hunting today and found… tall trees. Pizza with bacon, onions and cream. I am busted. Someone figured out that I made this over a week ago and have been holding out on you and called me out on it. Guilty as charged. I know nobody will believe me, but I swear, sometimes I just come up blank.
I keep trying to figure out how I can convince you that you should make this now, right now, but I'm having a hard time. It's January, after all, the month of absolving (oneself of having eaten a lot bacon) and resolving (to stop eating so much bacon), and I suspect that the last thing people want to be taunted with is a homemade pizza, creamy tangy base, lightly caramelized onions and thick crunchy salty smoky-sweet — that's right — bacon lardons. BBC Good Food - Recipes and cooking tips. Viennese cucumber salad. Punchfork — The best new recipes from top food sites. How to Cook | Cook&s Country - Recipes That Work.
---