Desserts
Chocolate Chip Cookie Dough Truffles. Chocolate Chip Cookie Dough Truffles I've never liked chocolate chip cookies.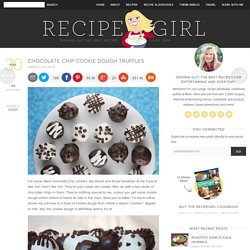 Go ahead and throw tomatoes at me if you'd like, but I don't like 'em. They're just a plain old cookie, after all, with a few studs of chocolate chips in them. Biscoff Macarons. I know, I know, more macarons.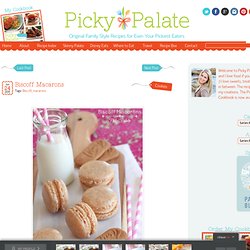 I don't know what's wrong with me, but I want to make them all the time! You do not want to miss this one. I crushed up the crunchy biscoff cookies into the macaron batter and used creamy Biscoff spread for the buttercream. Let's just say this is one of my favorite Macarons yet! I won't keep you waiting any longer, let's take a look at the process. Biscoff Pie. Biscoff Pie The Biscoff craving hit me today.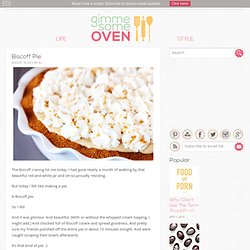 I had gone nearly a month of walking by that beautiful red and white jar and oh-so-proudly resisting. But today I felt like making a pie. A Biscoff pie. No Bake Nutella Cheesecakes. If you happened to catch my post on How To Skin Hazelnuts, you may remember me saying that I have reawakened my obsession with Nutella.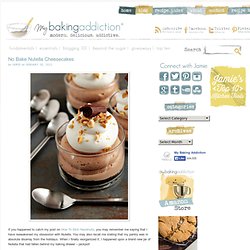 You may also recall me stating that my pantry was in absolute disarray from the holidays. When I finally reorganized it, I happened upon a brand new jar of Nutella that had fallen behind my baking drawer – jackpot! This little find rekindled my love affair with all things Nutella in a big way. Apple fritters recipe. Recipe: apple fritters Home never felt so good and happy.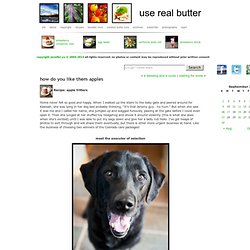 When I walked up the stairs to the baby gate and peered around for Kaweah, she was lying in her dog bed probably thinking, "It's that Jeremy guy… ho hum." But when she saw it was me and I called her name, she jumped up and wagged furiously, pawing at the gate before I could even open it. Then she lunged at her stuffed toy hedgehog and shook it around violently (this is what she does when she's excited) until I was able to put my bags down and give her a belly rub hello.
I've got heaps of photos to sort through and will share them eventually, but there is other more urgent business at hand. 60 Second Chocolate Chip Cookie A la Mode. I had so much fun developing this recipe.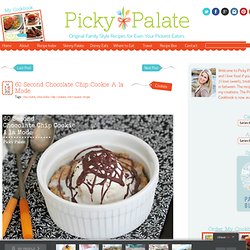 Talk about kinda dangerous though. This baby is baked in 60 seconds, no lie!! 2-Minute Chocolate Chip Cookie For One. This is one of those 'I-need-a-cookie-right-now-or-I-die' recipes that can be prepared in almost no time.We all know that kind of situation, don't we?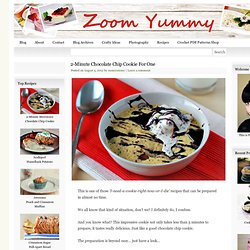 I definitely do, I confess.And you know what? This impressive cookie not only takes less than 5 minutes to prepare, it tastes really delicious. Just like a good chocolate chip cookie.The preparation is beyond easy… just have a look… First you need this stuff. 1. Nutella Cinnamon Rolls. May 10, 2011 | Print | E-mail | Filed under bread, nutella There are some days that I just lose my appetite.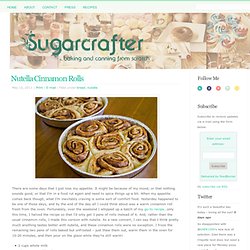 It might be because of my mood, or that nothing sounds good, or that I'm in a food rut again and need to spice things up a bit. When my appetite comes back though, what I'm inevitably craving is some sort of comfort food. Yesterday happened to be one of those days, and by the end of the day all I could think about was a warm cinnamon roll fresh from the oven. Fortunately, over the weekend I whipped up a batch of my go-to recipe…only this time, I halved the recipe so that I'd only get 3 pans of rolls instead of 6. Brown Butter Double Fudge Chocolate Chip Cookie Dough Cookies.
Little bit of a mouthful there.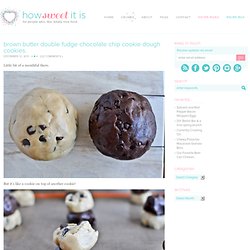 But it's like a cookie on top of another cookie! Yeah. Like total dirty cookie on cookie action. Except these ones down below wanted to try a few different positions. I dunno… they're all mixed up. Peaches and Cream Coffee Cake Recipe. Heath Bar Cookies Recipe. Method Heath Bars are popular American chocolate-covered-toffee candy bars.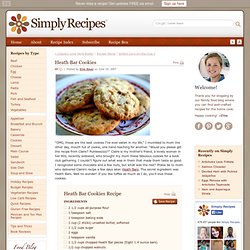 Heath Bar toffee bits are often available in the baking section of grocery stores. Either chopped up candy bars or the bits can be used for this recipe. The bars have chocolate, the bits don't. Nutella filled Doughnuts. These are THE most delicious little balls of pillowy, chocolaty, hazelnut goodness! I wish you could smell them. The dough is intoxicating. Apple Pie Bites on a Stick. Ingredients: - 1 large red delicious apple, finely chopped - 1 tbsp butter - 1/8 cup brown sugar, packed - 1 tsp corn starch - 1/2 tsp cinnamon - 1/4 tsp nutmeg - 1/4 tsp cloves, or all-spice - 2 tbsp cream cheese - 1 package of refrigerated crescent roll pastry (i.e.
Pillsbury) Topping: - 1 tbsp melted butter - 1/2 tsp cinnamon - 3 tbsp granulated sugar - 1 tbsp brown sugar. Beehive Cake (Brown-Butter Banana Cake and Honey Buttercream) Up until very recently my father has been a beekeeper. He had bee hives at our home in Vermont and then drove them, full of bees to Minnesota.
Due to a city ordinance he was not allowed to keep bees in his Edina yard and had to set them up at a friend's house farther out of the city. My dad would drive out on the weekends to tend to them. PREACHER CAKE | Other Breakfast Recipes | sjskukana. Cinnamon French Toast Bread Pudding. There are a number of French toast and bread pudding recipes out there that, while I'm sure are delicious, don't excite me. French toast, as most people know it, is bread soaked in an egg mixture rich with milk, spiked with cinnamon and nutmeg toasted in a hot frying pan.
On the other hand, bread pudding is more like a baked bread custard: bite-sized bread cubes soaked in a rich mixture of cream, eggs, sugar and sometimes butter. Yes, usually butter. Now, don't get me wrong, I won't turn down either when it's placed in front of me, but it's rare that I will actively pursue French toast or bread pudding. The thing with French toast is that it's easy to ruin. Got Chocolate – Celebrating All Things Chocolate » How to Make Chocolate Peanut Butter Cups. Happy Monday Chocoholics! Are you ready to cover another Monday in Chocolate? Well, I am! Today I'll show you How to Make Chocolate Peanut Butter Cups. Here we go… Chocolate Peanut Butter Cup ingredients: Peanut Butter, Chocolate (any form), peanut butter cup mold (Michael's crafts sells them), basting brush. Nigella's Old Fashioned Chocolate Cake. Gordon Ramsay's Treacle Tart Recipe: How to Make Traditional English Pastry Dessert with Golden Syrup | Suite101.com.
Chocolate Chip Cookie Dough Dip. Kiss Pies. Www.bulkbarn.ca. Chocolate Chip Cookie Dough Cheesecake. Chocolate Chip Cheesecake Dip « Slice & Dice. How To Make Perfect Brownies. Caffeine Mocha Rum Cake. Lincoln's Red Velvet (Cheesecake) Cake. Une Gamine dans la Cuisine: Jensen Bars. Red Velvet Cheesecake Brownies.
Frozen Strawberry Squares Recipe. No-bake nutter butter nutella pie. Red Velvet Cheesecake Cake.
---