Synths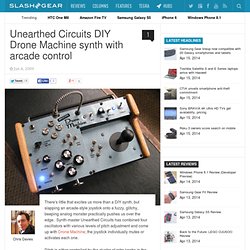 DIY Drone Machine synth with arcade control
There's little that excites us more than a DIY synth, but slapping an arcade-style joystick onto a fuzzy, glitchy, beeping analog monster practically pushes us over the edge. Synth-master Unearthed Circuits has combined four oscillators with various levels of pitch adjustment and come up with Drone Machine; the joystick individually mutes or activates each one. Pitch is either controlled by the cluster of retro knobs in the lower left-hand corner, or can be thrown over to the bank of photo-resistors up near the top.
Enjoy Schubert's Der Erlkonig performed by Thomas Grillo on the B3 Theremin - we love it! Recorded audio accompaniment by pianist, Kristian Banatzianou. New Zeppelin of Norway rocks the Zep Theremin (January 17, 2009). These teenagers flat out rock! Check out the Zep Theremin solo starting around 1:30 into this outstanding rendition of "Whole Lotta Love" (www.new-zeppelin.com)
Theremins for Every Budget!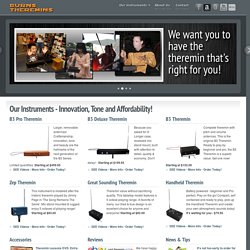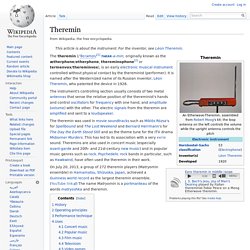 The theremin /ˈθɛrəmɪn/,[1] THAIR-ə-min; originally known as the ætherphone/etherphone, thereminophone[2] or termenvox/thereminvox is an early electronic musical instrument controlled without physical contact by the thereminist (performer). It is named after the westernized name of its Russian inventor, Léon Theremin, who patented the device in 1928. History[edit] The theremin was originally the product of Russian government-sponsored research into proximity sensors.
Theremin Kit Sales
Tonepad is dedicated to providing ready-to-use layouts for effects and amplifier projects to the do-it-yourself music community. All layouts are provided free of charge and are subject to the limitations set forth on our legal page. Parts are available from Small Bear Electronics, and ready-made PCBs for many projects are now available directly through tonepad. Please see our ordering page for more information. Most recent layouts added: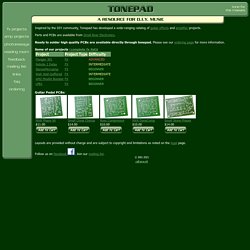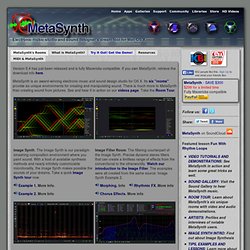 Version 5.4 has just been released and is fully Mavericks compatible. If you own MetaSynth, retrieve the download info here. MetaSynth is an award-winning electronic music and sound design studio for OS X. Its six "rooms" provide six unique environments for creating and manipulating sound.
Electro music YT ggijs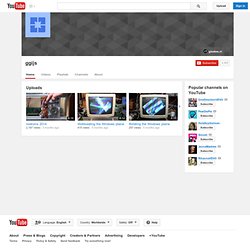 Welcome to YouTube! The location filter shows you popular videos from the selected country or region on lists like Most Viewed and in search results.To change your location filter, please use the links in the footer at the bottom of the page. Click "OK" to accept this setting, or click "Cancel" to set your location filter to "Worldwide". The location filter shows you popular videos from the selected country or region on lists like Most Viewed and in search results. To change your country filter, please use the links in the footer at the bottom of the page. Uploaded videos
Waldorf has released a new soundset, Attack, that turns the Blofeld into a drum machine sound module. Here's what they have to say about it: Continue reading Developer Jan Cumpelik is running an IndieGoGo campaign to put the Lunchbeat 1-bit groovebox into production. Continue reading This video, via John L Rice, is an informal comparison of the sound of six different large-format (5U) modular synthesizer filters: Continue reading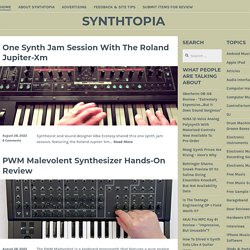 Virtual Instruments
Native Instruments has updated Maschine to version 2.1. It's a free update for existing users. The video above, via Maschine Tutorials, is a quick overview of the new features. Here's what's new in Maschine 2.1: Continue reading