Tree Houses
Treehouses next to tiger reserve. Designed to provide a rustic jungle setting, retaining modern conveniences and design, the tree houses are self contained and a perfect getaway for couples keen on privacy.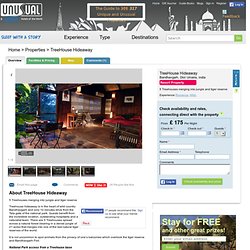 The bedrooms are furnished with understated, modern accessories in natural and earth tones. Pricing Per Night Rates Double Single. Man Builds Massive Ewok Village Replica. Treehouse Living: Finca Bellavista, Costa Rica. Treehouse Living: Finca Bellavista, Costa Rica Not far off the Pacific coast in the Costa Rican jungle, a community has taken to the trees to craft a new, sustainable life off the grid and away from urbanity.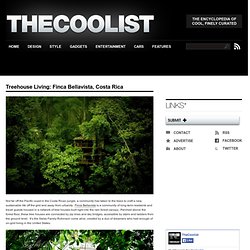 Finca Bellavista is a community of long-term residents and travel guests housed in a network of tree houses built right into the rain forest canopy. Perched above the forest floor, these tree houses are connected by zip lines and sky bridges, accessible by stairs and ladders from the ground level. It's the Swiss Family Robinson come alive, created by a duo of dreamers who had enough of on-grid living in the United States. Morris Arboretum Tree Adventure. Morris Arboretum Tree Adventure The Morris Arboretum at the University of Pennsylvania is host to a new modern tree house resting 50 feet above the forest floor.
Tree Adventure is a sprawling, 450′ walkway suspended in the canopy that gives its visitors a birds-eye view of the forest below. The design, created by Metcalfe Architecture and Design, features a modern shelter at its center, a man-made bird's nest, long, angular walkways and a canopy net where visitors can relax above the forest. 20 Tree House Pictures: Play-Club Plans to Big-Kid Houses « Dornob. Treehouses are more popular than ever, as play spaces for children but also as luxury hotel (and even house) designs for adults.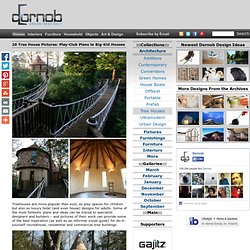 Some of the most fantastic plans and ideas can be traced to specialist designers and builders – and pictures of their work can provide some of the best inspiration (as well as an informal visual guide) for do-it-yourself recreational, residential and commercial tree buildings. Blue Forest is one such company, but far from the only one. Their specialty seems to lie somewhere between playful little fantasy structures and big educational spaces for children engaged in wildlife observation, forest ecology and related nature-oriented pursuits. The trick is to find a balance between safe and fun – railings are a must, as are sturdy supports, but whimsy and asymmetry help make these places feel more organic and engaging for younger visitors in particular.
Terrific Treehouses: 10 Brilliant Topiary Masterpieces. Terrific Treehouses: 10 Brilliant Topiary Masterpieces It's inescapable– the urge to walk away from our civilized lives and find peace in nature.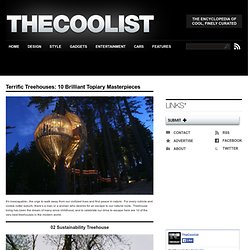 For every cubicle and cookie cutter suburb, there's a man or a woman who desires for an escape to our natural roots. Treehouse living has been the dream of many since childhood, and to celebrate our drive to escape here are 10 of the very best treehouses in the modern world. 02 Sustainability Treehouse Looking to elevate your living a bit? Lofted Forest Home: Organic Curves & Natural Materials.
Good things come to those who wait – particularly in a work of uniquely detailed and highly curved architecture.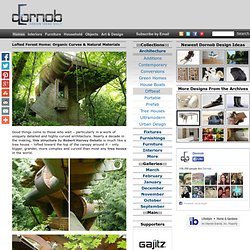 Nearly a decade in the making, this structure by Robert Harvey Oshatz is much like a tree house – lofted toward the top of the canopy around it – only bigger, grander, more complex and curved than most any tree house in the world. The perimeter of the structure is pushed out into the forest around it, curving in and out to create views as well as a sense of intimacy with the coniferous and deciduous tree cover. The wood and metal detailing is incredible in its variety and customization – each piece designed to fit a particular form and function. Wood and stone carry naturalistic themes from the outside in and even the metal looks naturally rusted.
The curved, organic mix of materials continues to the interior of this elevated forest home – a conceptual play on the fluidity and complexity of music (the source of inspiration for the architect and client in the design). Fantasy Forest Tree House. 8:57pm | Aug 21st, 2010 If this looks large to you, imagine how big it would seem to someone half your size or smaller.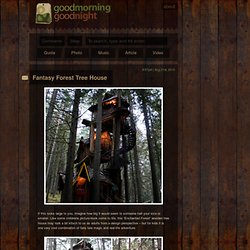 Like some childrens picture-book come to life, this 'Enchanted Forest' wooden tree house may look a bit kitsch to us as adults from a design perspective – but for kids it is one very cool combination of fairy tale magic and real-life adventure. Held up by a combination of wooden beams and actual tree trunks, a spiral staircase connects this series of interdependent levels to effectively create a single (narrative) structure out of a number of semi-autonomous rooms and floors along the way. Each platform affords places to play as well as increasingly interesting views of the surrounding treescapes. Tree House by Safdie Rabines Architects. Since the mid-1990s, recreational tree houses have enjoyed a rise in popularity.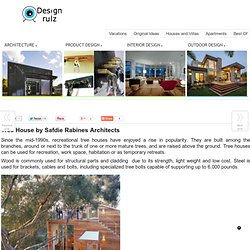 They are built among the branches, around or next to the trunk of one or more mature trees, and are raised above the ground. Tree houses can be used for recreation, work space, habitation or as temporary retreats. Wood is commonly used for structural parts and cladding due to its strength, light weight and low cost. Steel is used for brackets, cables and bolts, including specialized tree bolts capable of supporting up to 6,000 pounds. All sizes | Minister's Treehouse, Crossville, TN.
---