Cool mars 2011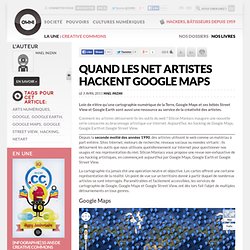 Loin de n'être qu'une cartographie numérique de la Terre, Google Maps et ses bébés Street View et Google Earth sont aussi une ressource au service de la créativité des artistes. Comment les artistes détournent-ils les outils du web ? Silicon Maniacs inaugure une nouvelle série consacrée au braconnage artistique sur Internet. Aujourd'hui, les hacking de Google Maps, Google Earth et Google Street View. Depuis la seconde moitié des années 1990 , des artistes utilisent le web comme un matériau à part entière. Sites Internet, moteurs de recherche, réseaux sociaux ou mondes virtuels : ils détournent les outils que nous utilisons quotidiennement sur Internet pour questionner nos usages et nos représentation du réel.
Quand les Net artistes hackent Google Maps
Guardian data journalism workflow. Click image for full graphic Before a dataset results in a data journalism story, there's a whole process of sifting and finessing and generally sorting the data out.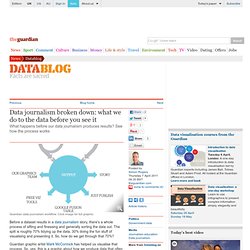 Data journalism broken down: what we do to the data before you see it | visualised | News
image.guardian.co.uk/sys-files/Guardian/documents/2011/04/06/workflow2.pdf
Please use these bios and headshots for press materials as needed, and get in touch with me if you need something specific. Marc Davis invents mobile, social, media, and personal data technologies that connect people, the web, and the world. With a twenty year career of technology research and development spanning the MIT Media Lab , Interval Research , UC Berkeley , Yahoo! , Invention Arts , and Microsoft , he has done pioneering work in context-aware computing, computer vision, mobile media metadata , social media, social search, mobile and social advertising, and personal data technologies and applications.
Press Kit | Marc Davis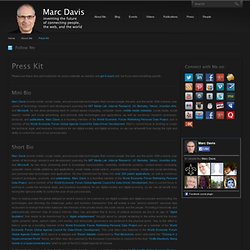 Online Passwords, Accounts, Data - Digital Death Day
Passwords, banking records, social media accounts —day by day our lives create more and more data. But what becomes of all that data when we pass away is a looming problem with no clear answer. Marc Davis, a partner architect at Microsoft responsible for online services such as Bing, MSN, and advertising, raised this and other troubling issues about citizens' rights to their own information at a panel at this weekend's SXSW conference, called "Demystifying Online Privacy and Empowering the Digital Self." Despite our increasingly data-intensive lives, Davis explains, the legal framework around our personal data just isn't there yet. "Usually, where commerce and society meet legally is the concept of property," Davis said. "What's missing is a concept of contract law and property rights for digital information."
Un père et son fils envoient leur iPhone dans l'espace | LeMatin.ch
TGN
Utilisateurs d'un lecteur d'écran : cliquez ici pour accéder à la version HTML brut +Vous Recherche Images Maps Play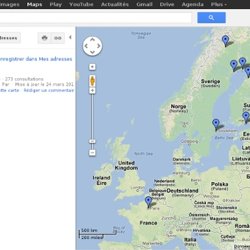 Suède : Le Grand Nord sur les rails
"Hinc sunt leones" , "Ici vivent les lions", écrivaient les Romains sur les terres inexplorées de leurs planisphères. Ici vivent les rennes, pourrait-on encore inscrire sur les cartes des territoires lointains et glacés de Laponie. À cheval sur la Suède , la Norvège , la Finlande et la péninsule russe de Kola, les régions lapones ont gardé un parfum de terra incognita , et la rumeur d'aventures propres aux terres limitrophes. Davantage explorées que conquises, la rigueur du climat garantissant dans une large mesure leur préservation, elles constituent aujourd'hui l'un des derniers grands espaces sauvages d' Europe . Inscrite au patrimoine mondial de l'Unesco, la Laponie suédoise (94 000 km 2 ) compte seulement 90 000 habitants, soit 1 % de la population du pays, pour 200 000 rennes. Une réalité arithmétique bien visible dès les premières heures à bord de l' Inlandsbanan .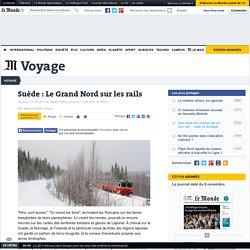 Conductor: www.mta.me on Vimeo
Photo Opportunities : Corinne Vionnet
It was the summer of 1969. Scientists in Rochester, N.Y., prepared to fire up an experimental laser. Everything was in place—from the cooling system to ensure the laser didn't burst into flames to the warning lights informing other researchers to stay away. It was in every way a typical day in a typical laser laboratory, except for one fact: On this day, the laser doubled as a gin and tonic.
DIY Gin and Tonic Laser - How to Make a Laser Out of Gin and Tonic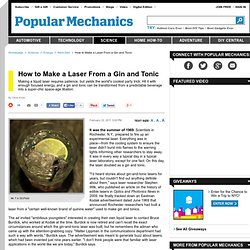 Liisa ihmemaassa - Alice in Wonderland
Peut-on devenir anonyme en publiant tout de soi ?
CultureLab: A vast history of information
Sam Kean, contributor James Gleick's The Information: A history, a theory, a flood is a biography of information that puts today's revolution in some much-needed context For most of history, messages were things : clay tablets, scrolls, scraps of paper, even glyphs tattooed on to the head of a slave, which were revealed only when he visited the message receiver's barber.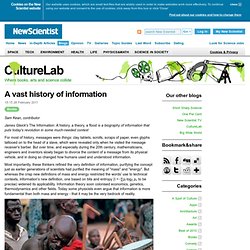 1pc of Gustavsberg Stig Lindberg Bersa Egg Cup eames by handz
Cine español online | Cineario. El cine español en un clic
Vogue Defends Profile of Syrian First Lady - Max Fisher - International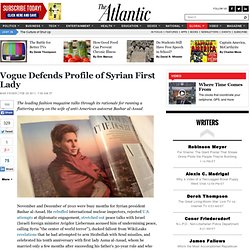 The leading fashion magazine talks through its rationale for running a flattering story on the wife of anti-American autocrat Bashar al-Assad November and December of 2010 were busy months for Syrian president Bashar al-Assad. He rebuffed international nuclear inspectors, rejected U.S. attempts at diplomatic engagement, stretched out peace talks with Israel (Israeli foreign minister Avigdor Lieberman accused him of undermining peace, calling Syria "the center of world terror"), ducked fallout from WikiLeaks revelations that he had attempted to arm Hezbollah with Scud missiles, and celebrated his tenth anniversary with first lady Asma al-Assad, whom he married only a few months after succeeding his father's 30-year rule and who herself spent those two final months of 2010 hosting a reporter from Vogue magazine, which on Friday published a glowing profile of her . "Asma al-Assad is glamorous, young, and very chic--the freshest and most magnetic of first ladies.