Food
50 of the World's Best Breakfasts. - Written by Victoria Philpott Salivating.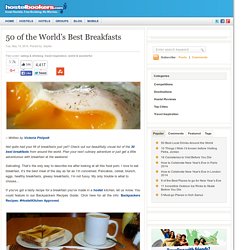 That's the only way to describe me after looking at all this food porn. I love to eat breakfast, it's the best meal of the day as far as I'm concerned. Pancakes, cereal, brunch, eggs, healthy breakfasts, greasy breakfasts, I'm not fussy. My only trouble is what to choose… Raspberry breakfast bars. We had a decadent weekend in the North Carolina mountains, and I never wanted to come home.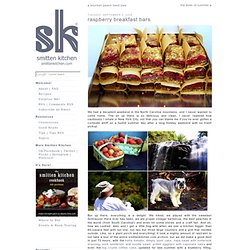 The air up there is so delicious and clean, I never realized how cautiously I inhale in New York City, not that you can blame me if you've ever gotten a curbside whiff on a humid summer day after a long holiday weekend with no trash pickup. But up there, everything is a delight. Design Crush & Popsicles! - StumbleUpon. Jun29 Not to sound full of myself, but I'm pretty sure this is the be all, end all of popsicle roundups.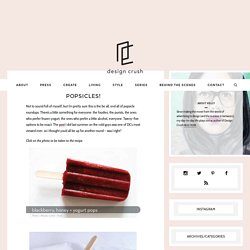 There's a little something for everyone: the foodies, the purists, the ones who prefer frozen yogurt, the ones who prefer a little alcohol, everyone. Tweny-five options to be exact. No-bake energy bites | gimme some oven - StumbleUpon. I probably should have poured a nice stiff drink recipe for you all on this loveliest of lovely tax days.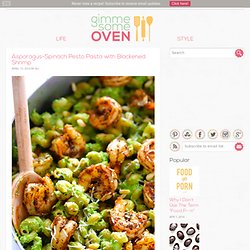 Especially for my fellow small business owners who just gave half of their revenue back to the government. Good grief, I won't even go there. Instead though, I thought I'd offer my idea of a more comforting alternative. Pasta. When life is good, and when life gets crazy, I turn to pasta. Foodgawker | feed your eyes - StumbleUpon. How to Eat a Pomegranate - emptyage. They're deliciously tricky.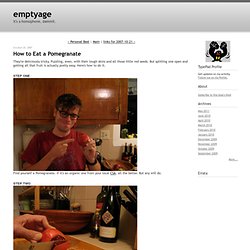 Puzzling, even, with their tough skins and all those little red seeds. But splitting one open and getting all that fruit is actually pretty easy. Here's how to do it. Find yourself a Pomegranate. If it's an organic one from your local CSA, all the better. 50 Healthy Recipes to Kick Off 2012 | Two Peas & Their Pod - StumbleUpon. Happy New Year!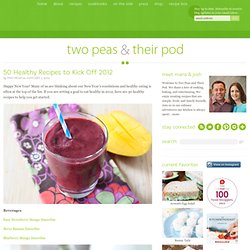 Many of us are thinking about our New Year's resolutions and healthy eating is often at the top of the list. If you are setting a goal to eat healthy in 2012, here are 50 healthy recipes to help you get started. Beverages Easy Strawberry Mango Smoothie Berry Banana Smoothie. TasteSpotting | a community driven visual potluck.
Bacon and Cheddar Macaroni & Cheese - iVillage - StumbleUpon. 1 Bring a medium (6- to 8-quart) pot of water to a boil.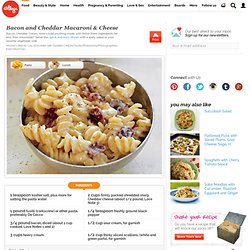 Salt it generously (it should taste like the sea). Stir in the pasta and cook according to the package directions. - StumbleUpon. Who came up with the idea that we are supposed to drink orange juice at breakfast?
And why, if oatmeal is so good for us, do we eat that only in the morning as well? Apologies to the Palinites, but nutritionists are starting to realize that you and I like our oatmeal and OJ before we start the day because we evolved to like it that way—because enjoying the two together is healthier than eating each of them alone. Epidemiologist David R. Jacobs, Ph.D., of the University of Minnesota calls it food synergy, and he, along with many other nutritionists, believes it might explain why Italians drizzle cold-pressed olive oil over tomatoes and why the Japanese pair raw fish with soybeans. Death By Oreo Cupcakes - StumbleUpon. They are probably the best Oreo cakes I have ever tried.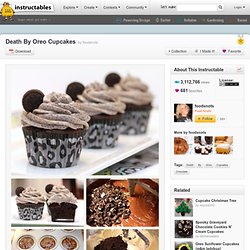 A lot of cake's that I have experimented with before are like a vanilla cake with bits of Oreo in them, which didn't really give them enough Oreo flavor. But these were a lot better. I used a dark chocolate fudge cake mix instead of just a regular chocolate cake mix, which went really well with the cookies and gave the cakes just a little more flavor. So, in this recipe there is Oreo's in the cake, in the frosting, and at the bottom is a Oreo surprise. That's right, you put a whole Oreo at the bottom of the cake. The best new recipes from Smitten Kitchen | punchfork.com - StumbleUpon.
---