Top 100 Tools
Blog » 20 Apps and Services that Helped Us Build Gist. We'd like to take all the credit for the success of Gist, but really there are a bunch of awesome free or inexpensive apps and services that helped us get where we are.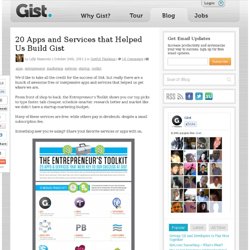 From front of shop to back, the Entrepreneur's Toolkit shows you our top picks to type faster, talk cheaper, schedule smarter, research better and market like we didn't have a startup marketing budget. Many of these services are free, while others pay in dividends, despite a small subscription fee. Something new you're using? Share your favorite services or apps with us. Designer's Toolkit: The Most Popular Design. As a designer, I know all too well how important it is to work with the right tools when you create your project.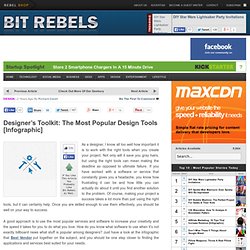 Not only will it save you gray hairs, but using the right tools can mean making the deadline as opposed to ultimate failure. If you have worked with a software or service that constantly gives you a headache, you know how frustrating it can be and how little you can actually do about it until you find another solution to the problem. Of course, making your project a success takes a lot more than just using the right tools, but it can certainly help. Once you are skilled enough to use them effectively, you should be well on your way to success. A good approach is to use the most popular services and software to increase your creativity and the speed it takes for you to do what you love.
SurveyMonkey : logiciel gratuit de sondage en ligne et d'enquête par questionnaire. Text Message (SMS) Polls and Voting, Audience Response System. Voki Home. Beautiful Word Clouds. ToonDoo - World's fastest way to create cartoons! Easily Publish Gorgeous Magazines. Votre page d'accueil personnalisable. Screenr | Instant screencasts: Just click record.
Top Tools 2011. Top100 Tools for Learning 2010. Udutu | Online Collaborative Course Authoring. Enterprise LMS from eFront. Open source e-portfolio and social networking software.
Flash cards, vocabulary memorization, and study games. Phonecast live to the web from any phone, anywhere. Latest Phonecasts. Video Slideshow Maker. Vimeo, Video Sharing For You. TED: Ideas worth spreading. Scribd.
---