Presentations
Influencing change through presentations
62,342 views Featured in : Technology The ability to craft (and deliver) a good presentation should be in the quiver of every designer, right along side their Moleskine and Micron pens....
How to create a great prezi by Adam Somlai-Fischer on Prezi
Insert PDF, PowerPoint, Excel | Prezi Learn Center
Importing PowerPoint into Prezi.mp4
The Tempo of Your Presentation
One of the most important components of a successful presentation is the tempo of your words. Here are rules for you to remember and implement in attempting to connect verbally with another person (be it a sales pitch, a negotiation, or a romantic overture): 1. People are most comfortable with individuals who speak at roughly the same pace as they do. Numerous studies have shown that one way to solidify a connection with another person is to mirror his/her speech patterns.
When it comes to giving a presentation, few people can compare to the late Steve Jobs. Apple's iconic co-founder would walk on stage to deliver keynote presentations in front of thousands of media members and fans lucky enough to gain entry. Jobs, the wiry creator of such gadgets as the iPad, iPhone and iMac was known for his penchant for delivering captivating product demos. He was aided by some of the most technologically advanced visual aids in the business. Clad in his patented black mock turtleneck and jeans, Jobs mastered the art of the presentation.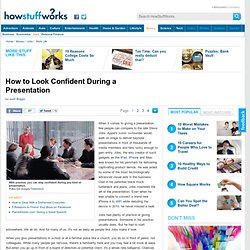 How to Look Confident During a Presentation"
PodiumProApp.com