Journalism
Get flash to fully experience Pearltrees
I maintain that the trash compactor onboard the Death Star in Star Wars is implausible, unworkable, and moreover, inefficient. The Trash Compactor Debate turns on whether the Death Star ejects its trash into space. I, for one, believe it does.
Why It's IMPOSSIBLE To Be A Vegetarian (Magazine Article from: Vegetarian Times , May 1991, by Carol Wiley, p.59-62, 89.) Wait a minute, run that by me again. It's impossible to be a vegetarian? Well, if you mean it in the very strictest sense... Technically, of course, anyone who doesn't eat animal flesh is a vegetarian. But many vegetarians try to avoid all animal products.
Odds are pretty good that some of you are reading this on an LCD screen while the rest of us are trying to make it out on the 13-inch monochrome monitor that came with our garage sale Commodore 64. But even with the LCD, some laptops still weigh over 10-pounds. And while that doesn't seem like much, the level of muscle atrophy experienced by the average Warcraft addict makes that weight a thousand times heavier.
POCATELLO, Idaho - Jenni Lake gave birth to a baby boy the month before her 18th birthday, though she was not destined to become just another teenage mother.
WHAT YOU ARE ABOUT TO READ IN THE NEXT PARAGRAPH IS COMMONLY BELIEVED, BUT NOT TRUE – You read by recognizing the shapes of words and groups of words. Words that are in all capital letters all have the same shape: a rectangle of a certain size. This makes words displayed in all uppercase harder to read than upper and lower case (known as "mixed case").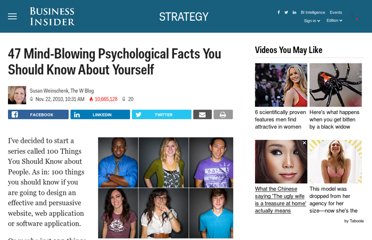 A synthetic chemical similar to the active ingredient in marijuana makes new cells grow in rat brains. What is more, in rats this cell growth appears to be linked with reducing anxiety and depression. The results suggest that marijuana, or its derivatives, could actually be good for the brain.