Making Music
Studio beta. Create Digital Music. Online Music Notation. Your music, everywhere.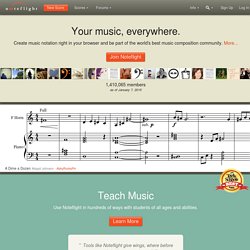 Create music notation right in your browser and be part of the world's best music composition community. More... Noteflight® is an online music writing application that lets you create, view, print and hear professional quality music notation right in your web browser. Write music on your computer, tablet or smartphone, share with other users, or embed in your own pages. S homepage - musagi. This is a fairly large and sophisticated music editor and synthesizer which I started working on in April 2006.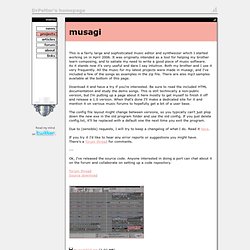 It was originally intended as a tool for helping my brother learn composing, and to satiate my need to write a good piece of music software. As it stands now it's very useful and dare I say intuitive. Both my brother and I use it very frequently. All the music for my latest projects were made in musagi, and I've included a few of the songs as examples in the zip file.
There are also mp3 samples available at the bottom of this page. Synthesizer and electronic music news, synth and music software. Audiotool. DERU on MySpace Music - Free Streaming MP3s, Pictures & Music Vi. Next Step Audio | Electronic music production tutorials by Trifo.
---