Making Music
Minitaur in optional wood getup. But it's not just doing bass – think drum kits, too. Soundware to explore, not just to use as presets, in the latest goodies installment. Photo (CC-BY) Colombia's Audiotecna. Hardware is beautiful. But until we buy that private 747 and outfit it with an in-flight lounge, for instance, portability still matters.
Your music, everywhere. Create music notation right in your browser and be part of the world's best music composition community. More... Noteflight® is an online music writing application that lets you create, view, print and hear professional quality music notation right in your web browser. Write music on your computer, tablet or smartphone, share with other users, or embed in your own pages.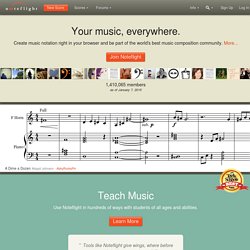 This is a fairly large and sophisticated music editor and synthesizer which I started working on in April 2006. It was originally intended as a tool for helping my brother learn composing, and to satiate my need to write a good piece of music software. As it stands now it's very useful and dare I say intuitive. Both my brother and I use it very frequently. All the music for my latest projects were made in musagi, and I've included a few of the songs as examples in the zip file. There are also mp3 samples available at the bottom of this page.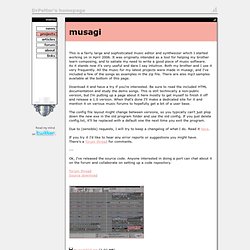 s homepage - musagi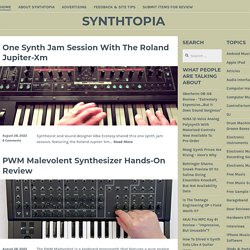 Waldorf has released a new soundset, Attack, that turns the Blofeld into a drum machine sound module. Here's what they have to say about it: Continue reading Developer Jan Cumpelik is running an IndieGoGo campaign to put the Lunchbeat 1-bit groovebox into production. Continue reading This video, via John L Rice, is an informal comparison of the sound of six different large-format (5U) modular synthesizer filters: Continue reading Mario Wienerroither's Musicless Musicvideo series uses foley-style sound design to create versions of famous music videos, without the music.
<div id="noscript">Please enable JavaScript in order to use Audiotool.</div> make music in your browser Watch VideoLearn more Next Chart Update: 2014-01-30
DERU on MySpace Music - Free Streaming MP3s, Pictures & Music Vi
Next Step Audio | Electronic music production tutorials by Trifo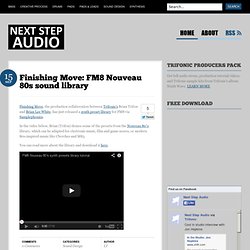 As a producer, one of the challenges of working with virtual instruments and digital recordings is that you often have to add character back to them to make your tracks sound right. Digital sounds can be so clean that they lack warmth, depth, vibe, soul… whatever you want to call it, the bottom line is your recordings will fall flat without some work to add life into your tracks. In this video, Brian demonstrates a couple techniques for overcoming this challenge using delay and vocal transformer plugins.