Manda
5things.pdf (application/pdf Object)
Monthly_Insider_April_2010.pdf (application/pdf Object)
us_fas_CorporateDevelopment_2010RefiningMAPlaybook.pdf (applicat
Integrator: Powering M&A Automation
mergers and acquisitions - Google News
Top Stories by Mary Kathleen FlynnApril 2, 2014Dealmakers report biggest uptick in leads and letters of intent in six months of surveys by Allison CollinsApril 4, 2014The purchase follows consumer goods deals by Steve Madden for Brian Atwood and Blackstone for Versace by Allison CollinsApril 4, 2014The target manufactures electrical power generation equipment April 4, 2014Acon Investments adds Igloo Products; John Wiley & Sons acquires Profiles International; Magellan Health buys CDMI by Allison CollinsApril 2, 2014The deal comes after the publisher has divested travel, general interest and non-fiction assets Latest News Malone's Liberty Cuts Barnes & Noble Stake, Drops Board Seat April 4, 2014 Liberty will hold on to about a 10th of its initial investment
Mergers & Acquisitions
http://www.mergermanagementgroup.com/
This site is for members of the Linkedin.com and the Plaxo.com Merger Integration Management group. This site serves as a portal for inviting new members and a focal point for current members to obtain information pertinent to the task at hand...Post-Merger Integration. To join our Linkedin group, click this URL to register.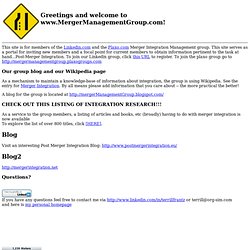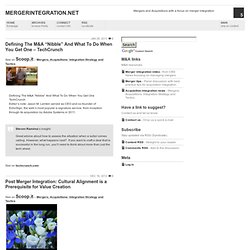 MergerIntegration.net - Acquisition Integration
Defining The M&A "Nibble" And What To Do When You Get One – TechCrunch See on Scoop.it – Mergers, Acquisitions: Integration Strategy and Tactics Defining The M&A "Nibble" And What To Do When You Get One TechCrunch Editor's note: Jason M. Lemkin served as CEO and co-founder of EchoSign, the web's most popular e-signature service, from inception through its acquisition by Adobe Systems in 2011.
A linkedin-based member of our group responded to the call for experiences pertaining to the post-merger integration of a retail drug chain. Fritz Wiant (http://www.linkedin.com/in/fritzwiant) writes:---I was involved in the 1997 merger between CVS and the Revco Pharmacy chain as a front-end conversion trainer. It was the beginning of my personal quest to better understand change management in retail organizations and how to create more engaging work environments. I worked in over 20 stores in 8 states with teams of sometimes openly hostile managers, some of whom had just been recently acquired from the Big B chain. I strongly believe that nowhere near enough emphasis placed upon, or training provided for, the cultural transition necessary to make a smooth merger.
MergerManagementGroup
In a perfect world, the best way to calculate CAPEX (Capital Expenditure) is by gaining full access to a company's financial accounts, its financial staff and its executives. With this combination, you'll be able to paint a good picture of the CAPEX necessary to keep the business running at its current levels of cash flow. However, often we must value companies prior to conducting formal due diligence and in these cases, we typically only have access to standard financial statements. This post discusses calculating CAPEX (Capital Expenditure) with access only to these statements. A few basics first:
How to calculate capex from financial statements | A Private Equ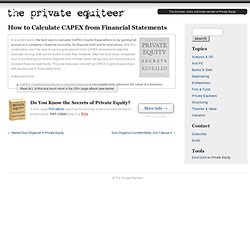 Culture Clout: Mergers, Acquisitions and Organization Cultures
Acquisitions and mergers - Free Online Library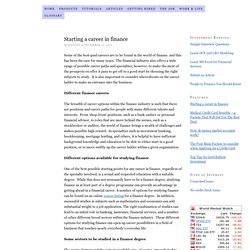 Welcome to Bankingorbust.com - your guide to a career in finance
A money market account is a savings account with a difference, in that in return for larger scale deposits it offers a highly competitive rate of interest, sometimes called the real rate. A money market demand account or money market deposit account (MMDA), are exactly the same; however, money market funds are different, which is important to be aware of. Here is a quick guide to which is which and how each one works. Money market accounts As money market rates of interest are generally higher than regular rates, customers usually have to maintain a minimum balance in their account to benefit from the more attractive money market rates of interest.
Find and share free documents on mergers and acquisitions - docs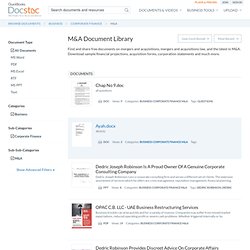 Browse Documents Business Corporate Finance M&A Document Type Categories Business Sub-Categories Corporate Finance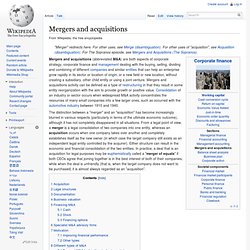 The distinction between a "merger" and an "acquisition" has become increasingly blurred in various respects (particularly in terms of the ultimate economic outcome), although it has not completely disappeared in all situations. From a legal point of view, a merger is a legal consolidation of two companies into one entity, whereas an acquisition occurs when one company takes over another and completely establishes itself as the new owner (in which case the target company still exists as an independent legal entity controlled by the acquirer). Either structure can result in the economic and financial consolidation of the two entities.
Mergers and acquisitions