Manda
5things.pdf (application/pdf Object) Monthly_Insider_April_2010.pdf (application/pdf Object) Us_fas_CorporateDevelopment_2010RefiningMAPlaybook.pdf (applicat. Integrator: Powering M&A Automation. Mergers and acquisitions - Google News. Answers: Mergers and Acquisitions. F | Searching for mergers and acquisitions. Mergers & Acquisitions. MergerIntegration.net - Acquisition Integration. MergerManagementGroup. Discussion: Mergers & Acquisitions.
How to calculate capex from financial statements | A Private Equ. In a perfect world, the best way to calculate CAPEX (Capital Expenditure) is by gaining full access to a company's financial accounts, its financial staff and its executives.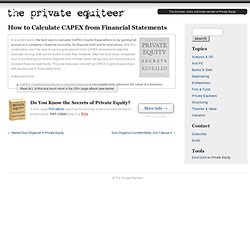 With this combination, you'll be able to paint a good picture of the CAPEX necessary to keep the business running at its current levels of cash flow. However, often we must value companies prior to conducting formal due diligence and in these cases, we typically only have access to standard financial statements. This post discusses calculating CAPEX (Capital Expenditure) with access only to these statements. A few basics first: Culture Clout: Mergers, Acquisitions and Organization Cultures. Acquisitions and mergers. Welcome to Bankingorbust.com - your guide to a career in finance. Find and share free documents on mergers and acquisitions - docs. Browse Documents Business Corporate Finance M&A Document Type Categories Business Sub-Categories Corporate Finance.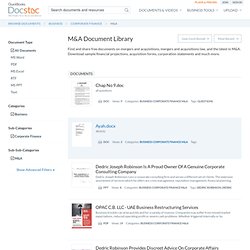 Mergers and acquisitions. The distinction between a "merger" and an "acquisition" has become increasingly blurred in various respects (particularly in terms of the ultimate economic outcome), although it has not completely disappeared in all situations.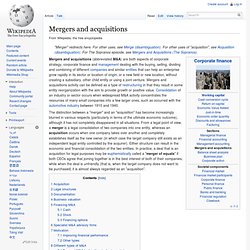 From a legal point of view, a merger is a legal consolidation of two companies into one entity, whereas an acquisition occurs when one company takes over another and completely establishes itself as the new owner (in which case the target company still exists as an independent legal entity controlled by the acquirer). Either structure can result in the economic and financial consolidation of the two entities.
---