Education / Learning
100 Amazing How-To Sites to Teach Yourself Anything | Rated Coll. Posted by Site Administrator in Online Learning May 7th, 2009 Learning new skills and expanding your knowledge doesn't have to cost you an arm and a leg.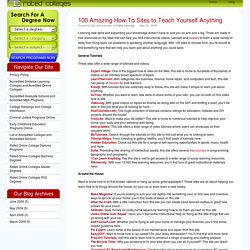 There are loads of free resources on the Web that can help you find instructional videos, tutorials and classes to learn a wide variety of skills from fixing basic car problems to speaking another language. With 100 sites to choose from, you're bound to find something here that will help you learn just about anything you could want. General Tutorials These sites offer a wide range of tutorials and videos. Free Online Course Materials | MIT OpenCourseWare. Subjects | Academic Earth. Since 2008, Academic Earth has worked diligently to compile an ever-growing collection of online college courses, made available free of charge, from some of the most respected universities.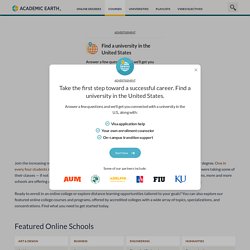 We proudly build on the precedent set forth by MIT OpenCourseware, believing that everyone deserves access to a world-class education. To facilitate this goal, we have curated links to over 750 online courses and 8,500 individual online lectures, giving students of all ages unparalleled access to college courses they may otherwise never experience. Open Learning - Openlearn - The Open University. LearningSpace - OpenLearn LearningSpace - The Open University. Podcasts - Learn at Any Time - The Open University. Khan Academy. Open Learning Initiative. CosmoLearning | Your Free Online School: Courses, Video Lectures.
All Music, All But Invisible - Search Engine Watch (SEW) The All Music Guide is one of the most comprehensive, extensively cross-linked and easy to use musical resources on the web.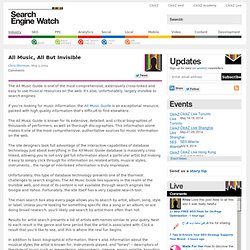 It's also, unfortunately, largely invisible to search engines. If you're looking for music information, the All Music Guide is an exceptional resource, packed with high quality information that's difficult to find elsewhere. The All Music Guide is known for its extensive, detailed, and critical biographies of thousands of performers, as well as thorough discographies. 100 Useful Tips and Tools to Research the Deep Web. By Alisa Miller Experts say that typical search engines like Yahoo!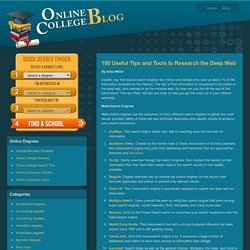 And Google only pick up about 1% of the information available on the Internet. The rest of that information is considered to be hidden in the deep web, also referred to as the invisible web. So how can you find all the rest of this information?
---