Michandrwest
MichAndrWest
Artist, photographer, patriot, first responder. Live life on your terms. Take control of what you manifest. Stop living in fear.
The Broken Art of Company Blogging (and the Ignored Metric that Could Save Us All) The author's posts are entirely his or her own (excluding the unlikely event of hypnosis) and may not always reflect the views of Moz.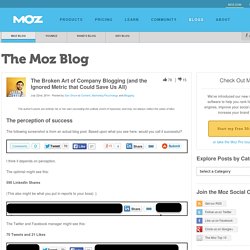 The perception of success The following screenshot is from an actual blog post. Delayed Sleep Phase Syndrome - By Dr. William Dement. Updated February 26, 1999 Please see our updated article about delayed sleep phase syndrome on the new Stanford Sleep and Dreams website.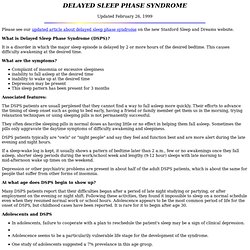 What is Delayed Sleep Phase Syndrome (DSPS)? It is a disorder in which the major sleep episode is delayed by 2 or more hours of the desired bedtime. 100 Very Cool Facts About The Human Body. The Brain The human brain is the most complex and least understood part of the human anatomy.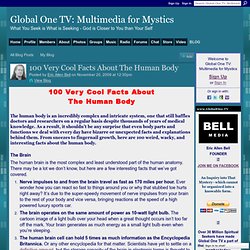 There may be a lot we don't know, but here are a few interesting facts that we've got covered. BPA in food packaging contributes to childhood obesity. New research has linked bisphenol A (BPA), a chemical commonly found in the lining of metal cans, food packaging, polycarbonate drink bottles, and other consumer products, to obesity in children and adolescents.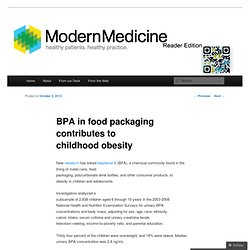 Investigators analyzed a subsample of 2,838 children aged 6 through 19 years in the 2003-2008 National Health and Nutrition Examination Surveys for urinary BPA concentrations and body mass, adjusting for sex, age, race, ethnicity, caloric intake, serum cotinine and urinary creatinine levels, television viewing, income-to-poverty ratio, and parental education. Thirty-four percent of the children were overweight, and 18% were obese. Median urinary BPA concentration was 2.8 ng/mL. Data showed that study participants who had high levels of urinary BPA were at 2.6 times higher risk for obesity than children and adolescents who had low levels of urinary BPA.
Earthship Biotecture Green Buildings. Human to lizard resuscitation | Woman brings her pet reptile back to life after administering CPR for 30 minutes | QHCTC.co. A woman miraculously brought her pet lizard back to life in Oregon by administering CPR on the reptile for a good 30 minutes.1 Sherrie Dolezal, 62, returned to her home in Salem on Tuesday to find her beloved pet Del Sol, a bearded dragon, floating face up and unconscious in his pool.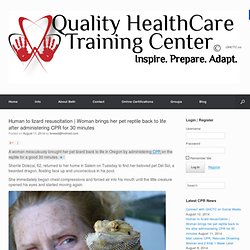 She immediately began chest compressions and forced air into his mouth until the little creature opened his eyes and started moving again. Sherrie Dolezal, 62, of Salem, Oregon, poses with her beloved pet Del Sol, a bearded dragon, who is back in good health after almost dying last week The grandmother, who calls herself the Reptile Rescuer, keeps 22 lizards – including 3-year-old Del Sol – at her home. She was having a crazy day Tuesday, running errands and caring for her pets when she took Del Sol out to clean and feed him and then put him back in a small swimming pool. What You Need to Know About CPR | QHCTC.co. Every year, 400,000 people suffer a cardiac arrest outside the hospital.1 "Eighty percent of cardiac arrests happen in the home, which means the life you save is likely a family friend or loved one," said Franklin Fry, the Syracuse American Heart Association executive director.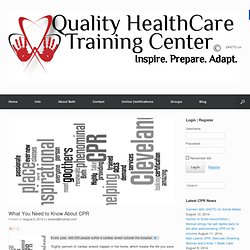 That's why health experts are urging everyone to learn CPR. "In order for the heart to survive the event and the brain to survive the event, there has to be the circulation of blood maintained for a period of a few minutes," said Dr. ICANN publishes updated new TLD Auction schedule | Domain Name Wire | Domain Name News & Views. Delays now require all-party consent, so contention set resolution should accelerate.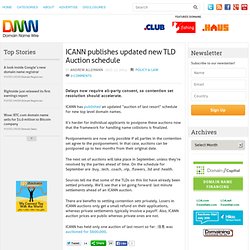 ICANN has published an updated "auction of last resort" schedule for new top level domain names. It's harder for individual applicants to postpone these auctions now that the framework for handling name collisions is finalized. Postponements are now only possible if all parties in the contention set agree to the postponement. In that case, auctions can be postponed up to two months from their original date. The next set of auctions will take place in September, unless they're resolved by the parties ahead of time. Cleveland Cavaliers: Top 5 Things to Watch in LeBron James Return vs New York Knicks | Buckeye State Sports.
The day Cleveland Cavaliers fans have been waiting for is finally here, as the NBA finally released the 2014-2015 schedule.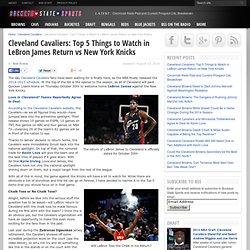 At the top of the list is the opener to the season, as all of Cleveland will pack Quicken Loans Arena on Thursday October 30th to welcome home LeBron James against the New York Knicks. The return of LeBron James to Cleveland is officially slated for October 30th. Love in Cleveland? Teams Reportedly Agree to Deal. Gizmodo: Watch how open-source ...
Man Learns CPR, Rescues Drowning Woman and 2 Kids 1 Week Later | QHCTC.co. A man pulled a drowning mother and her two children out of a motel pool in Hollywood Monday and performed CPR he learned a week earlier until first responders arrived, according to authorities.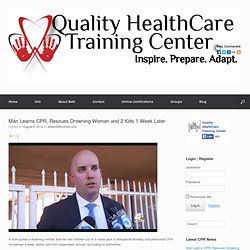 The victims, including an 11-year-old boy and 12-year-old girl, remained hospitalized Tuesday morning in "grave condition." The children were playing with two other children when they wandered into the deep end of the 7-feet-5-inch-deep pool, Los Angeles Fire Department Spokesman Peter Sanders said. Their mother, 36, went to pull them out, but neither she nor the children can swim, Sanders said.
There was no lifeguard on duty.
---