Web Development
Data Visualization
Datavisualization.ch Selected Tools. Twitter Bootstrap. List of Twitter Bootstrap Resources. Pdf_open_parameters_v9. Understanding Web Security Using web.xml Via Use Cases. We Recommend These Resources The deployment descriptor, web.xml is the most important Java EE configuration piece of Java EE Web applications.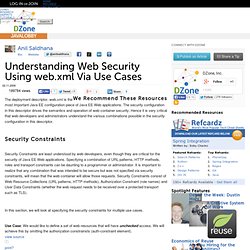 The security configuration in this descriptor drives the semantics and operation of web container security. Hence it is very critical that web developers and administrators understand the various combinations possible in the security configuration in this descriptor. Knockout : Home. Testing Backbone applications with Jasmine and Sinon – Part 1 – Tinned Fruit. Overview This is the first in a series of articles demonstrating how to test a Backbone.js application, employing the Jasmine BDD test framework and the Sinon.JS spying, stubbing and mocking library.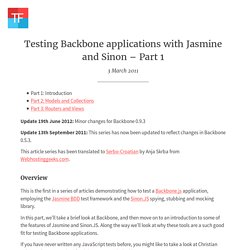 In this part, we'll take a brief look at Backbone, and then move on to an introduction to some of the features of Jasmine and Sinon.JS.
Color and Patterns. 21 essential resource sites for web designers. Net magazine is the number one choice for the professional web designer and developer.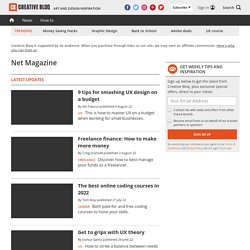 It's here that you find out about the latest new web trends, technologies and techniques – all in one handy package. Each issue boasts a wealth of expert tips and advice, including in-depth features and over 30 pages of advanced front- and backend tutorials on subjects as diverse as CSS, HTML, JavaScript, WordPress, PHP, and plenty more.
---