Tutorials
ParametricModel - a library of parts
Algorithmic Modelling with Grasshopper (2009)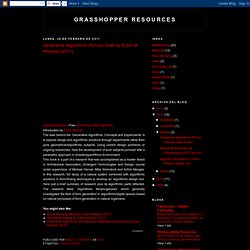 Introduction by Zubin Khabazi The idea behind the 'Generative Algorithms, Concepts and Experiments' is to explore design and algorithmic solutions through experiments rather than pure geometrical/algorithmic subjects. Using current design problems or ongoing researches, here the development of such subjects pursued with a parametric approach in Grasshopper/Rhino Environment. This book is a part of a research that was accomplished as a master thesis in Architectural Association, Emergent Technologies and Design course under supervision of Michael Hensel, Mike Weinstock and Achim Menges. In this research, full study of a natural system combined with algorithmic solutions in form-finding techniques to develop an algorithmic design tool.
Generative Algorithms: Porous Shell by Zubin M Khabazi (2011)
parametric modeling - 3d modeling, video tutorials, rhino grasshopper - parametric-modeling.net
In this video, we cover the Spring Force within Kangaroo in a simple case. In this video, we give an introduction to the paneling tools within the LunchBox plugin for Grasshopper. In this video, we give an introduction of Kangaroo, a plugin for Grasshopper developed by Daniel Piker. Kangaroo can be downloaded at www.food4rhino.com/project/kangaroo.
| DesignReform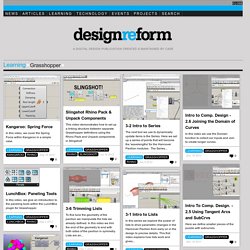 The second edition of the "Essential Mathematics for Computational Design" is now available with free download Essential Mathematics uses Grasshopper to introduce design professionals to foundation mathematical concepts that are necessary for effective development of computational methods for 3D modeling and computer graphics. This second edition includes a few new sections, but most importantly, it carefully reviews the material to ensure clarity and consistency of all concepts.
grasshopper tutorials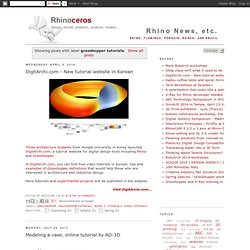 LIVE COMPONENTS
grasshopper – @improved
do you wish to suck dick? fant online dating sites astic hobby sucking dick, and want your pussy eat and licked nice, e-mail me, will allow stats and pic while i know your legitimate, i am d/free, not been getting any for a little bit so im rather clean, and i riff pussy because i prefer it so i spend some time it needs have fun with it, lol even im discrete, certainly no strings, and theatre free, so should you be, love sucking a new clean dick to get your pussy did wonders over good which has a mouth then dont wait, im famished, send stats, location and mornings are best in my circumstances,, put ill draw it, you lick it as your current reply. Sexy horny in Fargo need to eat u generate u squirt: old daf women fuck, emma webcam sexy Domaso, Mount Airy Georgia women looking for discreet sex.
Hong Kong Parametric Design Association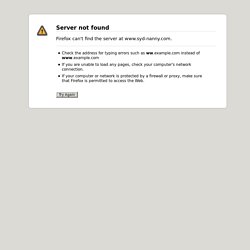 downloads Here you can find a couple of exercises related to our most beloved rhino for download. grasshopper 1. highrise-DJ Our simple but playful interpretation of a field of cross shaped towers on a rigid grid shows some differentiation… and associativity with one point. You can move the point by using grasshoppers remote control view and then see the highrises reacting in real time. exercise here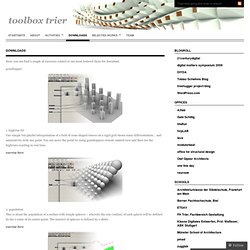 downloads « toolbox trier
Texas A&M University ARCH 689 | Home
Massive Grasshopper Attack!
designcoding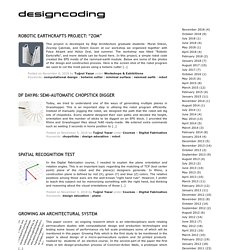 Rhinoceros cannot align text onto a curve (as far as I know). Grasshopper should help in such tasks as it is well equipped with text components in the latest version. Nowadays I'm studying at an installation project which includes such typographic effects. However, the fonts are still missing in Grasshopper's native text components. Below is a simple definition that align any given text onto any given curve set.
In the latest release of Grasshopper, David Rutten has incorporated many of his Pointset Reconstrution tools for Rhino. There are, for example, components for voronoi, delaunay, quadtree and convexhull funtions. To have them right there in grasshopper lets you skip the step of calling them from rhino or a script.
BFXlog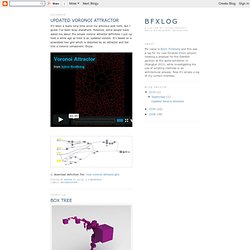 grasshopper code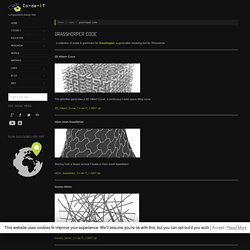 . a collection of codes & grammars for Grasshopper, a generative modeling tool for Rhinoceros. GH to SVG A serie of Clusters/Components in order to export and visualize directly a SVG file you can dowload the file at: http://www.co-de-it.com/wordpress/gh-to-svg.html ASCII art generator
modeLab
Experiments | Giulio Piacentino
LaN / LIVE ARCHITECTURE NETWORK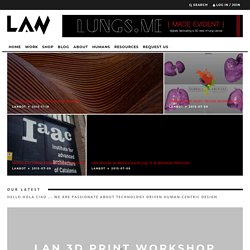 "Grasshopper is not a simple software, however it's not impossible to learn and even to excel at it if you are to be introduced to it properly. Last year I had attended the LAN course and it was extremely beneficial to my understanding to the software. At the time I knew few basic principles and did not know how to use Rhino either. Today I use Rhino and Grasshopper extensively in my design process at work . LAN has a number of talented members with a wide experience and a very good understanding of the software.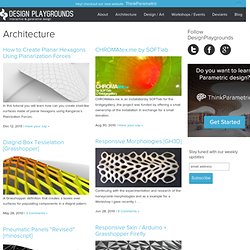 Architecture
In this tutorial you will learn how can you create shell-like surfaces made of planar hexagons using Kangaroo´s Planrization Forces. CHROMAtex.me is an installationby SOFTlab for the bridgegallery ,the project was funded by offering a small ownership of the installation in exchange for a small donation. Continuing with the experimentation and research of the honeycomb morphologies and as a example for a Workshop I gave recently I . . . A Grasshopper definition that creates a boxes over surfaces for populating components in a diagrid patern.
designplaygrounds Downloads - Folder Shared from Box.net - Free Online File Storage
tools
DEFINITIONS « Explode_BReps @ UVa
research
future bubble January 19th, 2013 by eduardo in order to continue our inflating gold emergency blanket experiments we were invited by peats ridge festival to create an inflatable structure that would literally pop up in different locations over the 3 day event leading up to new year's eve. Read the rest of this entry »
salon202
TEM/AĞU 2009 - XXI Dergisinde Yayınlanmıştır. Dijital ortamda tasarım konusunda uzman mimar Branko Kolarevic 15 Mayıs'ta İstanbul'da, Yüzey Etkileri ve Dijital Ortamda Zanaat başlıklı bir konferans verdi. C. Alper Derinboğaz, konferanstan sonra Kolarevic'le yüzey etkileri, sayısal mimarlık ve malzeme-mimar ilişkisi üzerine bir söyleşi gerçekleştirdi.
ParaMod.net
The Proving Ground by Nathan Miller
Cool stuff continues to develop for my plug-ins LunchBox and Slingshot!... Be sure you are checking the GitHub site and the Dynamo package manager to test out the latest builds and nodes. Slingshot! (for Grasshopper) Updates continue to trickle into the Slingshot!
MADEinCALIFORNIA ///Co.De.
**SOFTlab | LAB**
We are working on an installation called CHROMAtex that is set to open at the Bridge Gallery on August 26th. The piece is comprised of over 4400 separate colorful panels. It is being made possible by all of our kind and generous friends who have donated to our Kickstarter page… Follow along, watch for updates and donate if you feel like it!
tobesch.wordpress.com