Gardening
The Vegetable Garden: Zones 9-10 Planting Schedule. When to Plant Vegetables for Zones 9-10 Each USDA planting zone has its own schedule for sowing seeds.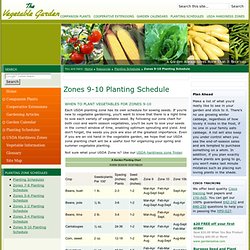 If you're new to vegetable gardening, you'll want to know that there is a right time to sow each variety of vegetable seed. STI: ERsys - San Fernando, CA (USDA Plant Hardiness) Plant Zone Index Background Information How the map was started Every plant can adapt to a range of environments.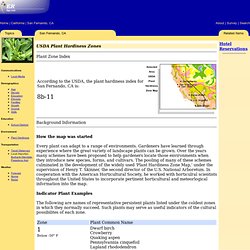 National Arboretum - USDA Plant Hardiness Zone Map. Wednesday, April 16, 2014 Back to the Arboretum Home Page Arboretum Information || Events & Education || Gardens & Horticulture || Research ActivitiesNew Plant Introductions || Support the Arboretum || Comments.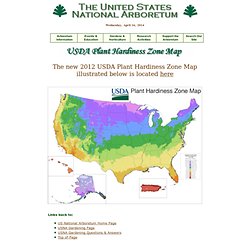 Los Angeles County - Common Ground Garden Program. Who Are Master Gardeners and What Do They Do?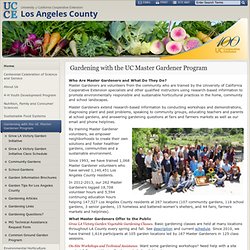 Master Gardeners are volunteers from the community who are trained by the University of California Cooperative Extension specialists and other qualified instructors using research-based information to promote environmentally responsible and sustainable horticultural practices in the home, community and school landscapes. Master Gardeners extend research-based information by conducting workshops and demonstrations, diagnosing plant and pest problems, speaking to community groups, educating teachers and parents at school gardens, and answering gardening questions at fairs and farmers markets as well as our email and phone helplines. Nutrition Unit:: Lesson Plan, Activity, or Teaching Idea from A to Z Teacher Stuff. February is Nutrition Month.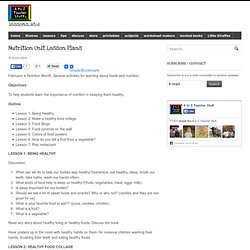 Several activities for learning about foods and nutrition. Objectives: To help students learn the importance of nutrition in keeping them healthy. Outline: Food & Nutrition Theme - Lesson Plans, Thematic Units, Printables, Worksheets, and More from A to Z Teacher Stuff. Instant Downloads @ A to Z's Store: Classifying Healthy Food vs Junk Food File Folder Game The file folder game "Healthy Food vs Junk Food" can be used for preschool to kindergarten or special needs students.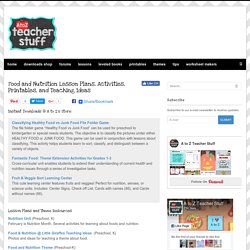 The objective is to classify the pictures under either HEALTHY FOOD or JUNK FOOD. This game can be used in conjunction with lessons about classifying. This activity helps students learn to sort, classify, and distinguish between a variety of objects. Lots of ideas for teachers. Tools | School Garden Weekly. Week 1 – Planning, Clearing, Tool Safety, Compost Posted by admin 5 September, 2007 For those new to school gardens now is the time to find a proper location.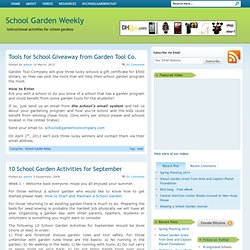 You'll want a spot that is level, with at least six hours of sun exposure, and good drainage. If the desired location is facing south, all the better. My First Garden - A Children's Guide to the World of Fun and Clever Gardening.
---