Gardening Projects
Saving Seeds. Eat local and save money through the art of seed saving.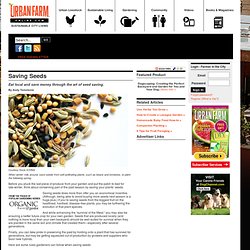 By Andy Tomolonis Courtesy Stock.XCHNG When winter rolls around, save seeds from self-pollinating plants, such as beans and tomatoes, to plant the following spring. StanleyGarden : Couple of pie pumpkins hanging... StanleyGarden : View inside the purple potato... How To Make Succession Planting and Year-Round Gardening Really Work. The problem with year-round garden planning is that you are being asked to work in 4D, when most of us are accustomed to only planning things in 2D.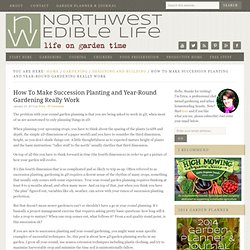 When planning your upcoming crops, you have to think about the spacing of the plants (width and depth, the simple 2D dimensions of a paper world) and you have to consider the third dimension, height, so you don't shade things out. A little thoughtfulness as to expected mature height of plants and the basic instruction: "taller stuff to the north" usually clarifies that third dimension. On top of all this you have to think forward in time (the fourth dimension) in order to get a picture of how your garden will evolve. From the garden to the table | Around This Table. So, in my ever-intensifying quest to simplify our family life and the food we eat, I'm finding myself increasingly distanced from boxed and packaged meals and ingredients and more and more enamoured with handfuls of fresh, earthy things.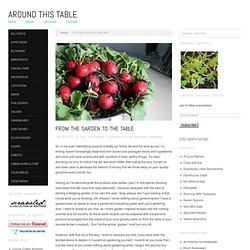 It's been shocking not only to notice how we feel much better after eating this way, but we've also been able to decrease the amount of money that we throw away on poor quality groceries every month, too. Seeing as I've become quite the produce aisle stalker (yes, I'm that weirdo drooling over beets that still have their tops attached!) , I became obsessed with the idea of starting a fledgling garden of my own this year. Now, please don't quit reading at that. I know what you're thinking–Oh, sheesh! How to Make a Square Foot Garden | Alberta Home Gardening. I'd like to introduce you to a new way of gardening.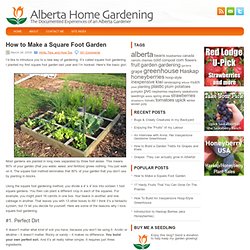 It's called square foot gardening. I planted my first square foot garden last year and I'm hooked. Here's the basic gist: Most gardens are planted in long rows separated by three foot aisles. This means 80% of your garden (that you water, weed, and fertilize) grows nothing. Square Foot Gardening in South Africa | Square Foot Garden Plant Spacing Guides. Now that you have your boxes built and the grids put on, it's quite easy to visualise the plants growing in it.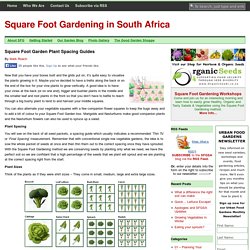 Maybe you've decided to have a trellis along the back or on the end of the box for your vine plants to grow vertically. A good idea is to have your vines at the back (or on one end), bigger and bushier plants in the middle and the smaller leaf and root plants in the front so that you don't have to battle to reach through a big bushy plant to tend to and harvest your middle squares.
You can also alternate your vegetable squares with a few companion flower squares to keep the bugs away and to add a bit of colour to your Square Foot Garden box. Marigolds and Nasturtiums make good companion plants and the Nasturtium flowers can also be used to spruce up a salad. Brown Thumb Mama: Make Your Own Seed Starting Light. I love all the goodies in the gardening and seed catalogs, but most of the time, they're just too expensive.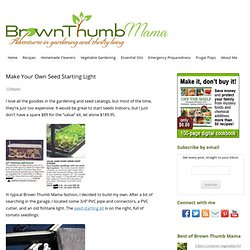 It would be great to start seeds indoors, but I just don't have a spare $89 for the "value" kit, let alone $189.95. In typical Brown Thumb Mama fashion, I decided to build my own. After a bit of searching in the garage, I located some 3/4″ PVC pipe and connectors, a PVC cutter, and an old fishtank light. The seed starting kit is on the right, full of tomato seedlings. Majesta Trees of Knowledge. Helpful Tools | Sustainable Eats & the Dancing Goat Gardens Communal Project. This is a collection of helpful tools that I've created through the years to help plan my garden.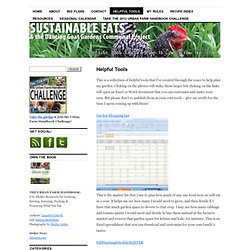 Clicking on the photos will make them larger but clicking on the links will open an Excel or Word document that you can customize and make your own. But please don't re-publish them as your own tools – give me credit for the time I spent coming up with these! Garden Shopping List This is the master list that I use to plan how much of any one food item we will eat in a year. Ten Mistakes New Herb Gardeners Make (and How to Avoid Them!) So you're thinking of herb gardening, or maybe you tried it last year and it was an utter disaster?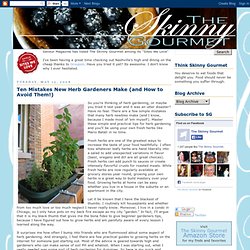 Have no fear. There are a few simple mistakes that many herb newbies make (and I know, because I made most of 'em myself). A Recipe for a Hugelkultur Raised Bed Permaculture Research Institute. I've been wanting to do a hugelkultur bed ever since I saw an article about a village store garden where people could walk around these really tall raised beds picking their veggies without bending.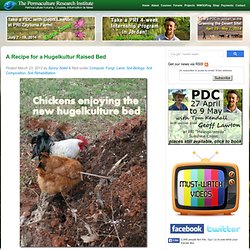 Hugelkultur is a Central European-style raised bed which uses rotting wood as its foundation. Toby Hemenway mentions it in Gaia's Garden, offering the hot tip that he can start potatoes a month early in this kind of bed. The hugelkultur raised bed can be built in many different ways, towering as high as you can reach or in a deep trench so that the planting surface is more or less level with the ground. The bed is a layered affair with rotting wood at the base. Creating a Pallet Garden – Step by Step Instructions | Growing A Greener World. Building and planting your own pallet vegetable garden is easy!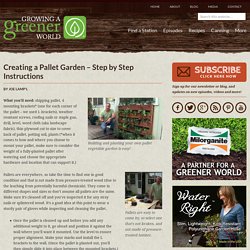 What you'll need: shipping pallet, 4 mounting brackets* (one for each corner of the pallet – we used L brackets), weather resistant screws, roofing nails or staple gun, drill, level, weed cloth (aka landscape fabric), thin plywood cut to size to cover back of pallet, potting soil, plants (*when it comes to how and where you choose to mount your pallet, make sure to consider the weight of a fully-planted pallet after watering and choose the appropriate hardware and location that can support it.) Pallets are easy to come by, so select one that's not broken, and not made of pressure-treated lumber. How to build a Pyramid Strawberry Planter. Not only do strawberries taste good, they contain antioxidants and nutrients that help improve the body's immune system.
They are also a great source of vitamin C, fiber, folic acid and potassium. There are three types of strawberries: June Bearing, Everbearing, and Day Neutral. produce a single crop in June (or early spring), depending upon the area.
---