Multitasking Bad!
Photo by Louisa Goulimaki/AFP/Getty Images Living rooms, dens, kitchens, even bedrooms: Investigators followed students into the spaces where homework gets done. Pens poised over their "study observation forms," the observers watched intently as the students—in middle school, high school, and college, 263 in all—opened their books and turned on their computers.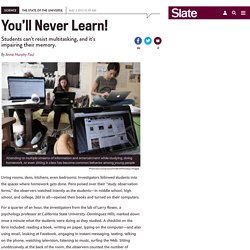 Multitasking while studying: Divided attention and technological gadgets impair learning and memory
Big Ideas Culture Digital Tools Teaching Strategies Flickr: Ben Seidelman Using tech tools that students are familiar with and already enjoy using is attractive to educators, but getting students focused on the project at hand might be more difficult because of it. Living rooms, dens, kitchens, even bedrooms: Investigators followed students into the spaces where homework gets done.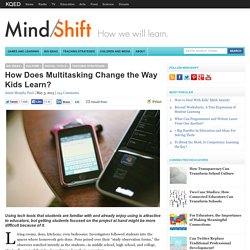 How Does Multitasking Change the Way Kids Learn?
Back to Projects Page | Back to Main Page In today's information-rich society, people frequently attempt to perform many tasks at once. This often requires them to juggle their limited resources in order to accomplish each of these tasks successfully.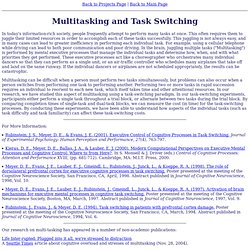 Multitasking and Task Switching in the BCA Lab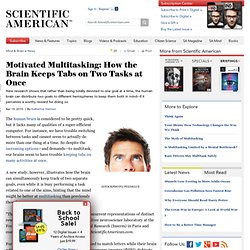 Mind & Brain::News::April 15, 2010:: ::Email::Print New research shows that rather than being totally devoted to one goal at a time, the human brain can distribute two goals to different hemispheres to keep them both in mind--if it perceives a worthy reward for doing so By Katherine Harmon BRAIN DIVIDES TO CONQUER: Although the human brain cannot actually do two things at the same time, a new study shows how it can keep two separate goals in focus at once.
Motivated Multitasking: How the Brain Keeps Tabs on Two Tasks at Once
Multi-tasking adversely affects brain's learning, UCLA psychologists report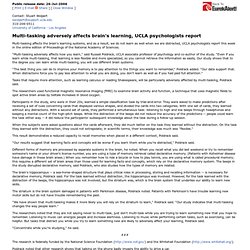 Public release date: 26-Jul-2006 [ Print | E-mail Share ] [ Close Window ] Contact: Stuart Wolpertswolpert@support.ucla.edu 310-206-0511University of California - Los Angeles Multi-tasking affects the brain's learning systems, and as a result, we do not learn as well when we are distracted, UCLA psychologists report this week in the online edition of Proceedings of the National Academy of Sciences. "Multi-tasking adversely affects how you learn," said Russell Poldrack, UCLA associate professor of psychology and co-author of the study. "Even if you learn while multi-tasking, that learning is less flexible and more specialized, so you cannot retrieve the information as easily. During a conference call with the executive committee of a nonprofit board on which I sit, I decided to send an email to a client. I know, I know. You'd think I'd have learned.
How (and Why) to Stop Multitasking - Peter Bregman
Nation & World | Multitasking hurts brain's ability to focus, scientists say
Scholars Turn Their Attention to Attention - The Chronicle Review
By David Glenn Imagine that driving across town, you've fallen into a reverie, meditating on lost loves or calculating your next tax payments. You're so distracted that you rear-end the car in front of you at 10 miles an hour. You probably think: Damn. My fault.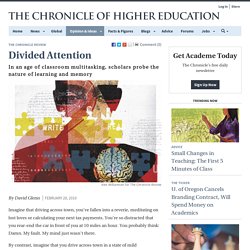 WASHINGTON - New scientific studies reveal the hidden costs of multitasking, key findings as technology increasingly tempts people to do more than one thing (and increasingly, more than one complicated thing) at a time. Joshua Rubinstein, Ph.D., of the Federal Aviation Administration, and David Meyer, Ph.D., and Jeffrey Evans, Ph.D., both at the University of Michigan, describe their research in the August issue of the Journal of Experimental Psychology: Human Perception and Performance, published by the American Psychological Association (APA). Whether people toggle between browsing the Web and using other computer programs, talk on cell phones while driving, pilot jumbo jets or monitor air traffic, they're using their "executive control" processes -- the mental CEO -- found to be associated with the brain's prefrontal cortex and other key neural regions such as the parietal cortex.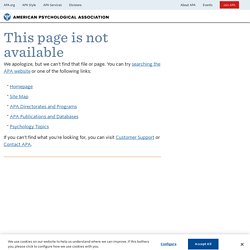 Is Multitasking More Efficient? Shifting Mental Gears Costs Time, Especially When Shifting To Less Familiar Tasks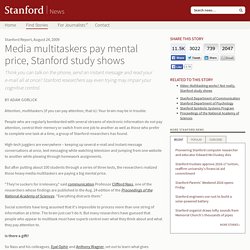 Attention, multitaskers (if you can pay attention, that is): Your brain may be in trouble. People who are regularly bombarded with several streams of electronic information do not pay attention, control their memory or switch from one job to another as well as those who prefer to complete one task at a time, a group of Stanford researchers has found. High-tech jugglers are everywhere – keeping up several e-mail and instant message conversations at once, text messaging while watching television and jumping from one website to another while plowing through homework assignments. But after putting about 100 students through a series of three tests, the researchers realized those heavy media multitaskers are paying a big mental price. "They're suckers for irrelevancy," said communication Professor Clifford Nass, one of the researchers whose findings are published in the Aug. 24 edition of the Proceedings of the National Academy of Sciences. "Everything distracts them."
Media multitaskers pay mental price, Stanford study shows