Software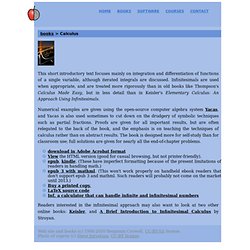 This short introductory text focuses mainly on integration and differentiation of functions of a single variable, although iterated integrals are discussed. Infinitesimals are used when appropriate, and are treated more rigorously than in old books like Thompson's Calculus Made Easy , but in less detail than in Keisler's Elementary Calculus: An Approach Using Infinitesimals . Numerical examples are given using the open-source computer algebra system Yacas , and Yacas is also used sometimes to cut down on the drudgery of symbolic techniques such as partial fractions.
Calculus
cdlibre.org - Recopilaciones de Software Libre
The art of data visualization
GTK+ Applications Repository - GTK-Apps.org
SoftwareLibre.Net | ... noticias sobre Software Libre y Nuevas Tecnologías.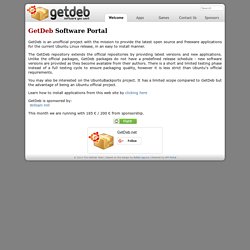 GetDeb is an unofficial project with the mission to provide the latest open source and freeware applications for the current Ubuntu Linux release, in an easy to install manner. The GetDeb repository extends the official repositories by providing latest versions and new applications. Unlike the official packages, GetDeb packages do not have a predefined release schedule - new software versions are provided as they become available from their authors.