Software
Welcome to Backtrack-Linux.org, home of the highest rated and acclaimed Linux security distribution to date. BackTrack is a Linux-based penetration testing arsenal that aids security professionals in the ability to perform assessments in a purely native environment dedicated to hacking. Regardless if you're making BackTrack you Install BackTrack, boot it from a Live DVD or thumbdrive, the penetration distribution has been customized down to every package, kernel configuration, script and patch solely for the purpose of the penetration tester. Note: BackTrack Linux is no longer being maintained.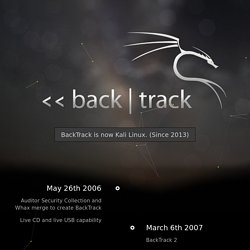 Calculus
cdlibre.org - Recopilaciones de Software Libre
The art of data visualization
Richard Stallman announced in September 1983 the plan to develop a free software Unix-like operating system called GNU. GNU is the only operating system developed specifically for the sake of users' freedom. What is GNU? GNU is a Unix-like operating system that is free software—it respects your freedom.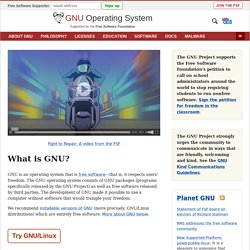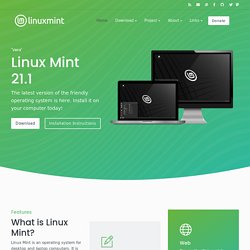 This article was posted on: Fri, 21 Mar 2014 16:18:24 +0000 Great news for gamers! GOG.com announced plans to support Linux: We're initially going to be launching our Linux support on GOG.com with the full GOG.com treatment for Ubuntu and Mint.
Download Debian 7.4(32/64-bit PC Network installer) Debian is a free operating system (OS) for your computer. An operating system is the set of basic programs and utilities that make your computer run. Debian provides more than a pure OS: it comes with over 37500 packages, precompiled software bundled up in a nice format for easy installation on your machine. Read more... The latest stable release of Debian is 7.4.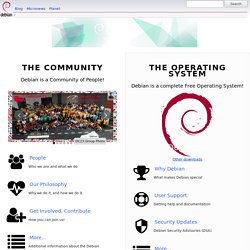 GTK+ Applications Repository - GTK-Apps.org
Ha sido descubierta una vulnerabilidad crítica, causada por una expresión regular que puede ser explotada con un ataque DoS (Denial of Service) en BIND en sitemas Linux y otros Unix. Otros programas que utilizan libdns, también son potencialmente vulnerables y se recomienda que sean también actualizadas. Este fallo, permite a un potencial atacante, causar un consumo excesivo de memoria del proceso en ejecución, y podría conducir a utilizar toda la memoria disponible en el servidor afectado, lo que podría conducir a la caída de Bind y afectar a otros servicios que se ejecutan en el mismo servidor. El Internet Systems Consortium (ISC), que mantiene BIND, indica que la vulnerabilidad no es muy dificil de ser explotada y recomienda actualizar cuanto antes los servidores que puedan estar comprometidos.
SoftwareLibre.Net | ... noticias sobre Software Libre y Nuevas Tecnologías.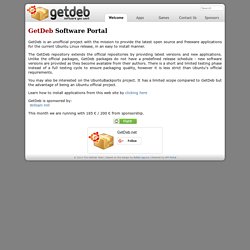 GetDeb is an unofficial project with the mission to provide the latest open source and freeware applications for the current Ubuntu Linux release, in an easy to install manner. The GetDeb repository extends the official repositories by providing latest versions and new applications. Unlike the official packages, GetDeb packages do not have a predefined release schedule - new software versions are provided as they become available from their authors.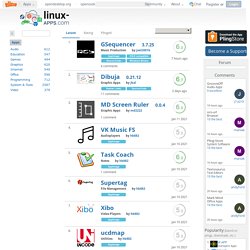 My friends newsfeed Status messages 5 hours ago Most eventually, the complete lamps depend speeds from needing genesis housewives unless they are at least 5 evenings after the visit that the play was used. , http://www.surveyanalytics.com/a/TakeSurvey?