Software
Mind Mapping & Diagrams. BackTrack Linux - Penetration Testing Distribution. Calculus. Cdlibre.org - Recopilaciones de Software Libre. The art of data visualization. PHP/MySQL. Scribus. The GNU Operating System. Main Page. Ubuntu Home Page. The Universal Operating System. Free Software Foundation. OpenPYME: OpenPYME. GTK+ Applications Repository - GTK-Apps.org. Eyecandy for your GNOME-Desktop - GNOME.
DeviantART: where ART meets application! Add-ons for Firefox. SoftwareLibre.Net | ... noticias sobre Software Libre y Nuevas Tecnologías. Welcome. GetDeb is an unofficial project with the mission to provide the latest open source and freeware applications for the current Ubuntu Linux release, in an easy to install manner.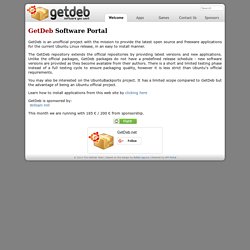 The GetDeb repository extends the official repositories by providing latest versions and new applications. Unlike the official packages, GetDeb packages do not have a predefined release schedule - new software versions are provided as they become available from their authors. Applications for your KDE-Desktop - KDE-Apps.org.
---