Containerarchitecture
Urban Rio, Panama's First Affordable Green Container Project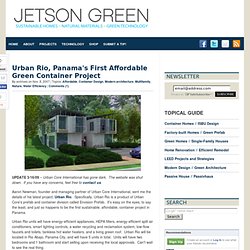 UPDATE 3/16/09 – Urban Core International has gone dark. The website was shut down. If you have any concerns, feel free to contact us. Aaron Newman, founder and managing partner of Urban Core International, sent me the details of his latest project, Urban Rio.
Inexpensive Home Built With Recycled Containers | Science Hax
architecture and hygiene - home
kavel.startpagina.nl
Woonkavels.nl - Bouw een eigen huis op eigen grond
::: LOT-EK :::
Twelve amazing shipping container houses | Yahoo! Green
A DO IT YOURSELF (DIY) REFERENCE AND ARCHITECTURAL DESIGN SERVICE FOR CONVERTING RECYCLED INTERMODAL CARGO SHIPPING CONTAINERS INTO BUILDINGS AND ARCHITECTURE. INCLUDES BUILT PROJECT EXAMPLES, DETAILS, PLANS, MATERIALS, TECHNIQUES, VIDEOS, AND MORE… | Res
sketchbookideas
Home Contained
TAMarchitettura - CNT
TAMarchitettura - CNT
HIVEMODULAR
ik moet toegeven dat ik tilt zijn mening volg. en als ik zijn post lees, had ik exact dezelfde eindelose inspiratie die naar bovenkwam. vochtregulerend: system D? dak waterdicht. of zelfdragend dak, of gewoon de verbindingsnaad tussen de 2 containers waterdicht maken en een groendak erop?
Vraagbaak - Toon onderwerp - bouwen met ruwbouw in containers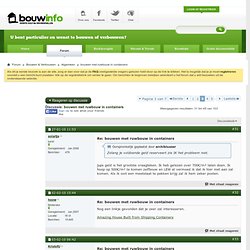 The Shipping Muse
container.li
INFINISKI