Containerarchitecture
Urban Rio, Panama's First Affordable Green Container Project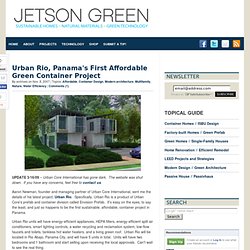 UPDATE 3/16/09 – Urban Core International has gone dark. The website was shut down. If you have any concerns, feel free to contact us. Aaron Newman, founder and managing partner of Urban Core International, sent me the details of his latest project, Urban Rio.
architecture and hygiene - home
kavel.startpagina.nl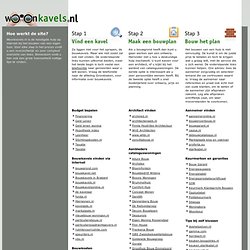 Het bouwen van een huis is niet eenvoudig. De kunst is om de juiste prijs te betalen en toch te krijgen wat u graag wilt, met de service die u zich wenst. De onderstaande links kunnen helpen. Ons advies: kies de aannemer zorgvuldig en selecteer iemand die uw vertrouwen waard is.
Woonkavels.nl - Bouw een eigen huis op eigen grond
::: LOT-EK :::
Twelve amazing shipping container houses | Yahoo! Green
A DO IT YOURSELF (DIY) REFERENCE AND ARCHITECTURAL DESIGN SERVICE FOR CONVERTING RECYCLED INTERMODAL CARGO SHIPPING CONTAINERS INTO BUILDINGS AND ARCHITECTURE. INCLUDES BUILT PROJECT EXAMPLES, DETAILS, PLANS, MATERIALS, TECHNIQUES, VIDEOS, AND MORE… | Res
sketchbookideas
Home Contained
TAMarchitettura - CNT
TAMarchitettura - CNT
HIVEMODULAR
ik moet toegeven dat ik tilt zijn mening volg. en als ik zijn post lees, had ik exact dezelfde eindelose inspiratie die naar bovenkwam. vochtregulerend: system D? dak waterdicht. of zelfdragend dak, of gewoon de verbindingsnaad tussen de 2 containers waterdicht maken en een groendak erop?
Vraagbaak - Toon onderwerp - bouwen met ruwbouw in containers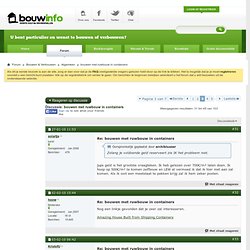 Downtown Houston, Texas, feels like a ghost town. Buildings with tinted windows loom heavily and cast dark shadows on the abandoned sidewalks. Residents rarely spend time here, and when they do, you would hardly know it: 6.3 miles of tunnels connect more than 80 city buildings, pushing pedestrians underground and away from the heat, the humidity, and the possibility of a dynamic urban lifestyle. Though the city lacks visible signs of human interaction, Houston is industrially and economically one of the busiest places in America. Its refineries produce up to 1.5 million barrels of oil each day, and its port handles the most foreign cargo—and second-most total tonnage—in the United States.
The Shipping Muse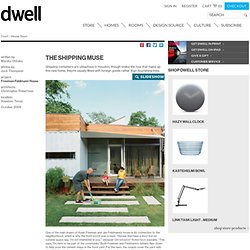 container.li
Une nouvelle réalisation en containers de Clément Gillet Architectes, en banlieue de Rennes (35). C'est à Saint Gilles très exactement dans le lotissement ''Les Chromatiques''. La construction de ces maisons s'est faite en VEFA et les 11 maisons ont été vendues en 15 jours. B3 Ecodesign, la société de l'architecte Gillet a modifié des conteneurs neufs, ajouté une isolation intérieure projetée polyuréthane et une ossature secondaire bois toujours en intérieur.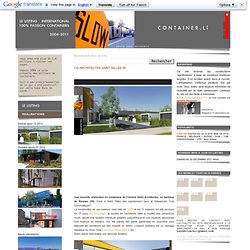 INFINISKI