Facts
Interesting facts in Web Format! Enjoy:)
Anagrams - StumbleUpon. True Facts #1 - StumbleUpon. Facts - interesting, provocative, well-seasoned One out of ten children in Europe are conceived on an IKEA bed.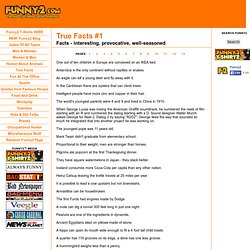 Antarctica is the only continent without reptiles or snakes. Amazing Fact Generator - StumbleUpon. Human World - StumbleUpon. Human World The women of the Tiwi tribe in the South Pacific are married at birth.
When Albert Einstein died, his final words died with him. The nurse at his side didn't understand German. Death Trivia - StumbleUpon.
---