OpenGouv
All datasets - OpenSpending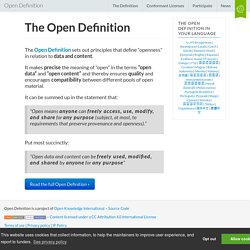 The Open Definition sets out principles that define "openness" in relation to data and content. It makes precise the meaning of "open" in the terms "open data" and "open content" and thereby ensures interoperability between different pools of open material. It can be summed up in the statement that:
These hackathons, like small pieces, will be loosely joined by 5 basic principles. It can be as big or as small, as long or as short, as you'd like it. Ottawa's open data community attracts a diverse crowd of people to hackathons, with whole families coming out. In the UK groups have done amazing work getting young and diverse group hacking. Veteran hackers have said it over and over again: Our movement is stronger when it is broader. Want to help organize one in your city and/or participate?
International Open Data Hackathon
Sunlight Labs
Sunlight at the International Open Data Hackathon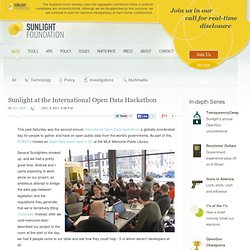 This past Saturday was the second annual International Open Data Hackathon, a globally coordinated day for people to gather and hack on open public data from the world's governments. As part of this, POPVOX hosted an Open Data event here in DC at the MLK Memorial Public Library. Several Sunlighters showed up, and we had a pretty great time. Andrew and I came expecting to work alone on our project, an ambitious attempt to bridge the data gap between legislation and the regulations they generate, that we're tentatively titling Crosslaws.
Churnalism US is a web tool and browser extension to let you know when news articles may have similarities with press releases and other sources. Visit project Political Ad Sleuth is an opportunity for local volunteers to help us make a national, online database of TV stations' public ad files. This paperwork, which every broadcaster keeps but doesn't post online, contains important information about who is buying airtime for political ads. Visit project Follow the Unlimited Money, a product of the Sunlight Foundation Reporting Group, is a searchable database tracking organizations that are paying for ads and other forms of political communication. Visit project Foreign Lobbying Influence Tracker digitizes information that representatives of foreign governments, political parties and government-controlled entities must disclose to the U.S.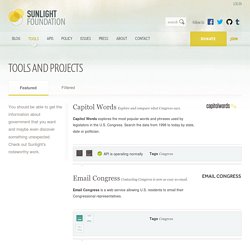 Open State Project: freeing state legislative information
Singapour : Données publiques / Open Data
Perou : Données publiques / Open Data
Pays Bas : Données publiques / Open Data
De data is openbaar;Er berust geen auteursrecht of andere rechten van derden op;De data zijn bekostigd uit publieke middelen, beschikbaar gesteld voor de uitvoering van die taak;De data voldoen bij voorkeur aan 'open standaarden' (geen barrières voor het gebruik door ICT-gebruikers of door ICT-aanbieders);Open Data is bij voorkeur computer-leesbaar, zodat zoekmachines informatie in documenten kunnen vinden. Kijk in de handreiking open data voor meer informatie.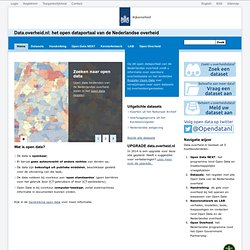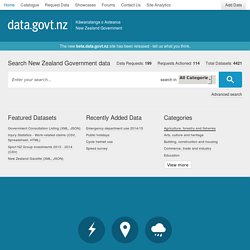 Accessibility Links [Skip to content] Masthead Kāwanatanga o AotearoaNew Zealand Government
Moldovie : Données publiques / Open Data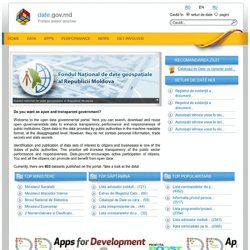 Do you want an open and transparent government? Welcome to the open data governmental portal. Here you can search, download and reuse open guvernamentele data to enhance transparency, performance and responsiveness of public institutions. Open data is the data provided by public authorities in the machine readable format, at the disaggregated level.
In Ireland, official statistics are those produced by the Central Statistics Office (CSO), along with government departments, agencies and other state bodies. Most of these are available on the web through a variety of websites and formats. The StatCentral portal provides standard documentation on recurring official statistics and links to where they can be found. We are constantly working to improve our site and would value your comments or suggestions.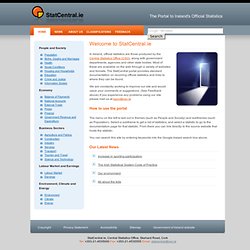 Irelande : Données publiques / Open Data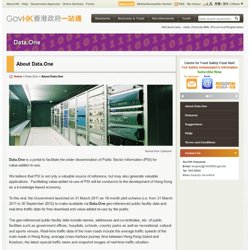 is a portal to facilitate the wider dissemination of Public Sector Information (PSI) for value-added re-use. We believe that PSI is not only a valuable source of reference, but may also generate valuable applications. Facilitating value-added re-use of PSI will be conducive to the development of Hong Kong as a knowledge-based economy.
Hong kong : Données publiques / Open Data
Estonie : Données publiques / Open Data
Espagne : Données publiques / Open Data
Corée sud : Données publiques / Open Data
The Open Data Pilot is part of the Government of Canada's commitment to open government, which is being pursued along three streams: open data, open information and open dialogue, and aims to drive innovation and economic opportunities for all Canadians. The Open Data Pilot seeks to improve the ability of the public to find, download and use Government of Canada data. You are invited to search the catalogue, download datasets and explore the possibilities of Open Data.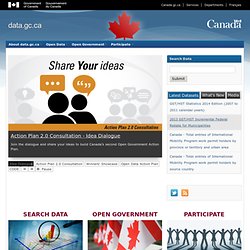 Public cible Les développeurs et personnes à la recherche d'open data. Recherche d'open data Actuellement, le nombre d'ensembles de données est assez limité, mais il grandira rapidement. Participants - Développeurs Si vous acceptez les conditions d'utilisation, vous pouvez demander de l'aide dans votre recherche d'ensembles de données et lancer des suggestions d'améliorations.
Belgique : Données publiques / Open Data
Autriche : Données publiques / Open Data
SAUDI : Données publiques / Open Data