OpenGouv
All datasets - OpenSpending
International Open Data Hackathon
Sunlight Labs
Sunlight at the International Open Data Hackathon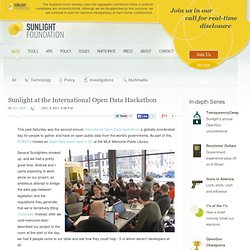 This past Saturday was the second annual International Open Data Hackathon, a globally coordinated day for people to gather and hack on open public data from the world's governments. As part of this, POPVOX hosted an Open Data event here in DC at the MLK Memorial Public Library. Several Sunlighters showed up, and we had a pretty great time. Andrew and I came expecting to work alone on our project, an ambitious attempt to bridge the data gap between legislation and the regulations they generate, that we're tentatively titling Crosslaws.
Poligraft is a website and utility that allows anyone to uncover levels of influence in federal and state-level politics and the news coverage of it. Using data from Sunlight's Influence Explorer, Poligraft allows you to connect the dots between money and politics in Congress. Simply paste the URL or text of a news article, blog post or press release and Poligraft will create an enhanced view of the people, organizations and relationships described within it. Visit project OpenCongress is a free, nonpartisan source for legislative information that lets anyone track bills, lawmakers and the issues they care about.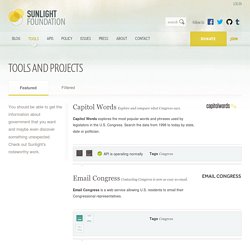 Open State Project: freeing state legislative information
Singapour : Données publiques / Open Data
Perou : Données publiques / Open Data
Pays Bas : Données publiques / Open Data
Moldovie : Données publiques / Open Data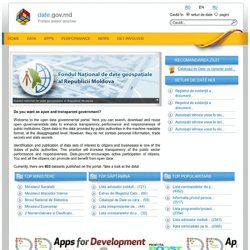 Do you want an open and transparent government? Welcome to the open data governmental portal. Here you can search, download and reuse open guvernamentele data to enhance transparency, performance and responsiveness of public institutions. Open data is the data provided by public authorities in the machine readable format, at the disaggregated level.
Irelande : Données publiques / Open Data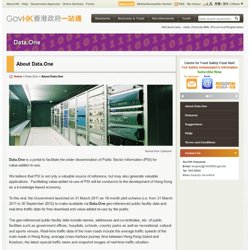 is a portal to facilitate the wider dissemination of Public Sector Information (PSI) for value-added re-use. We believe that PSI is not only a valuable source of reference, but may also generate valuable applications. Facilitating value-added re-use of PSI will be conducive to the development of Hong Kong as a knowledge-based economy.
Hong kong : Données publiques / Open Data
Estonie : Données publiques / Open Data
Espagne : Données publiques / Open Data
Corée sud : Données publiques / Open Data
The Open Data Pilot is part of the Government of Canada's commitment to open government, which is being pursued along three streams: open data, open information and open dialogue, and aims to drive innovation and economic opportunities for all Canadians. The Open Data Pilot seeks to improve the ability of the public to find, download and use Government of Canada data. You are invited to search the catalogue, download datasets and explore the possibilities of Open Data.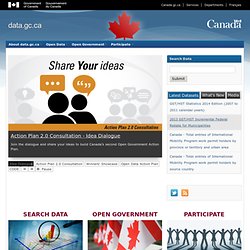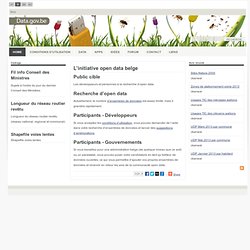 Public cible Les développeurs et personnes à la recherche d'open data. Recherche d'open data Actuellement, le nombre d'ensembles de données est assez limité, mais il grandira rapidement. Participants - Développeurs Si vous acceptez les conditions d'utilisation, vous pouvez demander de l'aide dans votre recherche d'ensembles de données et lancer des suggestions d'améliorations.
Belgique : Données publiques / Open Data
Autriche : Données publiques / Open Data
SAUDI : Données publiques / Open Data