OpenGouv
All datasets - OpenSpending
The database contains the following datasets: 岐阜県大野郡白川村平成23年度決算 平成23年度 市町村別決算状況調http://www.soumu.go.jp/iken/zaisei/h23_shichouson.html 都市別...
International Open Data Hackathon
Sunlight Labs
Sunlight at the International Open Data Hackathon
Churnalism US is a web tool and browser extension to let you know when news articles may have similarities with press releases and other sources. Visit project Political Ad Sleuth is an opportunity for local volunteers to help us make a national, online database of TV stations' public ad files. This paperwork, which every broadcaster keeps but doesn't post online, contains important information about who is buying airtime for political ads. Visit project Follow the Unlimited Money, a product of the Sunlight Foundation Reporting Group, is a searchable database tracking organizations that are paying for ads and other forms of political communication. Visit project Foreign Lobbying Influence Tracker digitizes information that representatives of foreign governments, political parties and government-controlled entities must disclose to the U.S.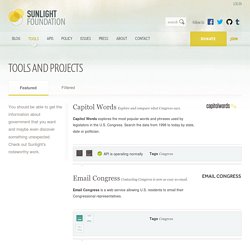 Open State Project: freeing state legislative information
Singapour : Données publiques / Open Data
Perou : Données publiques / Open Data
Pays Bas : Données publiques / Open Data
Moldovie : Données publiques / Open Data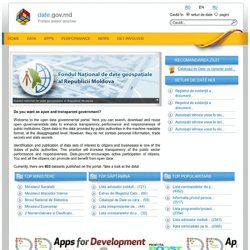 Do you want an open and transparent government? Welcome to the open data governmental portal. Here you can search, download and reuse open guvernamentele data to enhance transparency, performance and responsiveness of public institutions. Open data is the data provided by public authorities in the machine readable format, at the disaggregated level.
Irelande : Données publiques / Open Data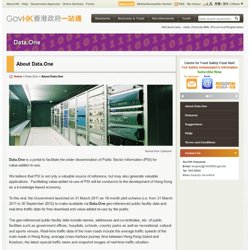 is a portal to facilitate the wider dissemination of Public Sector Information (PSI) for value-added re-use. We believe that PSI is not only a valuable source of reference, but may also generate valuable applications. Facilitating value-added re-use of PSI will be conducive to the development of Hong Kong as a knowledge-based economy.
Hong kong : Données publiques / Open Data
Estonie : Données publiques / Open Data
Espagne : Données publiques / Open Data
Corée sud : Données publiques / Open Data
The Open Data Pilot is part of the Government of Canada's commitment to open government, which is being pursued along three streams: open data, open information and open dialogue, and aims to drive innovation and economic opportunities for all Canadians. The Open Data Pilot seeks to improve the ability of the public to find, download and use Government of Canada data. You are invited to search the catalogue, download datasets and explore the possibilities of Open Data.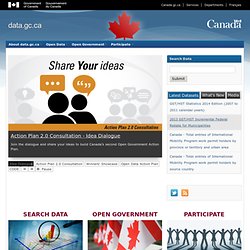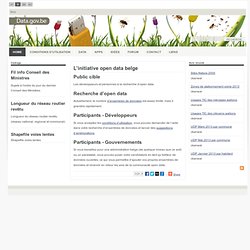 Public cible Les développeurs et personnes à la recherche d'open data. Recherche d'open data Actuellement, le nombre d'ensembles de données est assez limité, mais il grandira rapidement. Participants - Développeurs Si vous acceptez les conditions d'utilisation, vous pouvez demander de l'aide dans votre recherche d'ensembles de données et lancer des suggestions d'améliorations.
Belgique : Données publiques / Open Data
Autriche : Données publiques / Open Data
SAUDI : Données publiques / Open Data