Cookies!
Recipes from Kevin & Amanda. So excited to share this super easy, ultra creamy pesto alfredo sauce, poured over dreamy, fluffy gnocchi and topped with crisp bacon and shaved parmesan.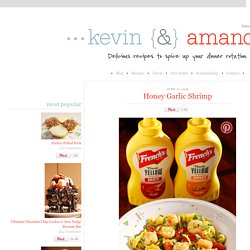 It's warm, hearty, delicious, and perfect for busy weeknights. The combo of bacon, creamy basil pesto, and parmesan send this decadent sauce over the top!! It's seriously too good to eat in public. Gnocchi are basically potato dumplings, so serve this to your meat-and-potatoes loving family for a sure-fire winner! Brown Butter Double Fudge Chocolate Chip Cookie Dough Cookies. Little bit of a mouthful there.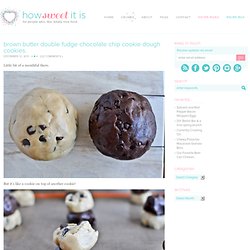 But it's like a cookie on top of another cookie! Yeah. Espresso-chocolate shortbread cookies. In my mind, there are few higher callings in the baking world than cookies, and simply no higher cookie callings than shortbread, so I cannot think of a better place to start my Week-O-Cookies.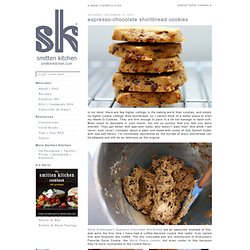 They are firm enough to pack in a tin but manage to taste soft. Bites seem to dissipate in your mouth, but not so quickly that you feel you were shorted. They get better with age–and really, who doesn't want that? And while I will never, ever (ever) complain about a plain one made with some of that Danish butter with sea salt flecks, I'm continually impressed by the myriad of ways shortbread can be adapted and still be as delicious as the original.
Dorie Greenspan's Espresso-Chocolate Shortbread are an awesome example of this, and were the first time I have had a coffee-flavored cookie that really, truly tasted first and foremost like coffee. Espresso chocolate chip shortbread cookie recipe. Recipe: espresso chocolate chip shortbread What new views through the lens?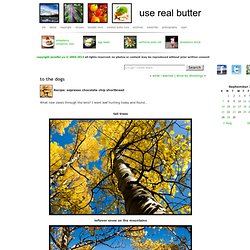 I went leaf hunting today and found… tall trees. Slutty Brownies - StumbleUpon. Now I don't want to over sell this, so I'm going to be conservative and simply say, that these are...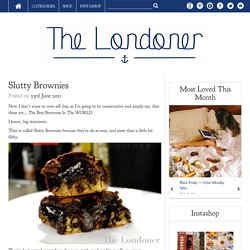 The Best Brownies In The WORLD. I know, big statement. They're called Slutty Brownies because they're oh so easy, and more than a little bit filthy. They're best served warm from the oven, with good quality vanilla ice cream (devastatingly I didn't have any in the freezer this time, so I guess I'll just have to make them again). They take about 45mins to make, including baking time. A brownie by any other name… | King Arthur Flour – Baking Banter. Sugar Cookies | Our Best Bites. The Infamous Jacques Torres Chocolate Chip Cookies - StumbleUpon. Now, I have a chocolate chip cookie recipe that I swear by.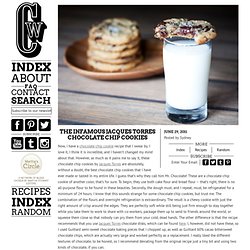 I love it, I think it is incredible, and I haven't changed my mind about that. However, as much as it pains me to say it, these chocolate chip cookies by Jacques Torres are absolutely, without a doubt, the best chocolate chip cookies that I have ever made or tasted in my entire life. I guess that's why they call him Mr. The Infamous Jacques Torres Chocolate Chip Cookies - StumbleUpon. Chocolate Chip Cookie Dough Truffles | annie's cooking lab.
---