Digital Curricular Resources
The Physics Front
Medina Historical
Introduction :: European History
7 Great YouTube Channels for Science
Below are some great YouTube channels for science. If you are a science teacher and you need some useful resources where you can search for and find educational science videos, then the list below would be of great help. Some of the channels listed below have thousands of subscribers featuring some of the best science videos online. This is one of the gifted science teachers who shares highly educational videos showing students and learners how to integrate science into day to day life.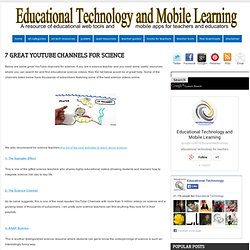 MoodleShare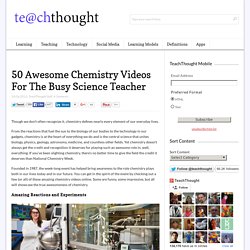 Though we don't often recognize it, chemistry defines nearly every element of our everyday lives. From the reactions that fuel the sun to the biology of our bodies to the technology in our gadgets, chemistry is at the heart of everything we do and is the central science that unites biology, physics, geology, astronomy, medicine, and countless other fields. Yet chemistry doesn't always get the credit and recognition it deserves for playing such an awesome role in, well, everything. If you've been slighting chemistry, there's no better time to give the field the credit it deserves than National Chemistry Week.
Using Technology with Classroom Instruction that Works, 2nd Edition
OER Matrix - 82 Courses - Google Docs
Youth Leadership Initiative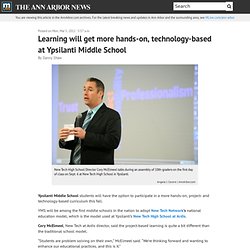 Learning will get more hands-on, technology-based at Ypsilanti Middle School
New Tech High School Director Cory McElmeel talks during an assembly of 10th-graders on the first day of class on Sept. 6 at New Tech High School in Ypsilanti. Angela J. Cesere | AnnArbor.com Ypsilanti Middle School students will have the option to participate in a more hands-on, project- and technology-based curriculum this fall. YMS will be among the first middle schools in the nation to adopt New Tech Network's national education model, which is the model used at Ypsilanti's New Tech High School at Ardis.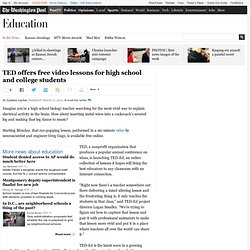 TED offers free video lessons for high school and college students
TED, a nonprofit organization that produces a popular annual conference on ideas, is launching TED-Ed, an online collection of lessons it hopes will bring the best educators to any classroom with an Internet connection. "Right now there's a teacher somewhere out there delivering a mind-altering lesson and the frustrating thing is, it only reaches the students in that class," said TED-Ed project director Logan Smal­ley. "We're trying to figure out how to capture that lesson and pair it with professional animators to make that lesson more vivid and put it in a place where teachers all over the world can share it." TED-Ed is the latest wave in a growing trend of free online education. With offerings from the Khan Academy, founded in 2004 when Salman Khan began posting math tutorials on YouTube, and undergraduate courses from prestigious universities such as Yale and the Massachusetts Institute of Technology, free classes and lectures are proliferating on the Web.
Get the Math is a super website designed to provide teachers and students with Algebra-based mathematics challenges. Get the Math tries to put the challenges in the context of the "real world" scenarios of fashion design, video game design, and music production. Get the Math features short videos of professionals in each of the three areas explaining and showing how mathematics is used in their professions.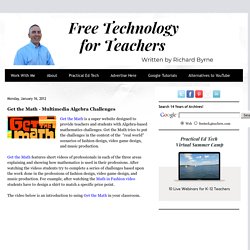 Get the Math - Multimedia Algebra Challenges
The Periodic Table of Videos - University of Nottingham
Illinois Online Network: Your source for Technology Enhanced and Online Education Information
DreamBox Learning, an adaptive e-learning platform for students, has raised $11 million in new funding led by Netflix CEO Reed Hastings (who is investing through the Charter School Growth Fund), and Kleiner Perkins partner John Doerr (this is a personal investment for Doerr). GSV Capital Corp. and Deborah Quazzo also participated round. This brings DreamBox's total funding to $18 million. Launched in 2008, DreamBox Learning offers more than 500 online math lessons, puzzles, games and curriculums for schools and home schools, targeting young students in kindergarten through fifth grade. DreamBox assesses each student's mathematical understanding on an ongoing basis, providing the most suitable hints and encouragement at the right pace for that child, and offers the next personally appropriate activities as subsequent choices.
Reed Hastings And John Doerr Put $11M In Adaptive Online Math Learning Platform DreamBox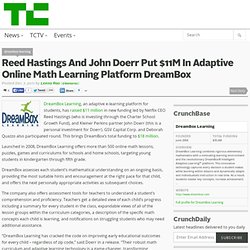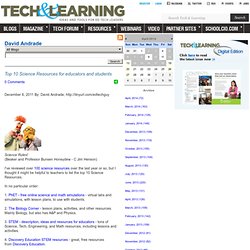 - Top 10 Science Resources for educators and students
(Beaker and Professor Bunsen Honeydew - C Jim Henson) I've reviewed over 100 science resources over the last year or so, but I thought it might be helpful to teachers to list the top 10 Science Resources. In no particular order: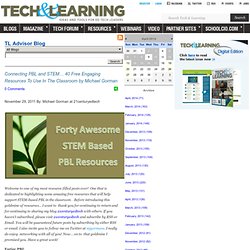 Welcome to one of my most resource-filled posts ever! One that is dedicated to highlighting some amazing free resources that will help support STEM-based PBL in the classroom . Before introducing this goldmine of resources… I want to thank you for continuing to return and for continuing to sharing my blog 21centuryedtech with others. If you haven't subscribed, please visit 21centuryedtech and subscribe by RSS or Email. You will be guaranteed future posts by subscribing by either RSS or email. I also invite you to follow me on Twitter at mjgormans.
- Connecting PBL and STEM… 40 Free Engaging Resources To Use In The Classroom by Michael Gorman
NewSchools is pleased to re-release the K-12 education technology market map in May 2013 for the entrepreneurial, philanthropic, and education communities. This tool provides a visual representation of ventures currently operating in the K-12 education technology market. NewSchools again collaborated with teams from Education Elements and Clayton Christensen Institute for Disruptive Innovation to update the map. This update includes: Approximately 50 new companies added to the mapUpdated information about product offerings, acquisitions, mergers, etcGraphic design refreshRevised categorizations in Data and Talent Management (See more information on the boundaries of the map and definitions for each of the categories featured.)