Marketing
Get flash to fully experience Pearltrees
photoshop How to Create a Jumbotron Effect Create a jumbotron screen effect like you would see at big sporting events | 26406 views | by denisdesigns How to Create a Somber Composition In this tutorial you will learn how to manipulate stock images and turn them into your puppets to express your desired feelings.
Making precise selections in Photoshop is an essential skill that every designer needs. As a print designer, you will find yourself using selections to remove objects from their background to place within ads. As a web designer, you might extract an image and place it on a website with no background. If you are a photographer, you might make a selection to remove blemishes or other unwanted features from an image. You can't get around it; everyone uses selections, and if you make excellent selections, you'll end up with excellent work.
Looking for street arts? then have a look at these best selected street artists of the year. With one of the most authoritative resource… for 2011. Street art is an awesome way to represent anything which can be a type of visual art, many artists today have a keen interest in street art as it's the most profound and it can be used to serve many purposes. Like in Wikipedia street art is usually refers to unsanctioned art, as opposed to government sponsored initiative. Anyways I love what has been done to the streets and it looks amazing in every sense.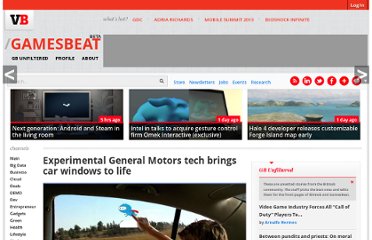 Backseat boredom could become a thing of the past if experimental interactive glass technology finds its way into General Motors cars. Currently in the prototype stage, a student project commissioned by GM envisages using smart glass technology to help rear seat passengers, particularly children, have a richer experience on the road. Inspired by psychological studies that indicate car passengers often feel disconnected from their environment, GM asked students from the Bezalel Academy of Art and Design in Israel, to turn car windows into interactive displays. The students were given free reign to create applications, without concerns over whether they could be mass produced. The range of games and apps created for this 'Windows of Opportunity' project included:
I thought I'd seen every type of book carving imaginable, until I ran across these jaw dropping creations by Guy Laramee . His works are so sculptural, so movingly natural in their form, they've really touched me. His works are inspired by a fascination with so-called progress in society: a thinking which says the book is dead, libraries are obsolete and technology is the only way of the future. His thoughts:
National Geographic is currently holding its annual photo contest , with the deadline for submissions coming up on November 30. For the past nine weeks, the society has been gathering and presenting galleries of submissions, encouraging readers to vote for them as well. National Geographic was kind enough to let me choose among its entries from 2011 for display here on In Focus. Gathered below are 45 images from the three categories of People, Places, and Nature, with captions written by the individual photographers. [ 45 photos ] Use j/k keys or ←/→ to navigate Choose: Many people pilgrimage to Uluru, but what is seen there often depends on where you've come from.
Light Trail Photography is just an amazing way to catch a moving light. Light trails occur when a Photo is taken including stationary and moving subjects including a slow shutter speed to capture the movement of the light which create some beautiful trails. Long exposures are easiest to accomplish in low-light conditions, but can be done in brighter light using neutral density filters or specially designed cameras .