Learning
Get flash to fully experience Pearltrees
Image courtesy of Joiseyshowaa What do you want to be when you grow up?
The web is a powerful resource that can easily help you learn new skills. You just have to know where to look. Sure, you can use Google, Yahoo, or Bing to search for sites where you can learn new skills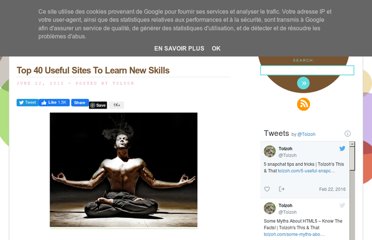 If you're a professional who likes to be intellectually stimulated and you enjoy keeping up with the latest news and breaking trends, the internet provides you with an endless choice of carefully curated sites to visit.
One of the biggest reasons that people are denied the privilege of education is because they can't afford it. However, today we live in a world where knowledge and information are at our finger tips like never before.
"Music helps me concentrate," Mike said to me glancing briefly over his shoulder.
i 3 Votes Image via Wikipedia