The future of education
Ireland's Martin Hynes Appointed as Chief Executive of the European Science Foundation
Galway Science & Technology Festival
Michio Kaku on the next 100 years: "The Matrix" cometh
School replaces books with iPads - The Irish Times - Mon, May 30
MSc in Cloud Computing
nuigeng
Cork Institute of Technology 31/05/2011 - 07:13:33 Cork Institute of Technology is to offer a world first in third-level education with a new degree in cloud computing.
CIT to offer world's first degree in cloud computing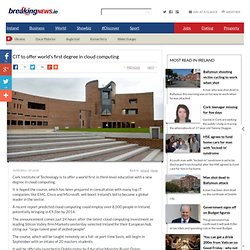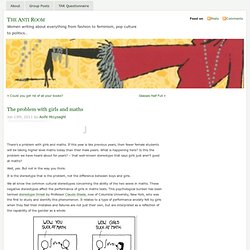 Jun 13th, 2011 by Aoife McLysaght There's a problem with girls and maths.
The problem with girls and maths « The Anti Room
The #edtech20 project Daily
News: Plan to Restructure British Higher Ed - Inside Higher Ed
Study Shows Technology Boosts Performance for Educators and Students
[1107.5298] Teaching introductory undergraduate Physics using commercial video games
Mr Smith, who previously held a senior position at Oracle, said employers had no right to "moan" unless they "can show they are involved in turning it around". Education Secretary Michael Gove wants the education system to move away from an "obsession" with tests and targets, which could be leading to students taking "soft courses" to raise schools' positions in league tables.
Employers call for 'enterprise curriculum'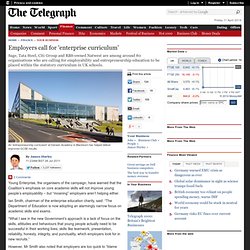 Smartphone and tablet stats: what's really going on in the mobile market? | Technology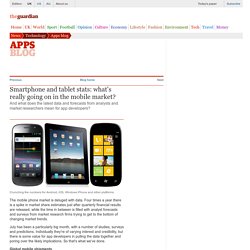 The mobile phone market is deluged with data.
Facebook acquires Push Pop Press for tablet design
Digital book creator Push Pop Press announced Tuesday that it has been acquired by Facebook. Terms of the deal have not been disclosed. Push Pop Press was founded last year by Mike Matas and Kimon Tsinteris, former Apple employees that had together worked on the iPhone's Maps app.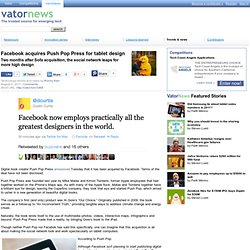 Altimeter hosted our second roundtable lead with our newest hire, Chris Silva ( blog / Twitter ) who's our newest analyst at Altimeter focused on Mobile Strategy. Chris also stems from Forrester, and was an analyst there focused on mobile, he was actually one of the trainers in my new hire orientation. Above: Mobile Proud!
Altimeter Roundtable: Mobile Discussion on "Enrich, Engage, and Entrust"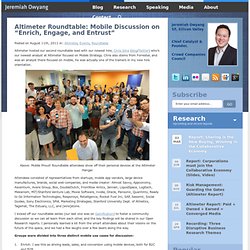 It's war: Google+ gets a gaming platform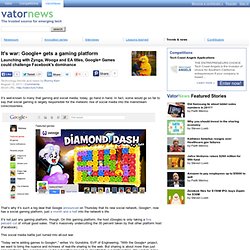 It's well-known to many that gaming and social media, today, go hand in hand. In fact, some would go so far to say that social gaming is largely responsible for the meteoric rise of social media into the mainstream consciousness. That's why it's such a big deal that Google announced on Thursday that its new social network, Google+, now has a social gaming platform, just a month and a half into the network's life.
Knewton tells us: Education's Internet moment is now - Shareables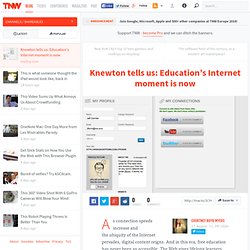 As connection speeds increase and the ubiquity of the Internet pervades, digital content reigns.
The iPad was announced in January of 2010 to a greek chorus of ' meh 's' from a tech community that was expecting something incredible, something revolutionary, something…more.
Why the iPad has and will continue to dominate the tablet market - TNW Apple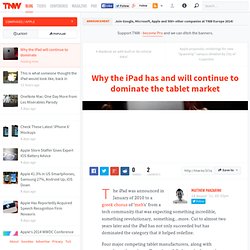 Malcom Gladwell and the 10,000 hrs
gaming and how to solve real world problems
Riz Khan - Schools killing creativity - 10 Sep 08 - Part 2
Clifford Stoll: 18 minutes with an agile mind
Reforming education: The great schools revolution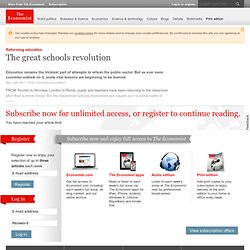 <a href="//ad.doubleclick.net/jump/teg.tdqk/llsk/a;subs=n;wsub=n;sdn=n;!c=21529014;dcopt=ist;pos=ldr_top;sz=728x90,970x90,970x250;tile=1;ord=206232039?"
Huckabee - Sir Ken Robinson, Author of The Element (01-31-2009)
Adaptive Learning Roundtable, Part 5: Understanding How Students Learn Over Time [VIDEO] | Knewton Blog
Recently, David Kuntz (our VP of Research), Jose Ferreira (our Founder and CEO), and Len Swanson (the former Executive Director of ETS and the man behind Knewton's testing algorithm), sat down for an in-depth talk on all things adaptive learning.
The transformation of the book industry: Disappearing ink
<a href="//ad.doubleclick.net/jump/teg.fmsq/pfw6/a;subs=n;wsub=n;sdn=n;!
Ken Robinson - Differentiated Teaching -
Riz Khan - Ken Robinson - 3 March 09 - Part 1
Riz Khan - Ken Robinson - 3 March 09 - Part 2
Do Schools Destroy Creativity? - Ken Robinson
Peter Thiel and Max Levchin are busy guys. Thiel, aside from being on the Board of Directors for companies like Palantir Technologies, Geni, and Asana, an early investor and former board member at Facebook, and also happens to be founder and president of hedge fund Clarium Capital as well as Managing Partner of his VC firm, Founder's Fund . Levchin was founder and CEO of Slide (which was acquired by Google), which he recently left when Google deadpooled all but one of Slide's products .
Max Levchin And Peter Thiel: Innovation In The World Today Is Between 'Dire Straits And Dead'