Acco
Mr & Mrs Smith guarantees that, unless we specify otherwise, all rates given are the best available at the hotel for your dates. We don't add booking fees, and if you find a cheaper rate for the same room on the same dates anywhere else, we'll match it, and give you a US$75 voucher too – just let us know. Currency conversions are based on xe.com exchange rates.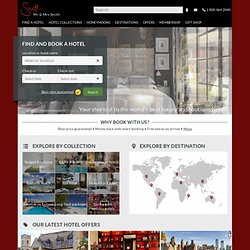 Mr & Mrs Smith - Boutique Hotels - Luxury Hotel Collection
Hotel Ile Maurice, Hotel Guadeloupe, Hotel Ile de la Reunion, Hotel Martinique ... : Hotelissima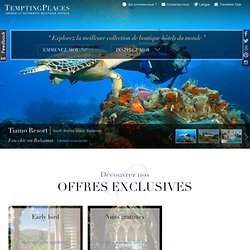 24H à Nice TemptingPlaces vous entraîne pour une balade de 24 heures au coeur de Nice.... Lire la suite ›
Boutique hôtels de charme et hôtels de luxe, sélection unique uniques par TemptingPlaces
Luxury Hotels - Design Hotels - Boutique Hotels
Hôtels low cost, auberges, appartements et bed and breakfasts à à partir de 30 €.
Luxury Hotels + Stylish Boutique Hotels :: Directory of Hotels :: Small Hip Cool Hotel Collection
Avantgarde Hotels - Inspiring Boutique Hotels You pick Avantgarde Hotels because you prefer staying somewhere edgy, with flair and style, that is well designed and that uses the space allotted to it with the most elan possible. Our hotels are hip and luxurious, and will meet all your getaway needs. From business to pleasure, honeymoons to romance, stunning city centers and chic downtown boutiques; Avantgarde Hotels has something for all travelers who are passionate about design. For the modern-day nomad the only choice is the cutting edge intelligent, functional, stylish hotel equipped with the most advanced amenities, aiming to seamlessly merge style with substance.
Luxury Design Hotels, Art Boutique Hotels, Hip & Stylish Hotels in Europe, Africa, America and Asia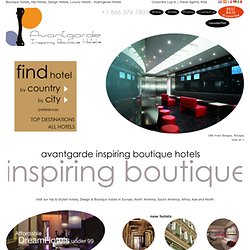 Hôtels de Luxe & Boutique-Hôtels – Chroniques d'Hôtels sur Tablet Hotels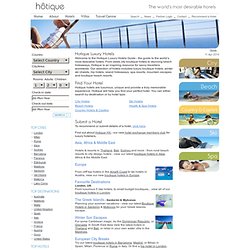 Hotique Luxury Hotels Guide - Luxury Boutique Hotels & Hip Hotels Worldwide – Boutique Hotels in Ibiza, London, Barcelona, Mallorca, Santorini, Mykonos, Maldives & Private Ibiza Villas
Welcome to the Hotique Luxury Hotels Guide - the guide to the world's most desirable hotels. From sleek city boutique hotels to stunning beach hideaways, Hotique is an inspiring resource for savvy travellers worldwide. Our selection of hotels includes luxury boutique hotels, winter ski chalets, hip hotels, island hideaways, spa resorts, mountain escapes and boutique beach resorts. Hotique hotels are luxurious, unique and provide a truly memorable experience.
Easy-to-use tools Every property advert includes up to 24 photos, property reviews, Google map, an interactive calendar and other reservation tools to help you manage your listing. Secure online payment platform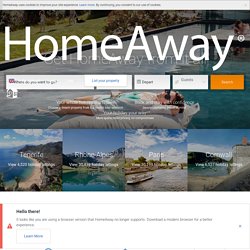 Rome Apartments accommodation. Holiday rentals Paris Barcelona and Amsterdam. Short term vacation villas Rome.
HIP Hotels
Boutique Hotels | Epoque Hotels
If you are looking for a perfect getaway, look no further. With boutique, hip and cutting edge hotels, you're sure to find something that pleases. Inside these pages you'll find charming, quiet hotels; romantic getaways; the perfect wedding destination; a truly unforgettable honeymoon idea; ancient castles; fantastic beach resorts, stunning city center and downtown boutique hotels; and hotels located in the perfect powder ski resort.
433 Amsterdam Hotels - Save up to 80% with EasyToBook.com