Hair
Photo 1- You Totally Got This: 4 Easy Braids For Rookies. Feb 24, 2014 Even if you've landed your dream job and work in the coolest office ever, it's easy to fall into the business-as-usual rut when it comes to your beauty routine.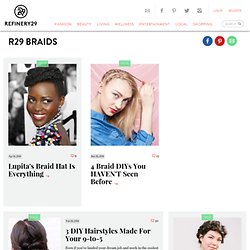 There isn't anything wrong with alternating…read. Natural looking beach curls in under 20 minutes! I don't know about you ladies, but I'm itching for the summer.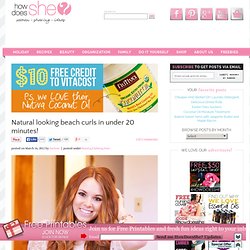 It doesn't help that department stores are already putting out their summer wear and swimsuits. Have you ever wanted to get that beautiful "natural" beach curl look to your hair? I want to share with you a technique that works for ALL types of hair, whether it be short, long, thick, thin, frizzy, or flat… and no curling iron involved! 1. Hot Hair Trends: Try Hair Chalking for Color without Commitment - Beauty Schools Directory Blog. If there's one thing we know, it's that people are always going to come up with creative ways to make a beauty statement.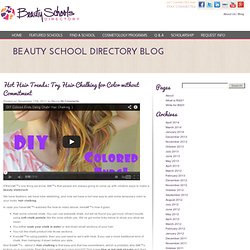 We have feathers, we have lobe stretching, and now we have a hot new way to add some temporary color to your locks: hair chalking. In case you haven't watched the how-to video above, here's how it goes: Nab some colored chalk. You can use sidewalk chalk, but we've found you get more vibrant results using soft chalk pastels like the ones artists use. We've got some links below to show you what we mean.You either soak your chalk in water or wet down small sections of your hair.You rub the chalk product into those sections.If you're using pastels, then you just need to set it with heat. D.I.Y. Curls // How To Rag Roll Your Hair. I love the look of naturally curly hair!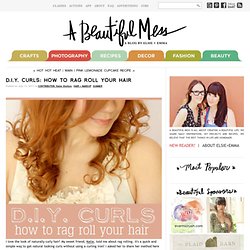 My sweet friend, Katie, told me about rag rolling. It's a quick and simple way to get natural looking curls without using a curling iron! I asked her to share her method here on A Beautiful Mess because I knew you'd be itching to learn like I was! 4 Pin-Up Girl Hair Tutorials for Medium to Short Hair. I love "old" hair.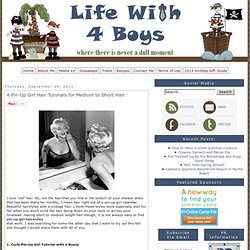 No, not the hair that you find in the bottom of your shower drain that has been there for months, I mean hair right out of a pin-up girl calendar. Beautiful hairstyles with a vintage flair. I think these styles work especially well for fall when you won't mind the hair being down on your neck or across your forehead.
How to curl your hair with a sock! No heat - StumbleUpon.
---