Design
Graphic Design This is a term that describes an array of different kinds of designers. Think of it like the term "entrepreneur". It describes a wide variety of businesspeople - from founders to VC's to "Chief Ninjas" - but isn't all-inclusive. Graphic designers work with graphical images, whether they be illustrations, typography, or images, and on a variety of media including print and web.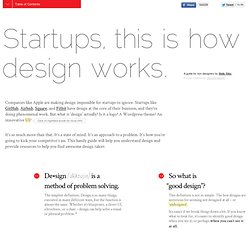 studio de direction artistique & de création graphique
Janvier 2011 Permettez-moi de vous conter l'histoire de l'impression typographique (letterpress) et d'expliquer pourquoi chez Badcass nous sommes sous le charme de son sourire ravageur. Erreurs de genèse Ce procédé d'impression naquit vers 1455 en Europe, le père du bébé s'appelle Johannes Gensfleisch (aka Gutenberg), un allemand qui a vécu quelques temps à Strasbourg pour retourner en Rhénanie peaufiner ses travaux avec la 'mère' du bébé, le jeune Pierre Schoeffer qui de son côté trouva l'alliage de la matrice composé de plomb, d'antimoine et d'étain. Le fer précédemment utilisé pour fabriquer les lettres étant un peu trop dur sous la pression pour donner des résultats convaincants, ce nouvel alliage s'avéra à l'instar du matelas idéal ; ni trop dur, ni trop mou.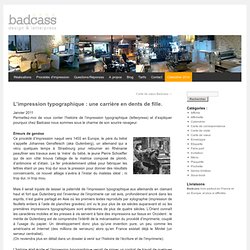 Historique de l'impression typographique, letterpress | Badcass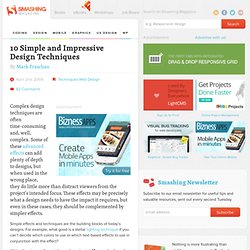 Complex design techniques are often time-consuming and, well, complex. Some of these advanced effects can add plenty of depth to designs, but when used in the wrong place, they do little more than distract viewers from the project's intended focus. These effects may be precisely what a design needs to have the impact it requires, but even in these cases, they should be complemented by simpler effects. Simple effects and techniques are the building blocks of today's designs.
10 Simple and Impressive Design Techniques - Smashing Magazine
Just a Big List of Free Design Stuff
If you hang out on Dribbble, Forrst, or other design communities, you've probably noticed the recent explosion of freebies. You can get free icons, fonts, textures, and even whole user interfaces! And although Christmas is over, I'm pretty sure people like free stuff all year round. So here are a couple of my favorite places to get your fix of shiny PSDs for $0. One of the first free PSDs sites, 365PSD promises a different PSD every day. Almost all of them are free, and you can also download whole-year packs for a couple bucks.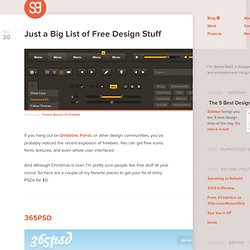 Also known as International Style, the Swiss Style does not simply describe a style of graphic design made in Switzerland. It became famous through the art of very talented Swiss graphic designers, but it emerged in Russia, Germany and Netherlands in the 1920's. This style in art, architecture and culture became an 'international' style after 1950's and it was produced by artists all around the globe. Despite that, people still refer to it as the Swiss Style or the Swiss Legacy. This progressive, radical movement in graphic design is not concerned with the graphic design in Switzerland, but rather with the new style that had been proposed, attacked and defended in the 1920s in Switzerland.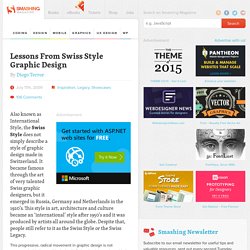 This arti­cle is for web design­ers and front-end web devel­op­ers who are inter­ested in grid-based lay­out sys­tems but are at a loss on how to decipher them. 04.Mar.2012 A PDF writ­ten by Andrew Maher to help you design grids and to give you the resources to delve fur­ther into the grid world. Mark Boul­ton pulls together some of his thoughts and con­cerns regard­ing CSS grids and how they could (or, maybe, should) be created. A fold­ing grid for responsive design. An HTML5 & CSS3 devel­op­ment kit that pro­vides a solid foun­da­tion to quickly design web­sites with ease.
What makes a web-designer a great web-designer? Guts and information – and bit of talent. All designers have to defeat the same monsters. Inspiration blocks;Lack of material, like and unvectorized logo;Poor quality images or their non-existence;Low or no budget;Unhelpful clients;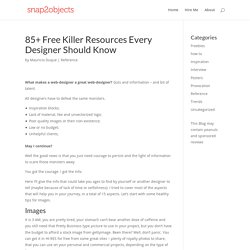 Cameron McEfee | New Media Designer
Pixel Perfection When Rotating, Pasting And Nudging In Photoshop - Smashing Magazine
Advertisement When creating Web and app interfaces, most designers slave over every single pixel, making sure it's got exactly the right color, texture and position. If you're not careful, though, some common functions like moving, rotating and pasting can undo your hard work, resulting in a blurry mess. But with some small changes to your workflow, you should be able to maintain the highest-quality artwork from the start to the end of the project. Pixel-Perfect Rotation If you're not careful, rotating layers in Photoshop can damage them in a very noticeable, pixel-mashing way.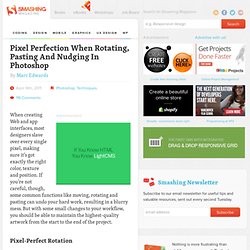 Typographical Map of the World
Gerd Arntz - Preview
Stuart writes: I was poking around over at Appliancist and they had a posting about a new toaster over by Amadana that looked pretty cool. So I hit the link to get more info. But at the bottom of the page, they had included some bizzaro info-graphics of thing you should not use the product for… First, Amadana is a Japanese company, which explains why they might not have realized that a scapegoat isn't the same as an "acuarium."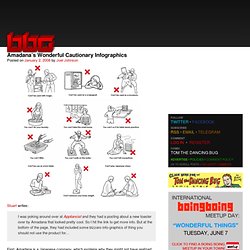 Amadana's Wonderful Cautionary Infographics - Boing Boing