Data visualization
Harvard Data Science
Image: infocux Technologies/Flickr
What Does Big Data Look Like? Visualization Is Key for Humans | Innovation Insights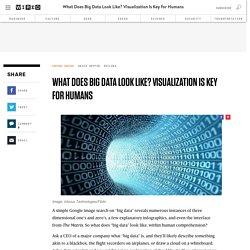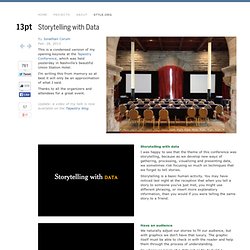 Storytelling with Data
Feb. 28, 2013
12 | Turning The Absurdity And Hilarity Of Everyday Life Into Charts
A lot of us started highly specific blogs in the late 2000s that have since gone defunct.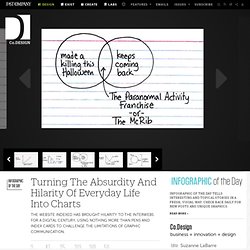 2012 has been a great year for all kinds of data visualizations.
60 Great Visualizations of 2012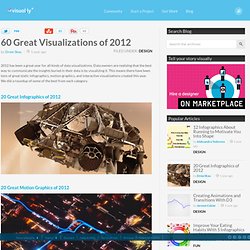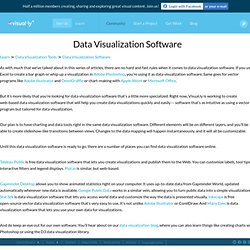 Data Visualization Software
As with much that we've talked about in this series of articles, there are no hard and fast rules when it comes to data visualization software.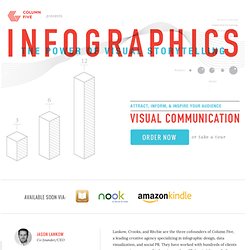 Infographics - The Power of Visual Storytelling
About the Authors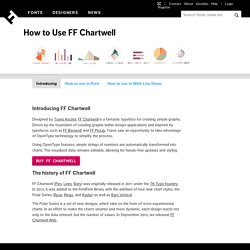 Primarily suitable for Adobe Creative Suite, FF Chartwell for print uses OpenType ligatures to transform strings of numbers automatically into charts.
In a recent chat with Jérôme Cukier about the state of visualization related literature, he mentioned Julie Steele and Noah Iliinsky's new book "Designing Data Visualizations" published by O'Reilly. Jérôme noted that it would be a good primer for people who are already working with data and looking for guidance about making their work more accessible.
Review: Designing Data Visualizations on Datavisualization
10 Tips for Designing Better Infographics
Infographics have been around for ages but in recent years they've really come into the spotlight as an almost irresistible way to communicate complex scenarios and information.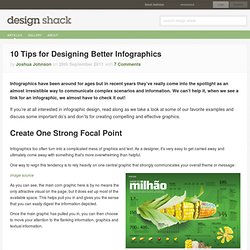 The infographic representing the meanings of different colors in different cultures by David McCandless has been featuring the cover of his book Information is Beautiful. About a year ago, it was also the subject of a visualization critique [PDF] by Stephen Few, in which he remarked its "design failures", and questioned its "integrity" and "usefulness".
The Role of Colors in Culture: the Interactive Version
For all the benefits of the information technology and communications revolution, it has a well-known dark side: information overload and its close cousin, attention fragmentation. These scourges hit CEOs and their colleagues in the C-suite particularly hard because senior executives so badly need uninterrupted time to synthesize information from many different sources, reflect on its implications for the organization, apply judgment, make trade-offs, and arrive at good decisions. The importance of reserving chunks of time for reflection, and the difficulty of doing so, have been themes in management writing for decades.
Il nous a semblé intéressant de traduire, de façon collaborative (via Framapad), l'essai original que viennent de publier danah boyd et Kate Crawford présentant "Six provocations au sujet du phénomène des Big Data".Ces chercheuses, orientées vers l'ethnographie des usages des technologies de communication, s'interrogent – en toute connaissance de cause [cf. cette étude sur les tweets des révolutions tunisiennes et égyptiennes à laquelle a participé danah boyd]- sur les limites épistémologiques, méthodologiques, mais aussi éthiques des Big Data : champ d'études qui s'ouvre aujourd'hui sur la base des énormes jeux de données que fournit internet, en particulier celles générées par l'activité des usagers des sites de réseaux sociaux, que seuls des systèmes informatiques ont la capacité de collecter et de traiter.
Par Daniel Kaplan le 20/09/11 | 14 commentaires | 5,723 lectures | Impression En 2010, dans l'ouvrage Informatique, Libertés, Identités, nous posions la question : "Que pourrais-je accomplir, moi, si je disposais, sous une forme réellement exploitable, des informations sur mes trajets et mes communications des années passées ?
Advertisement Data visualizations and infographics can make complex datasets easier to understand and comprehend. By creating a graphical represenatation of data and statistics, complicated concepts and information can make more sense in less time. Many visualizations focus on representing a specific set of data or statistical information.
Traditional linear search methods often prove unsuitable for large sets of data, which applies particularly for multi-faceted information (data consisting of items that can be ordered by multiple criteria).
infodesign.pdf (Objet application/pdf)
Graphic presentation