ART IS BEAUTIFUL
"Light is an inspiration and a discovery. You never know where it will appear. When it penetrates through thousands of holes of a spherical layer, it searches for the shortest way to the screen, on which it leaves its trace. This screen is our common world: walls, furniture, curtains.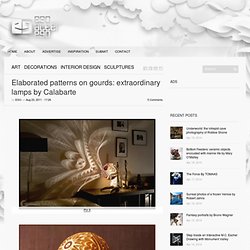 Elaborated patterns on gourds: extraordinary lamps by Calabarte
Talking About Tolkien
© copyrights designboom, all rights reserved. all material published remains the exclusive copyright of designboom. no contents, including text, photographs, videos, etc. may be reproduced in whole or in part without the written consent of designboom. in addition, no material or contents may be reproduced on the world wide web by techniques of mirroring, framing, posting, etc. without the written consent of designboom.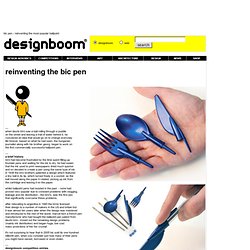 For his series titled "Pneu", Belgian artist Wim Delvoye created a series of decorative objects by hand-carving intricate patterns and floral motifs on used car tires. Through his manipulation of found objects, Delvoye transforms things that seem useful in everyday life into sculptural pieces that carry a different value from their original intended purpose. Delvoye calls his own approach to art 'glocal', referring to 'local' and 'global', which is his own ironical way of describing art. Find out more about Wim's work here.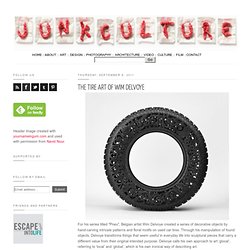 Sculpture showing all the boards that are cut from a single log