Japanese
I hope everyone had a great Christmas and / or New Year ;) I would like to thank everyone who has supported the website throughout 2013 with donations and feedback! There have been a higher than average amount of donations this month and I'm very grateful for your support. Thank you Katherine, Andrey, Todd, Jonathan, Stian, Andy, Lukasz, Kilian, Julianne, Julia, David, Ernest and Tania! Special thanks also to the adventurous who chose the recurring donation: Erich, Ken, Wisam, Helen, Charles, Eric and, Rene! And of course thank you to everyone who's donated throughout the year, I can't name everyone because it's quite tricky going through the email and making sure I didn't miss anyone.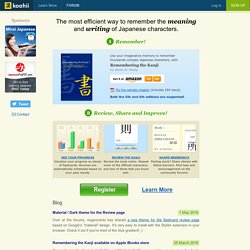 Genki Online:Self-study Room
GENKI is a highly acclaimed series of integrated resources for learning elementary Japanese through a well-balanced approach to all four language skill areas—speaking, listening, reading, and writing. Used in many Japanese language courses around the world. More The second editions of GENKI Textbook I, Workbook I, and PICTURE CARDS I were released in February 2011 and feature four major revisions.