Ed Blogs/Articles
The Pearsonizing of the American Mind - Bridging Differences
Dear Deborah, People keep asking why states are spending more and more money on testing at the same time that states are cutting the school budget, laying off teachers, closing school libraries, eliminating the arts, and increasing class size. A good question. Now that parents are feeling the effects of these decisions, as they see their children spending more time on tests and less time learning, they are getting involved in the movement to stop expensive, unnecessary, and punitive testing. Not many are opposed to testing per se; they are against the misuse of testing and the waste of instructional time for their children.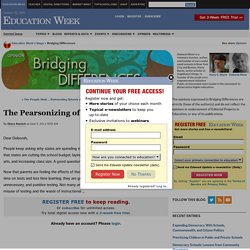 Technology is a tool that can be used to help teachers facilitate learning experiences that address the diverse learning needs of all students and help them develop 21st Century Skills. At it's most basic level, digital tools can be used to help students find, understand and use information. When combined with student-driven learning experiences fueled by Essential Questions offering flexible learning paths, it can be the ticket to success.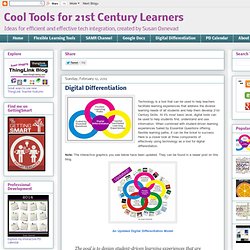 d97cooltools.blogspot.com/2012/02/digital-differentiation-get-wired.html
Protecting Children on the (Schools') Internet Schools and libraries that receive federal E-rate funding (a program that helps underwrite their telecommunications and Internet costs) are required by CIPA, the Children's Internet Protection Act, to create an Internet safety policy and filter or block certain kinds of websites. The law only demands these filters address obscenity, child pornography and sites that are "harmful to minors," but schools interpret this mandate in a variety of ways. Some ban all sorts of websites: video streaming sites (including YouTube and by extension Khan Academy), peer-to-peer networks (including Skype and Dropbox), and social media networks (Twitter, Facebook, Ning, Blogger, Tumblr).
When Schools' Internet Filters Follow You Home
No question, one of the most talked about, Tweeted about, blogged and written about ideas in the past year has been the "flipped classroom," the idea that we can use technology to deliver the "lecture" as the homework and then use class time, ideally, to bring the concepts to life in meaningful, real world ways. And it's been interesting to watch the "debate" around the merits. 2011 ed tech media darling Sal Khan and his Khan Academy supporters would tell you it's a transformative, new way of thinking about the classroom fueled by technology. Detractors argue it's old wine in new bottles, that a lecture is a lecture regardless of form, and that at best the opportunity is to help kids who need remediation or extra help.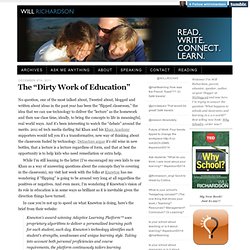 The "Dirty Work of Education"
Just wanted to share that next week while thousands of New Jersey school children will be subjected to the annual ASK standardized tests, my 12-year old son Tucker will not be among them. We made a formal request to opt out, which is our legal right in NJ, and he'll be staying home during the testing periods. (The absences are excused, btw.) Wendy and I came to this decision after seriously considering the potential effects for the school and after some serious conversations with Tuck.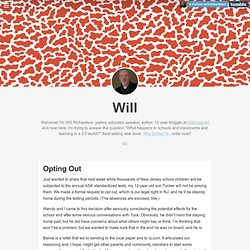 Opting Out
Education Week Teacher: Downgraded by Evaluation Reforms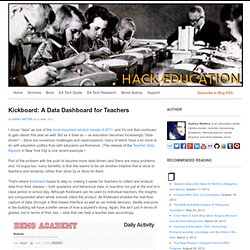 Kickboard: A Data Dashboard for Teachers
I chose "data" as one of the most important ed-tech trends of 2011, and it's one that continues to gain steam this year as well. But as it does so -- as education becomes increasingly "data-driven" -- there are numerous challenges and repercussions, many of which have a lot more to do with education politics than with education performance. (The release of the Teacher Data Reports in New York City is one recent example.) Part of the problem with the push to become more data-driven (and there are many problems and, I'd argue too, many benefits) is that this seems to be yet another initiative that is done to teachers and students, rather than done by or done for them. That's where Kickboard hopes to step in, making it easier for teachers to collect and analyze data from their classes -- both academic and behavioral data, in real-time not just at the end of a class period or school day.
Will Technology Advance Learning, or Prove a Distraction?
In 1990, after seven years of teaching at Harvard, Eric Mazur, now Balkanski professor of physics and applied physics, was delivering clear, polished lectures and demonstrations and getting high student evaluations for his introductory Physics 11 course, populated mainly by premed and engineering students who were successfully solving complicated problems. Then he discovered that his success as a teacher "was a complete illusion, a house of cards." The epiphany came via an article in the American Journal of Physics by Arizona State professor David Hestenes. He had devised a very simple test, couched in everyday language, to check students' understanding of one of the most fundamental concepts of physics—force—and had administered it to thousands of undergraduates in the southwestern United States.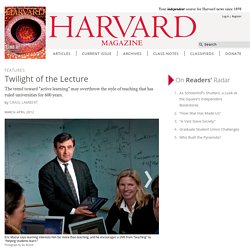 Eric Mazur on new interactive teaching techniques | Harvard Magazine Mar-Apr 2012
Bounce – A fun and easy way to share ideas on a webpage
RSA Animate - Changing Education Paradigms
The 21st Century Teaching Project Findings (Part 2) Seann Dikkers 3/1/12 This post is part of an ongoing series abridged from the 21st Century Teaching Project (21CTP) – a study of expert professional development trajectories and digital age practice. Let's assume that the goal of teacher training and professional development (PD) is to prepare teachers with powerful models, tools, and pedagogies that will inform expert practice over a career. If so, the 21CTP is designed to help us as a community, 1) hear from 39 award winning teachers, and 2) ask relevant questions about how to study and design teacher training and PD in the coming years.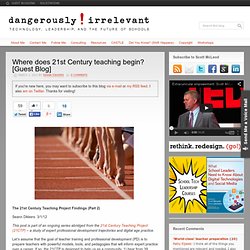 Where does 21st Century teaching begin? [Guest Blog]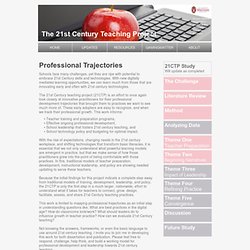 Professional Trajectories Schools face many challenges, yet they are ripe with potential to embrace 21st Century skills and technologies. With new digitally mediated learning opportunities, we can learn much from those that are innovating early and often with 21st century technologies. The 21st Century teaching project (21CTP) is an effort to once again look closely at innovative practitioners for their professional development trajectories that brought them to practices we want to see much more of. These early adopters are easy to recognize, and when we track their professional growth.
The 21st Century Teaching Project
Interesting Ways to use Endless Ocean « Trails Optional
"Our independence from Spanish domination did not put us beyond the reach of madness," said Gabriel García Márquez in his 1982 Nobel Prize acceptance speech. García Márquez, who died yesterday at the age of 87, refers of course to all of Spain's former colonies in Latin America and the Caribbean, from his own Colombia to Cuba, the island nation whose artistic struggle to come to terms with its history contributed so much to that art form generally known as "magical realism," a syncretism of European modernism and indigenous art and folklore, Catholicism and the remnants of Amerindian and African religions.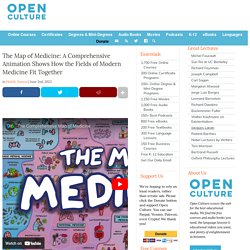 Open Culture
iLearn Technology
It's hard to describe to people all of the magic that happens at Anastasis on a daily basis. It really does feel like something special, a magical quality of falling down the rabbit hole into another world where school is fun and challenging and wonderful. The learning that happens here is very organic, it lacks a formulaic approach. So when people ask us how they can do what we do, it isn't a simple answer. Anastasis learners are in a continual state of growth, discovery, and creativity.
The Whiteboard Blog | Supporting the use of technology in the classroom
10 Tools for Digital Storytelling in Class Digital storytelling is simply using computer-based tools to tell stories. There are many different ways to do this – from making movies, recording voices, creating animations or electronic... 8 Word Cloud Makers for Teachers
The Best Online Virtual "Corkboards" (or "Bulletin Boards")
NOTE: First, Wallwisher, the popular virtual "corkboard" or "bulletin board" Web tool changed their name — they're now known as Padlet (though all their old links using the Wallwisher name work fine). Now, Corkboard.Me, a similar tool, just announced they're changing their name, too — they are now known as NoteApp. Wallwisher was the first online application that let you easily place virtual post-it notes on a virtual corkboard or bulletin board, and allow you to post text, images, and/or videos on them. This kinds of apps have many uses. I particularly like them for easy social bookmarking (my students, for example, post their favorite language-learning games on them so their classmates can try them out.
2¢ Worth
Listen A few weeks ago I worked and attended North Carolina's ISTE affiliate conference. I opened the NCTIES conference with a breakfast keynote address and Marc Prensky closed it with a luncheon keynote the next day.
Yesterday after school I earned my dumpster diver 101 merit badge as a senior and I went through the school's trash looking for an unmarked photo cd that had been accidentally tossed. (They may doubt my sanity but they can't doubt my love.) After it was found I drove home quickly to take a hot bath. (I […] Richard Wells @ipadwells gives a masterful explanation of the SAMR model of technology integration.
Cool Cat Teacher™ - Vicki Davis , Cool Cat Teacher Blog
Twelve Ideas for Teaching with QR Codes
Choose your own adventure videos
Life in a Inquiry Driven, Technology-Embedded, Connected Classroom: Science
iPad as an Interactive White Board for $5 or $10