Communauté
Dell. Starbucks Frappuccino Photos. #!/Cisco?v=app_57675755167&ref=search. Kodak. iDTGV. L'importance de créer une communauté autour d'une marque - techt. Nous aborderons lors de ce plateau avec les acteurs, représentants des entreprises ayant développé de tels dispositifs les points suivants : Le choix des plateformes, des outils, Le mode de fonctionnement, démarrage, animation, ( fin ?)
Le ROI espéré matériel ou immatériel Les règles d'usages, les clefs de la réussite Et vous, avez-vous déjà participé à ces plateformes ? Pour quelles raisons ? En avez-vous été satisfait ? Les tendances 2010 du Marketing 2,0 (par Vanksen): réseaux socia. 1.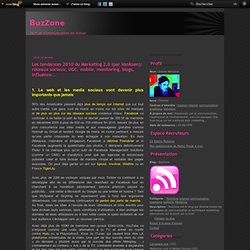 Le web et les media sociaux vont devenir plus importants que jamais 50% des Américains passent déjà plus de temps sur Internet que sur tout autre media. Les gens vont de moins en moins sur les sites de marques et de plus en plus sur les réseaux sociaux contenus viraux. Etudes. Starbucks France Around the World. L'Oreal Paris USA.
Digital Marketing Guide: Social Media - Advertising Age - Digita. Emploi : L'Oréal recrutera un tiers de ses stagiaire. Le groupe de cosmétiques espère ainsi diversifier son recrutement, et séduire la «net génération».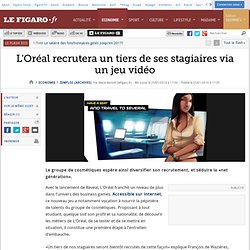 Avec le lancement de Reveal, L'Oréal franchit un niveau de plus dans l'univers des business games. Accessible sur internet, ce nouveau jeu a notamment vocation à nourrir la pépinière de talents du groupe de cosmétiques. Proposant à tout étudiant, quelque soit son profil et sa nationalité, de découvrir les métiers de L'Oréal, de se tester et de se mettre en situation, il constitue une première étape à l'entretien d'embauche. REVEAL by L'Oréal.
Web : Les annonceurs se ruent sur Facebook. Jusqu'ici prudentes, les marques françaises ont multiplié les essais sur le réseau social au cours des six derniers mois.
Le site est déjà devenu le premier support publicitaire en ligne de France. En moins d'un an, Facebook est devenu un support publicitaire de choix en France. Le site communautaire capte environ 10 % des bannières publicitaires et figure en tête des supports publicitaires en ligne, selon la mesure comScore Ad Metrix. En 2010, Facebook pourrait confirmer davantage encore cette avance. Facebook moteur de recherche en pleine progression | Actualités. Avis - Avis et opinions sur disneyland paris.
Le top 50 des "fan pages" Facebook en 2009 /// Agence marketing. Un guide pour lancer une Fan page Facebook - Marketing et Techno. Starbucks Fans Can Become 'Baristas' on Foursquare - Bits Blog - Beginning Thursday, latte addicts who visit Starbucks outlets can get more than just a caffeine fix.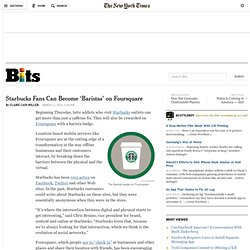 They will also be rewarded on Foursquare with a barista badge. FoursquareThe Barista badge on Foursquare. Location-based mobile services like Foursquare are at the cutting edge of a transformation in the way offline businesses and their customers interact, by breaking down the barriers between the physical and the virtual. Classement de contenus du web social | Mediaventilo - Agence Soc. Mediaventilo - Agence Social Media Contactez-nous 01 83 62 05 00 Contact Présentations.
Sequoia's Kvamme - Social Media Marketing Can Replace Advertisin. Login. Longtime Twitter Users Most Vocal. As growth in US traffic to Twitter.com began to flatten toward the end of 2009, the service's staying power was questioned.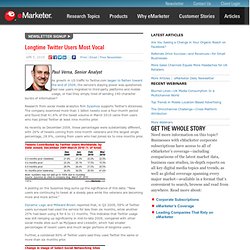 Had new users migrated to third-party platforms and mobile usage, or had they simply tired of sending 140-character bursts of information? Research from social media analytics firm Sysomos supports Twitter's stickiness. La Vache qui Rit te poke | Blog de nuit : créativité et publicit. J'adore la campagne mise en place par Noyz pour la Vache Qui Rit .
Certains trouveront le dispositif « simplet », mais diantre, qu'il est efficace. Un re-branding total, pour une nouvelle image impeccable et diversifiée de notre vache jurassienne. With its game mechanics and spunky badges, Foursquare could easily be mistaken for a frivolous mobile application with little to no value for businesses.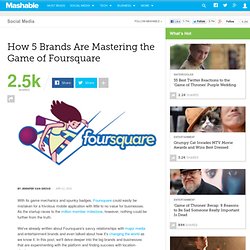 As the startup races to the million member milestone, however, nothing could be further from the truth. We've already written about Foursquare's savvy relationships with major media and entertainment brands and even talked about how it's changing the world as we know it. In this post, we'll delve deeper into the big brands and businesses that are experimenting with the platform and finding success with location-sharing. For proof that Foursquare is a viable tool for businesses, take a gander at the City of Chicago and their efforts to make city exploration fun with Foursquare, the Wynn Las Vegas' unique approach to top notch service, Tasti D-Lite's efforts to redefine the customer loyalty program, Lucky Magazine's interest in taking their editorial content to the streets and Starbucks' desire to better understand their customers.
---