YC
Sam Altman for President. I'm delighted to announce that Sam Altman has agreed to become president of Y Combinator starting next batch.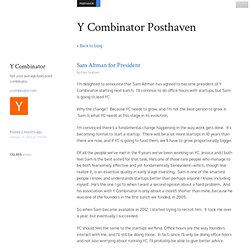 I'll continue to do office hours with startups, but Sam is going to lead YC. Why the change? Who Needs Y Combinator, Anyway? Not These Two Dropouts. The words "entrepreneur" and "dropout" are often associated; think Mark Zuckerberg, leaving Harvard for bigger things, or the young people goaded and funded by Peter Thiel.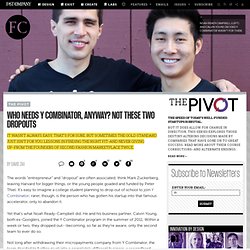 It's easy to imagine a college student planning to drop out of school to join Y Combinator; rarer, though, is the person who has gotten his startup into that famous accelerator, only to abandon it. Yet that's what Noah Ready-Campbell did. The YC VC Program. I think this change is a definite plus, but I disagree this sort of change is startup-specific.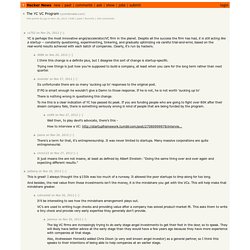 Trying new things is just how you're supposed to build a company, at least when you care for the long term rather than next quarter. Its unfortunate there are so many 'sucking up to' responses to the original post. If PG is smart enough he wouldn't give a Damn to those response. If he is not, he is not worth 'sucking up to' There is nothing wrong in questioning this change.
The YC VC Program. The YC VC Program 26 November 2012 Two years ago Yuri Milner and Ron Conway formed an informal coalition to invest $150k in every startup we funded.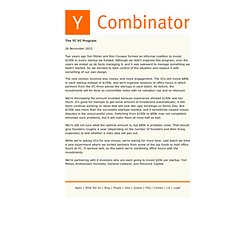 Startup = Growth. September 2012 A startup is a company designed to grow fast.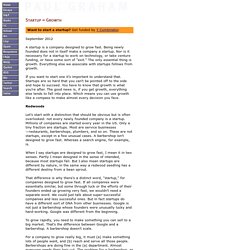 Being newly founded does not in itself make a company a startup. Nor is it necessary for a startup to work on technology, or take venture funding, or have some sort of "exit. " The only essential thing is growth. Everything else we associate with startups follows from growth. Black Swan Farming. September 2012 I've done several types of work over the years but I don't know another as counterintuitive as startup investing.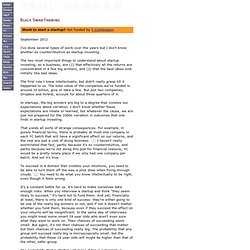 The two most important things to understand about startup investing, as a business, are (1) that effectively all the returns are concentrated in a few big winners, and (2) that the best ideas look initially like bad ideas. The first rule I knew intellectually, but didn't really grasp till it happened to us. The total value of the companies we've funded is around 10 billion, give or take a few. But just two companies, Dropbox and Airbnb, account for about three quarters of it. Screw the Black Swans: Ichiro is our role model, not Barry Bonds. | Dave McClure.
There are probably better things for me to do today, however i feel compelled to respond to the Black Swan Farming post by Paul Graham, founding partner of Y Combinator.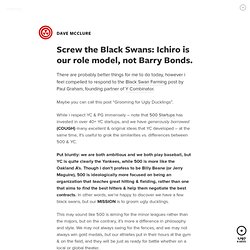 Maybe you can call this post "Grooming for Ugly Ducklings". While i respect YC & PG immensely – note that 500 Startups has invested in over 40+ YC startups, and we have generously borrowed (COUGH) many excellent & original ideas that YC developed – at the same time, it's useful to grok the similarities vs. differences between 500 & YC. Put bluntly: we are both ambitious and we both play baseball, but YC is quite clearly the Yankees, while 500 is more like the Oakland A's. Though i don't profess to be Billy Beane (or Jerry Maguire), 500 is ideologically more focused on being an organization that teaches great hitting & fielding, rather than one that aims to find the best hitters & help them negotiate the best contracts.
Y Combinator Startups That Should've Made It. Y Combinator has invested in hundreds and hundreds of companies, and many of them have become quite successful.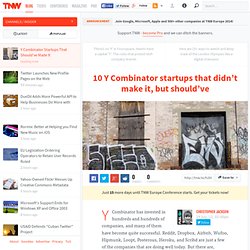 Reddit, Dropbox, Airbnb, Wufoo, Hipmunk, Loopt, Posterous, Heroku, and Scribd are just a few of the companies that are doing well today. But there are, naturally, many startups who don't make it. We looked through the archives and found startups based on good ideas that should've made it, but were hit with bad timing or were simply ahead of their time. Y Combinator's First Batch: Where Are They Now?
From small seeds grow mighty oaks.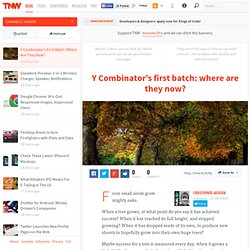 When a tree grows, at what point do you say it has achieved success? When it has reached its full height, and stopped growing? When it has dropped seeds of its own, to produce new shoots to hopefully grow into their own huge trees? Maybe success for a tree is measured every day, when it grows a little bit further, spreads its branches a little bit wider, when it survives another day and becomes slightly, ever-so-slightly, better.
The Easiest Way to Send Photo Prints to Friends and Family Automatically — Picplum. Y Combinator Alum Flutter Raises $1.4 Million For Gesture Recognition Tech. Flutter, the startup that launched this past spring out of Y Combinator's Winter 2012 class, has closed on $1.4 million in seed funding from Andreessen Horowitz, NEA, and Spring Ventures, along with Start Fund and a handful of individual angel investors.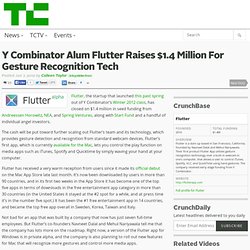 The cash will be put toward further scaling out Flutter's team and its technology, which provides gesture detection and recognition from standard webcam devices. Flutter's first app, which is currently available for the Mac, lets you control the play function on media apps such as iTunes, Spotify and Quicktime by simply waving your hand at your computer. Flutter has received a very warm reception from users since it made its official debut on the Mac App Store late last month. Paul Graham's Letter to YC Companies.
Apps Aiming for Sharing Within Boundaries. Initially, I didn't see the appeal of the app, which lets the two partners send messages and photos back and forth. The idea of adding another service to the daily routine of Twitter, Facebook and their ilk seemed exhausting. And wouldn't it be just as easy to exchange e-mails, text messages or, better yet, just flirt face to face? Curious, I tried it — even though I'm single. I recruited a friend to help me test it. Did everybody see what just happened? The pendulum has swung. - Find Office Space - 42Floors. The feeling was palpable. Y Combinator had sixty-five companies present (42Floors was one of them). And we saw 500 eager investors, frenzied almost, excited to invest in entrepreneurs.
One investor emailed me four times, texted me three times, called me and sent me a message on LinkedIn — desperate to get a check in before the round closes. Here Are The Women of Y Combinator And They Are Awesome. I would normally rather have a root canal instead of write about the issue of women in technology. I just find most essays on this really tedious and obvious.
(Sorry Alexia.) S Picks: The 10 Best Startups From Y Combinator Demo Day. 65 startups showed off today at Y Combinator's Demo Day, and we covered all 39 that were ready for the public. After talking to VCs and tech moguls, the TechCrunch teamed huddled up and picked these 10 companies as the best. They're disrupting commerce, evolving how we communicate, and making our phones even more powerful. Check out our coverage of session one, two, three, four, and five to choose your own favorites, but here's a cheat sheet to the startups we think are going to remodel big industries [change the world], or at least make a ton of money. Carsabi: An evolved search engine for buying used cars. Y Combinator's Start-up Funding Forecast: More Froth - Digits. Eeve Pivots into Popset, a Group Photo-Sharing App. Back in September, we reported on how Eeve was trying to do what Color couldn't, and was seeking to throw mobile, social, photo-sharing and location together into a big melting pot to create collaborative photo experience around specific events.
Well, as is the case with many fledgling startups, Eeve has now turned on its heels and morphed into Popset. So we caught up with co-founder Jan Senderek to get the lowdown on this pivot and take a quick peek at what Popset is all about. The story so far Eeve's founders applied to Y Combinator in September last year. It was actually the second time they had applied for the seed-stage funding programme, having been rejected first time around.
SendHub Crosses Messaging Platforms To Get Real Stuff Done — And Starts To Take Off. Paul Graham: Why Y Combinator Replaces The Traditional Corporation. Andreessen Horowitz Joins The Start Fund To Seed YC Companies.
---