Video
Godsmack - Whatever. Neave Interactive - Paul Neave's digital playground.
The Internet Movie Database (IMDb) The Pirate Bay - The galaxy's most resilient bittorrent site. Download music, movies, games, software! The Pirate Bay - The galaxy's most resilient BitTorrent site. Witty Wizard Forums - Witty Wizard. Hey guys!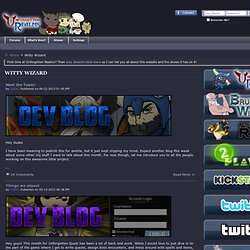 This month for Unforgotten Quest has been a lot of back end work. While I would love to just dive in to the part of the game where I get to write quests, design boss encounters, and mess around with spells and items, there is still a lot of work to be done on the engine of the game. I'm kinda disappointed in myself that I didn't get more done last year on this project before the Kickstarter. It really feels like there is just going to be months of nothing to really talk about or share with the community, as there is just so many things people expect in games these days that has to be done before I move forward. ...
YouTube - Broadcast Yourself. Robert Muraine - The Human Robot. The Man with a 30 Second Memory. Minecraft: IC2/BC/RP - Season 3 - Episode 8.
---