Gaming
El pasado 13 de septiembre tuve la oportunidad de compartir un excelente día con el equipo de Innovación del BBVA dentro de su evento llamado Gamification & Banking: Passing Fad or Serious Business? En él, tuvimos la oportunidad de participar Brian Burke de Gartner para ofrecer una mirada internacional de la tendencia, Bernardo Crespo Director de Marketing Digital de BBVA como responsable de BBVA Game , Priya Haji fundadora y CEO de Saveup.com , y un servidor, para hablar sobre el estado de la gamificación en España y las principales oportunidades que se nos presentan tanto para gran empresa y marca, como para startups. La jornada giró sobre un tema principal: gamification aplicado al sector bancario desde diferentes puntos de vista y opiniones independientes.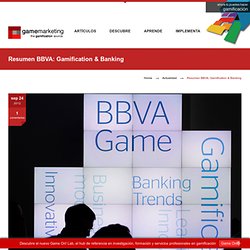 Game Marketing - Resumen Gamification & Banking
www.salvettillombart.com/tabid/67/articleType/ArticleView/articleId/27/Gamificacion.aspx
Gaming For Good Concept: REALiTREE
PSFK recently challenged top creative agencies from around the globe to come up with concepts that address issues put forth by The Climate Reality Project .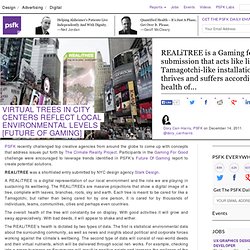 PSFK hosted a very exciting event last Friday. Our Gaming For Good salon focused on how game mechanics can encourage constructive actions to tackle difficult or challenging problem — in this case Climate Change — to make them fun.
Round-Up: Insightful Ideas From Our 'Gaming For Good' Salon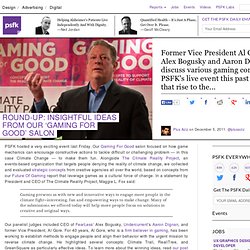 Crowdsourcing City Planning Projects For Democratic Solutions [Future Of Gaming]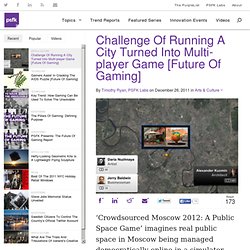 In our research for PSFK's Future Of Gaming report , we noticed a growing tendency towards games being used To Solve The Unsolvable .
In the research for PSFK's Future Of Gaming Report , our consulting team noticed that collaborative game environments are bringing communities of interest together around larger social, scientific and environmental challenges. Shared knowledge and research combined with friendly competition, lowers the barrier to participation and spurs innovation. Some of the key manifestations of this trend of 'Using Gaming To Solve The Unsolvable' are: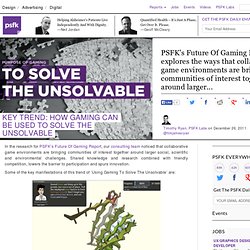 The Purpose Of Gaming: To Solve The Unsolvable
Children Utilize Gaming Platform To Tackle Humanitarian Challenges [Future Of Gaming]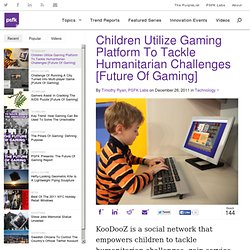 In our research for PSFK's Future Of Gaming report , we noticed a growing tendency towards games being used To Solve The Unsolvable . One example of this trend is KooDooZ - a social network that empowers children to tackle humanitarian challenges, gain service credit and earn both rewards and recognition for their efforts. Players select from a list of social challenges and identify actionable steps they can take to affect change in a given time frame.
En realidad emailga.me no hace que vaciemos nuestra caja de entrada del email más rápido, pero si nos permite darle un poco de diversión a la tarea.
El juego para ser más productivos con nuestro email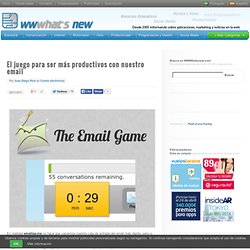 Está claro que sigue creciendo la moda de crear videojuegos y startups al estilo RPG realista, como puede ser un Sims, un Second Life o un Foursquare con logros desbloqueables a medida que vamos realizando según qué actividades.
"Gamifica" tu vida con Kwestr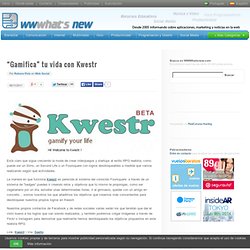 5 Good TED Talks On Games
Gwen Stefani's Harajuku Mini for Target Commercial
How Coca-Cola is Gamifying Vending Machines in Japan
Mobile app rewards kids for keeping parents updated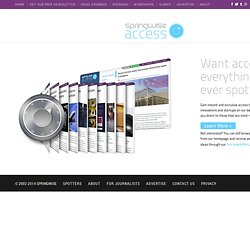 There's nothing like a tangible reward to encourage good behavior, and we've already seen one effort that puts that principle into practice to help kids learn. For parents however, perhaps even more important than their children's education is their children's safety, and that's where I'mOK comes in, with a free mobile app that rewards kids for checking in.
Using video games to make seniors safer drivers
We've written about brain gyms for baby boomers and insurance discounts for drivers of cars with GPS devices . Combining a bit of both ideas, insurance provider Allstate recently announced a pilot program that could ultimately lead to reduced insurance rates for senior drivers who play brain-building video games.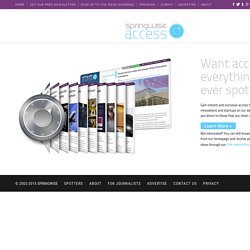 We've written about several technology-enhanced games that aim to get kids to exercise; one we hadn't seen, however, was an online game that strives to promote social change. Sure enough, though, Akoha is a new, reality-based game that uses mobile, web and real-world challenges to ask the question, "What if playing a game could make the world a better place?"
Online game focuses on real-world kindness
Most internet users have probably come across reCAPTCHA at some point or other in their online travels, notable because it not only helps distinguish human website visitors from computerized bots, but it also taps the human ones to help digitize books, newspapers and old radio shows. Operating on a similar principle, Finnish indexing effort Digitalkoot now offers a series of games by which players can help fix mistakes in the indexing of old Finnish newspapers. Digitalkoot is a joint project run by the National Library of Finland and distributed work platform Microtask that aims to index the library's enormous archives so that they are searchable on the Internet.
Finnish library uses games to crowdsource indexing
We've already noted the rise of gaming as a way to create engagement among consumers, but we didn't expect to see it applied so soon to something as seemingly mundane as public transport.
In London, public transport travel gets gamified
The gamification trend has been going strong in recent months, but until just recently we hadn't seen it applied to recruiting. Sure enough, though, none other than hospitality giant Marriott International is now using a Facebook game to try to fill some 50,000 open jobs by the end of this year. At My Marriott Hotel on Facebook , gamers begin by managing a virtual hotel restaurant kitchen, including buying equipment and ingredients on a budget, hiring and training employees, and serving guests.
Marriott creates Facebook game for international recruitment
Site uses gaming to reward healthy eating choices
No end in sight to the gamification trend!
App uses gaming to promote and sell museum-quality art
App turns exercise into a game, with rewards for healthy activity