Philosophy
Carlos Castaneda. Carlos Arana Castañeda[1] (pronounced: [ˈkaɾlos aˈɾana kastaˈɲeða]; December 25, 1925 – April 27, 1998) was a Peruvian-American author with a Ph.D. in anthropology.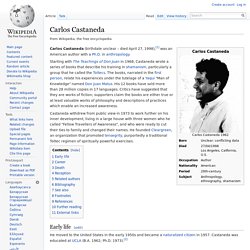 Books[edit] Castañeda's first three books – The Teachings of Don Juan: A Yaqui Way of Knowledge; A Separate Reality; and Journey to Ixtlan – were written while he was an anthropology student at the University of California, Los Angeles (UCLA). He wrote these books as his research log describing his apprenticeship with a traditional "Man of Knowledge" identified as don Juan Matus, a Yaqui Indian from northern Mexico. Castañeda was awarded his bachelor's and doctoral degrees based on the work described in these books.
Historical revisionism. Scholarly process[edit] Pulitzer Prize winning historian James McPherson, writing for the American Historical Association, described the importance of revisionism: Those historians who work within the existing establishment and who have a body of existing work from which they claim authority, often have the most to gain by maintaining the status quo.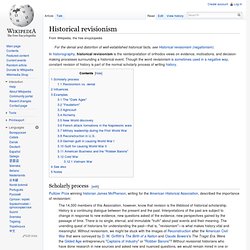 This can be called an accepted paradigm, which in some circles or societies takes the form of a denunciative stance towards revisionism of any kind. However, the historian and philosopher of science, Thomas Kuhn, pointed out that in contrast to the sciences, in which there tends to be (except in times of paradigm shift) a single reigning paradigm, the social sciences are characterized by a "tradition of claims, counterclaims, and debates over fundamentals. Table of Contents. Francis Ford Coppola. Francis Ford Coppola (/ˈkoʊpələ/; born April 7, 1939[1]) is an American film director, producer and screenwriter.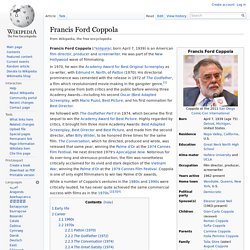 The Conversation, which he directed, produced and wrote, was released that same year, winning the Palme d'Or at the 1974 Cannes Film Festival. He next directed 1979's Apocalypse Now. Notorious for its over-long and strenuous production, the film was nonetheless critically acclaimed for its vivid and stark depiction of the Vietnam War, winning the Palme d'Or at the 1979 Cannes Film Festival. Coppola is one of only eight filmmakers to win two Palme d'Or awards. While a number of Coppola's ventures in the 1980s and 1990s were critically lauded, he has never quite achieved the same commercial success with films as in the 1970s.[4][5][6] Ivan Illich.
Ivan Illich (/ɪˈvɑːn ˈɪlɪtʃ/;[1] 4 September 1926 – 2 December 2002) was an Austrian philosopher, Roman Catholic priest, and "maverick social critic"[2] of the institutions of contemporary Western culture and their effects on the provenance and practice of education, medicine, work, energy use, transportation, and economic development.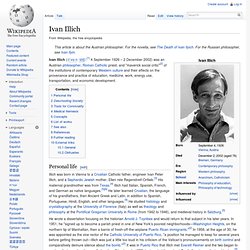 Personal life[edit] Michel Foucault. Born in Poitiers, France to an upper-middle-class family, Foucault was educated at the Lycée Henri-IV and then the École Normale Supérieure, where he developed an interest in philosophy and came under the influence of his tutors Jean Hyppolite and Louis Althusser.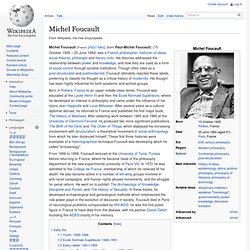 After several years as a cultural diplomat abroad, he returned to France and published his first major book, The History of Madness. After obtaining work between 1960 and 1966 at the University of Clermont-Ferrand, he produced two more significant publications, The Birth of the Clinic and The Order of Things, which displayed his increasing involvement with structuralism, a theoretical movement in social anthropology from which he later distanced himself. These first three histories were examples of a historiographical technique Foucault was developing which he called "archaeology". Immanuel Kant. Immanuel Kant (German: [ɪˈmaːnu̯eːl kant]; 22 April 1724 – 12 February 1804) was a German philosopher who is widely considered to be a central figure of modern philosophy.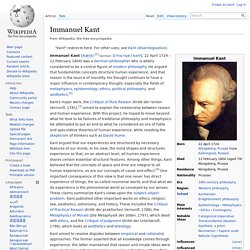 He argued that human concepts and categories structure our view of the world and its laws, and that reason is the source of morality. His thought continues to have a major influence in contemporary thought, especially in fields such as metaphysics, epistemology, ethics, political philosophy, and aesthetics.[1] Order of the British Empire. MBE as awarded in 1918 Close up of an MBE from 1945 showing the "For God and the Empire" Current awards[edit] The five classes of award to the Order are, in descending order of seniority: Knight Grand Cross or Dame Grand Cross of the Most Excellent Order of the British Empire (GBE)[a]Knight Commander or Dame Commander of the Most Excellent Order of the British Empire (KBE or DBE)Commander of the Most Excellent Order of the British Empire (CBE)Officer of the Most Excellent Order of the British Empire (OBE)Member of the Most Excellent Order of the British Empire (MBE) The ranks of Knight (or Dame) Grand Cross and Knight (or Dame) Commander are, as the names suggest, knightly, and so like other forms of knighthood entitle their members to be addressed as "Sir" if a knight or "Dame" if a dame, as a postulant before their first name.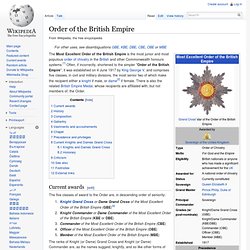 Converso. New Christians of Moorish origin were known as moriscos (Galician and Portuguese: mourisco).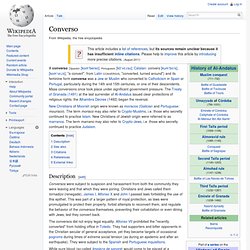 The term morisco may also refer to Crypto-Muslims, i.e. those who secretly continued to practice Islam. New Christians of Jewish origin were referred to as marranos. The term marrano may also refer to Crypto-Jews, i.e. those who secretly continued to practice Judaism. Description[edit] Conversos were subject to suspicion and harassment from both the community they were leaving and that which they were joining. Garrison. "Arrival of the dean fleet", showing the garrison of Malta in 1565 and the Ottoman invasion force.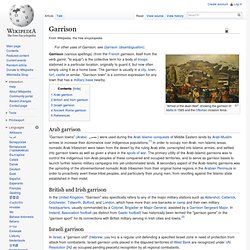 Garrison (various spellings) (from the French garnison, itself from the verb garnir, "to equip") is the collective term for a body of troops stationed in a particular location, originally to guard it, but now often simply using it as a home base. The garrison is usually in a city, town, fort, castle or similar. Humorism. The four humors Humorism, or humoralism, is a now discredited theory of the makeup and workings of the human body, adopted by Ancient Greek and Roman physicians and philosophers, positing that an excess or deficiency of any of four distinct bodily fluids known as humors (UK: humours) in a person directly influences their temperament and health.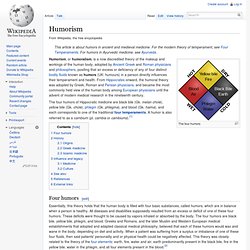 From Hippocrates onward, the humoral theory was adopted by Greek, Roman and Persian physicians, and became the most commonly held view of the human body among European physicians until the advent of modern medical research in the nineteenth century. The four humors of Hippocratic medicine are black bile (Gk. melan chole), yellow bile (Gk. chole), phlegm (Gk. phlegma), and blood (Gk. haima), and each corresponds to one of the traditional four temperaments. A humor is also referred to as a cambium (pl. cambia or cambiums).[1] Four humors[edit] Isabella of Aragon. Charles V, Holy Roman Emperor. Arms of Charles, Archduke of Austria, Duke of Burgundy, KG at the time of his installation as a knight of the Most Noble Order of the Garter Charles V (German: Karl V.; Spanish: Carlos I; Catalan: Carles I; Croatian: Karlo V.; Dutch: Karel V; Italian: Carlo V; Czech: Karel V.; French: Charles Quint; 24 February 1500 – 21 September 1558) was ruler of the Holy Roman Empire from 1519 and, as Charles I, of the Spanish Empire from 1516 until his voluntary retirement and abdication in favor of his younger brother Ferdinand I as Holy Roman Emperor and his son Philip II as King of Spain in 1556.
As the ruler of many greater and lesser European states, Charles had a very complicated coat of arms. He was the heir of three of Europe's leading dynasties, the House of Habsburg of the Habsburg Monarchy, the House of Valois-Burgundy of the Burgundian Netherlands, and the House of Trastámara of the Crowns of Castile and Catalonia-Aragon. Andreas Vesalius. Andreas Vesalius (31 December 1514 – 15 October 1564) was a Brabantian (in modern-day Belgium) anatomist, physician, and author of one of the most influential books on human anatomy, De humani corporis fabrica (On the Fabric of the Human Body). Vesalius is often referred to as the founder of modern human anatomy. He was professor at the University of Padua and later became Imperial physician at the court of Emperor Charles V. Andreas Vesalius is the Latinized form of the Dutch Andries van Wezel, a common practice among European scholars in his time. His name is also given as Andrea Vesalius, Andrea Vesalio, Andreas Vesal, André Vesalio and Andre Vesalepo.
Maximilian I, Holy Roman Emperor. Maximilian I (22 March 1459 – 12 January 1519), the son of Frederick III, Holy Roman Emperor and Eleanor of Portugal, was King of the Romans (also known as King of the Germans) from 1486 and Holy Roman Emperor from 1508 until his death, though he was never in fact crowned by the Pope, the journey to Rome always being too risky. He had ruled jointly with his father for the last ten years of his father's reign, from c. 1483.
He expanded the influence of the House of Habsburg through war and his marriage in 1477 to Mary of Burgundy, the heiress to the Duchy of Burgundy, but he also lost the Austrian territories in today's Switzerland to the Swiss Confederacy. Through marriage of his son Philip the Handsome to eventual queen Joanna of Castile in 1498, Maximilian helped to establish the Habsburg dynasty in Spain which allowed his grandson Charles to hold the throne of both León-Castile and Aragon, thus making Charles V the first de jure King of Spain. Galen. "Claude Galien". Lithograph by Pierre Roche Vigneron. (Paris: Lith de Gregoire et Deneux, ca. 1865) Aelius Galenus or Claudius Galenus (/ɡəˈliːnəs/;[1] AD 129 – c. 200/c. 216), better known as Galen of Pergamon (/ˈɡeɪlən/),[2] was a prominent Greek physician, surgeon and philosopher in the Roman empire.[3][4][5] Arguably the most accomplished of all medical researchers of antiquity, Galen influenced the development of various scientific disciplines, including anatomy,[6] physiology, pathology,[7] pharmacology,[8] and neurology, as well as philosophy[9] and logic.
Being and Nothingness. Phenomenology (philosophy)
---