Philosophy
Carlos Castaneda
Carlos Arana Castaneda [ 1 ] (December 25, 1925 – April 27, 1998) was a Peruvian-American author and student of anthropology .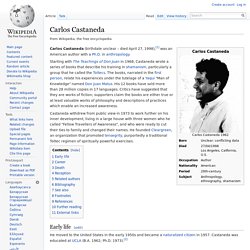 In historiography , historical revisionism is the reinterpretation of orthodox views on evidence, motivations, and decision-making processes surrounding a historical event.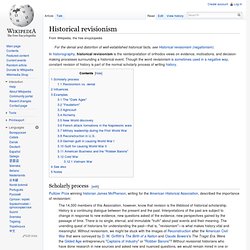 Historical revisionism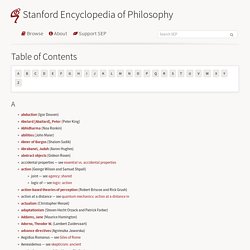 Table of Contents
Francis Ford Coppola ( English pronunciation: /ˈkoʊpələ/ Italian pronunciation: [ˈkɔppola] ), born April 7, 1939 [ 1 ] is an American film director , producer and screenwriter . Widely acclaimed as one of Hollywood's most innovative and influential film directors, [ 1 ] Coppola epitomized a group of filmmakers known as the " New Hollywood ".
Francis Ford Coppola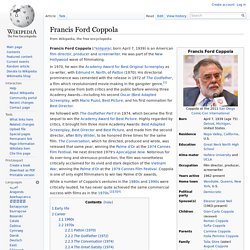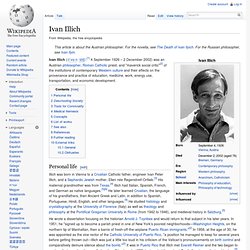 Ivan Illich ( pron.: / ɪ ˈ v ɑː n ˈ ɪ l ɪ tʃ / ; [ 1 ] 4 September 1926 – 2 December 2002) was an Austrian philosopher , Roman Catholic priest, and "maverick social critic" [ 2 ] of the institutions of contemporary Western culture and their effects on the provenance and practice of education, medicine, work, energy use, transportation, and economic development.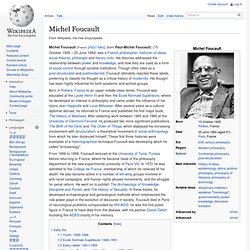 Michel Foucault ( French: [miʃɛl fuko] ; born Paul-Michel Foucault ) (15 October 1926 – 25 June 1984) was a French philosopher , social theorist , historian of ideas , and literary critic .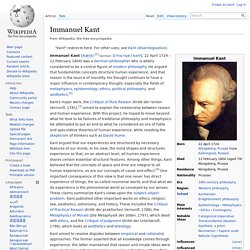 Immanuel Kant ( German: [ɪˈmaːnu̯eːl kant] ; 22 April 1724 – 12 February 1804) was a German philosopher. He is a central figure of modern philosophy, and set the terms by which all subsequent thinkers have had to grapple. He argued that human perception structures natural laws, and that reason is the source of morality.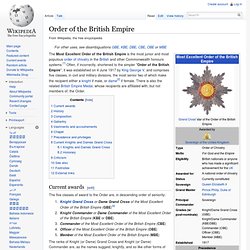 MBE as awarded in 1918 Close up of an MBE from 1945 showing the "For God and the Empire"
Order of the British Empire
Converso
A converso ( Spanish: [komˈberso] ; Portuguese: [kõˈvɛɾsu] ; Catalan : convers [kumˈbɛrs] , [komˈvɛɾs] ; "a convert", from Latin conversvs , "converted, turned around") and its feminine form conversa was a Jew or Muslim who converted to Catholicism in Spain or Portugal , particularly during the 14th and 15th centuries, or one of their descendents. Mass conversions once took place under significant government pressure.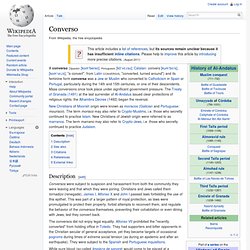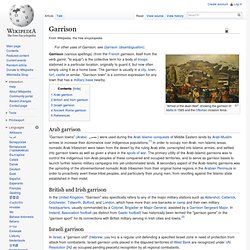 "Arrival of the dean fleet ", showing the garrison of Malta in 1565 and the Ottoman invasion force. Garrison (various spellings) (from the French garnison , itself from the verb garnir , "to equip") is the collective term for a body of troops stationed in a particular location, originally to guard it, but now often simply using it as a home base. The garrison is usually in a city , town , fort , castle or similar.
Garrison
The four humors Humorism , or humoralism , is a now discredited (but historically important) theory of the makeup and workings of the human body, adopted by Ancient Greek and Roman physicians and philosophers , positing that an excess or deficiency of any of four distinct bodily fluids in a person directly influences their temperament and health .
Humorism
Isabella of Aragon (1247 – 28 January 1271), infanta of Aragon , was, by marriage, queen consort of France from 1270 to 1271.
Isabella of Aragon
Charles V ( Spanish : Carlos I ; Dutch : Karel V ; German : Karl V. ; Italian : Carlo V ; French : Charles Quint ; 24 February 1500 – 21 September 1558) was ruler of the Holy Roman Empire from 1519 and, as Charles I , of the Spanish Empire from 1516 until his voluntary retirement and abdication in favor of his younger brother Ferdinand I as Holy Roman Emperor and his son Philip II as King of Spain in 1556.
Charles V, Holy Roman Emperor
Andreas Vesalius
Andreas Vesalius (31 December 1514 – 15 October 1564) was a Brabantian anatomist , physician , and author of one of the most influential books on human anatomy , De humani corporis fabrica ( On the Structure of the Human Body ).
Maximilian I, Holy Roman Emperor
Maximilian I (22 March 1459 – 12 January 1519), the son of Frederick III, Holy Roman Emperor and Eleanor of Portugal , was King of the Romans (also known as King of the Germans) from 1486 and Holy Roman Emperor from 1493 until his death, though he was never in fact crowned by the Pope, the journey to Rome always being too risky.
Galen
Being and Nothingness