Diseno
San Diego, CA, Open Source Developers, Open Source Programmers & Consultants - Guru.com
A gaggle of software developers and an Internet celebrity sit down for a nighttime talk in the bowels of a massive computer-chip-development company ... There's no punch line, and for the San Diego techies who gather twice monthly in Qualcomm's massive research facility to discuss the who's who and what's what of the computer world, this meeting was no joke. Rather, it was chance to network, to meet with kindred spirits and, perhaps most importantly, an opportunity to discuss some pretty geeky stuff.
San Diego open-source software makers meet up and geek out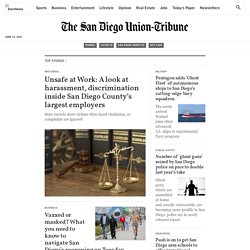 Open Source Meetups near San Diego, California - Open Source Meetups - San Diego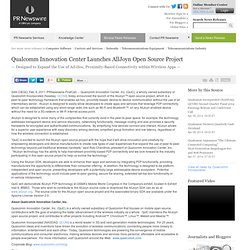 Qualcomm Innovation Center Launches AllJoyn Open Source Project -- SAN DIEGO, Feb. 9, 2011 /PRNewswire-FirstCall/ --
SAN DIEGO , Feb. 9, 2011 /PRNewswire-FirstCall/ -- Qualcomm Innovation Center, Inc.
open source programming language vs. proprietary applications in web design
Open Source Web Design San Diego | Hand Coded Html5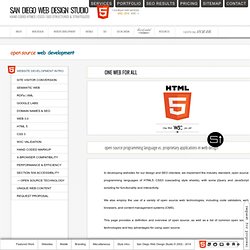 ThinkUp: Social Media Insights Platform
Prezi Alternatives and Similar Software
Benefit corporation legislation does not require a benefit corporation to use any particular third party standard to prepare its annual benefit report.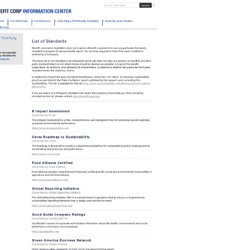 List of Standards - Benefit Corporation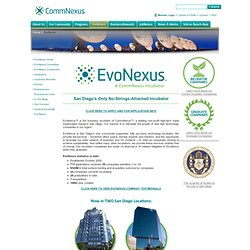 San Diego » EvoNexus
EvoNexus™ is the business incubator of CommNexus™, a leading non-profit high-tech trade organization based in San Diego. Our mission is to stimulate the growth of new high technology companies in our region.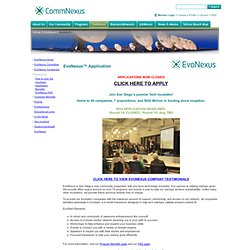 Accepting Applications for Round 13, Deadline July 24, 2013 While we do have set deadlines, we can accept applications to EvoNexus at any time. You will receive an acknowledgment from EvoNexus when we receive your application.
San Diego » EvoNexus » Applicants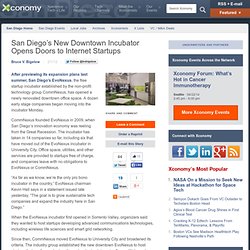 San Diego's New Downtown Incubator Opens Doors to Internet Startups
Bruce V. Bigelow 2/1/12
Signs of Resurgence in SD as EvoNexus Opens Tech Incubator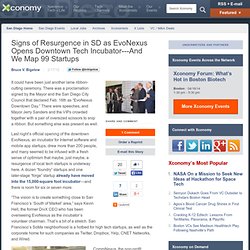 Bruce V.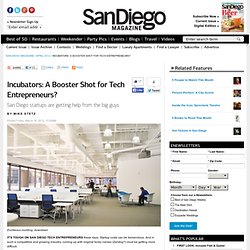 Incubators: A Booster Shot for Tech Entrepreneurs? - San Diego Magazine - April 2012 - San Diego, California
San Diego startups are getting help from the big guys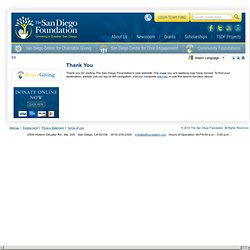 This vision is about preserving the best of the past and protecting all that's good today, while creating an even better tomorrow for our children and grandchildren.
Vision | Our Greater San Diego Vision
San Diego Startup Companies | AreaStartups.com
San Diego Video Services Sample Video production
Browse Themes — Theme Showcase
Looking for the awesome WordPress themes? Here's the place to find them! Welcome to the Free WordPress Themes directory.
and WordPress.org
WordPress.com is a hosting platform that makes it easy for anyone to publish online. The software is hosted and maintained by the team here at Automattic , letting you focus on creating awesome content!
Our free features are what makes WordPress.com such a great community, but we offer these optional upgrades to really help you stand out from the pack. Upgrades are priced per year. Be the master of your domain ($13.00 – $25.00/yr)
Premium Features — WordPress.com
Free WordPress Help | Using WordPress with the Blogmistress
Most of the help you need is already available, you just need to know where to look, and not be afraid to ask. There is no such thing as a stupid question – you just don't know how to do it yet, that is all!
New To WordPress - Where to Start Languages : English • العربية • Español • suomi • Français • Italiano • 日本語 • 한국어 • ქართული • Македонски • Nederlands • Polski • Português do Brasil • Română • Русский • Slovenčina • Slovenščina • Template:tc ไทย • kkkk 中文(简体) • 中文(繁體) • ( Add your language )
Download Pencil Application - Pencil Project
Create diagrams online Real time collaboration - Tour
Lovely Charts | Online diagram software - flowcharts, sitemaps, organization charts, BPMN diagrams, wireframes
Create diagrams online Real time collaboration - Pricing
14 Prototyping and Wireframing Tools for Designers
Product and Features
Responsive WordPress Theme | ThemeID
Purchase - WPML
How To Create A Multi Language WordPress Site
90 Clean and Simple Wordpress Themes
Satoshi Wordpress Theme
35 Best Minimal WordPress Themes
eStore eCommerce WordPress Theme | Elegant Themes
60 Best Wordpress Photography Website Templates
41 Top Quality Free Minimalist Wordpress Themes
Mobile Themes
20 Great WordPress Mobile Themes
11 Ways to Create a Mobile Friendly WordPress Site
"Adopt-a-Lot" program—Escondido, CA « No Vacancy!
Phantom Galleries LA | PGLA revitalizes and energizes communities and pedestrian thoroughfares by transforming unoccupied properties throughout Los Angeles County into vibrant cultural hubs through the 24/7 public presentation of art.
Leadership Forums - 2012
Park(ing) Day 2012 |  About PARK(ing) Day
Visible Alternatives, Part 2 | by Christian L. Frock | Art Practical
final-report_low-res.pdf (application/pdf Object)
Empty Lot Syndrome
Students design projects for vacant Phoenix lots | ASU News
No Vacancy!
Overview | Regional Arts & Culture Council
2011.0921T.pdf (application/pdf Object)
Carolyn Law
Platform for temporary use
Temporary Urban Spaces: Concepts for the Use of City Spaces: Amazon.co.uk: Robert Temel, Florian Haydn
KnowledgeEngineeringE
Michael Wesch Keynote
Nanotechnology Education: Find It In Albany's Universities And In Its Nanotechnology Companies
Location California 2009: California's Green Advantage | energy-efficiency, green technology, clean technology
ABOUT NanoBCA | NanoBusiness Commercialization Association
Space, time and architecture: The growth of a new tradition - Sigfried Giedion
Sigfried Giedion
Heinrich Wölfflin