Quotes
Quotes: Facts, insight and humor from TEDTalks — in shareable bites. TED Quotes are made possible by Allianz SE Facts, insight and humor —in shareable bites TED Quotes brings you salient bits of TEDTalks, on everything from activism to storytelling, from chemistry to curiosity.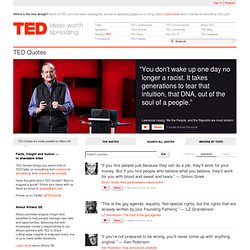 30 Best Quotes in Pictures of the Week – May 05th to May 12th. 1. "Put your hand on a hot stove for a minute, and it seems like an hour….." – Albert Einstein 2. "When you can't smoke" – Rory Sutherland 3. "Death does not concern us…" – Epicurus 4. "I think it's better to have ideas." – Chris Rock 5. "You gotta be able to smile…" 6. "Thousands of candles can be lit from a single candle…" – Buddha.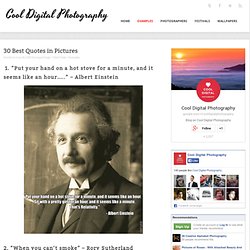 Philosophy. Author Picasso Quote Useless. You are Richer Quote. Steve Jobs Quote. Oscar Wilde Mask Quote. Bruce Lee Quote. Marcus Aurelius Quote. George Orwell Quotes. Quotes religion atheism anarchy text only Denis Diderot black background - Wallpaper (#138301. 21590_540.jpg (JPEG Image, 540x293 pixels) Quotes. Beware of your thoughts, they become your words.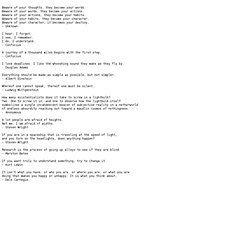 Beware of your words, they become your actions. Beware of your actions, they become your habits. Beware of your habits, they become your character. Quote-wallpaper3.jpg (JPEG Image, 1024x768 pixels) - Scaled (83%) Jon Stewart On The Photo Of Bin Laden's Body. Ideas, Things, or People. Collected Quotes from Albert Einstein. [Note: This list of Einstein quotes was being forwarded around the Internet in e-mail, so I decided to put it on my web page.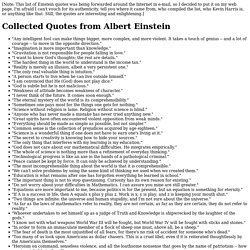 I'm afraid I can't vouch for its authenticity, tell you where it came from, who compiled the list, who Kevin Harris is, or anything like that. Still, the quotes are interesting and enlightening.] "Any intelligent fool can make things bigger, more complex, and more violent. Einstein - Intuition. Quote by Bob Marley: "Only once in your life, I truly believe, you find..." Carl Sagan: Pale Blue Dot. Ideas or Apples. Russell. 10 Incredible Quotes That Will Refresh Your Perspective On Life. Carl-sagan-quote.jpg (JPEG Image, 720x540 pixels) Arthur Schopenhauer Quotes (Author of The World as Will and Representation, 1 of 2)
---