Outdoors
By Craig Mackenzie Updated: 16:17 GMT, 9 December 2011 He is known the world over as the Iceman, but now Wim Hof has run a marathon in baking heat - without drinking a drop of water. The Dutch daredevil who holds 18 world records for withstanding extreme cold, completed 26 miles in temperatures up to 40 Celsius atop Namibia's Sossusvle. He didn't touch a drop as he lost 5.2 litres of water and almost 14 pounds in weight, during the scorching run. Scorching run: Wim Hof completed a 26-mile marathon in the Namibian desert without drinking a drop of water
Burning man: Adventurer loses 14lbs as he completes marathon in 40C Nambia without touching a drop of water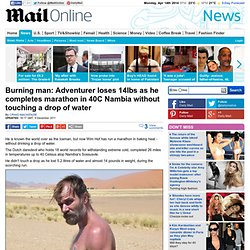 Blank Slate Climbing
2 Person Deluxe Survival Kit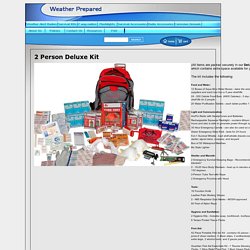 2 Person Deluxe Survival Kit All items are packed securely in our Deluxe Hikers Backpack which contains extra space available for your personal items. The kit includes the following: Food and Water: Rest assured knowing you have food and water with proper nutrition in any type of disaster.
Glastonbury Orange Solar Tent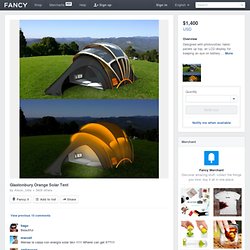 Fancy it Fancy it Add to list Share Loading...
A Fairytale Castle / Blueforest
Blue Forest is a specialist luxury tree house company fulfilling clients' dreams for a wide range of unique structures from fantasy play areas to romantic tree house hideaways. The company is run by brothers Andy and Simon Payne. Andy and Simon were born in Kenya where they spent their childhood surrounded by the beauty and adventure of the great outdoors. Blue Forest was born of these experiences and from a desire to bring people closer to the natural world. Despite the traditional stereotype, tree houses are not just for children! The company have designed and built everything from kid's dens to fabulous entertaining areas, exclusive tree house holiday accommodation and inspiring eco-classrooms.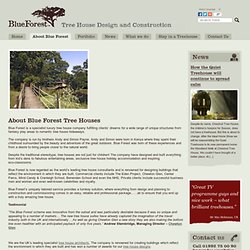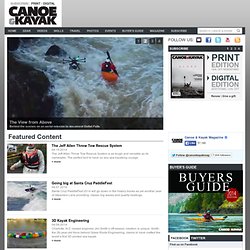 Going big at Santa Cruz PaddleFest Santa Cruz PaddleFest 2014 will go down in the history books as yet another year of Steamers Lane providing: classic big waves and quality beatings. 3D Kayak Engineering Charlotte, N.C.-based engineer Jim Smith's off-season creation is unique. Smith, the 26-year-old force behind Grass Roots Engineering, claims to have crafted the world's first 3D printed sea kayak.
Canoe & Kayak Magazine | Kayak Reviews, Paddling Trips, Industry News, Gear Reviews, Techniques, Photos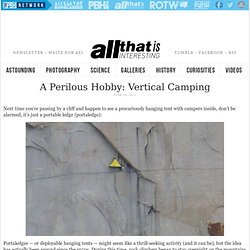 Next time you're passing by a cliff and happen to see a precariously hanging tent with campers inside, don't be alarmed, it's just a portable ledge (portaledge): Portaledges — or deployable hanging tents — might seem like a thrill-seeking activity (and it can be), but the idea has actually been around since the 1950s. During this time, rock climbers began to stay overnight on the mountains they were scaling and started looking for convenient niches in the mountain side to make their bed.
As far as I'm concerned, garlic gets the blue ribbon for growing your own. It's absurdly easy to plant and care for; it tastes great; it looks beautiful and it takes up so little ground that even those with very small gardens can raise enough to be self-sufficient in garlic for a good part of the year. All you have to do is choose the right varieties; plant at the right time, in the right soil; then harvest when just right and store correctly.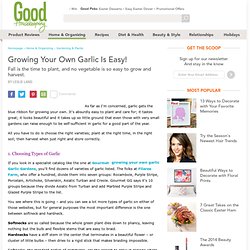 stillphotos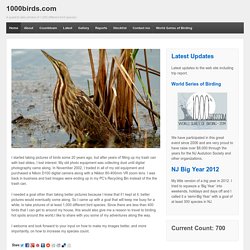 I started taking pictures of birds some 20 years ago, but after years of filling up my trash can with bad slides, I lost interest. My old photo equipment was collecting dust until digital photography came along. In November 2002, I traded in all of my old equipment and purchased a Nikon D100 digital camera along with a Nikkor 80-400mm VR zoom lens. I was back in business and bad images were ending up in my PC's Recycling Bin instead of the the trash can. I needed a goal other than taking better pictures because I knew that if I kept at it, better pictures would eventually come along.
Transparent Bubble Tents
Looking for tips on specific types of vegetables or herbs? Get vegetable gardening and herb gardening tips here. Or read about 11 useful organic gardening products for your home garden. 8.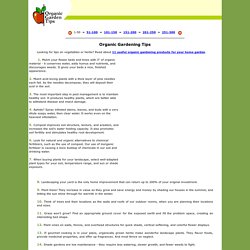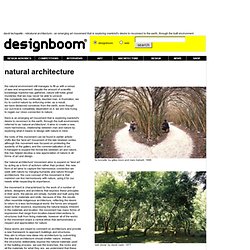 © copyrights designboom, all rights reserved. all material published remains the exclusive copyright of designboom. no contents, including text, photographs, videos, etc. may be reproduced in whole or in part without the written consent of designboom. in addition, no material or contents may be reproduced on the world wide web by techniques of mirroring, framing, posting, etc. without the written consent of designboom.
Ashlu Box Canyon on Vimeo
Editor's note: This is a guest post from Creek Stewart of Willow Haven Outdoor. The term 'Bugging Out' refers to the decision to abandon your home due to an unexpected emergency situation–whether a natural disaster or one caused by man. A 'Bug Out Bag' is a pre-prepared survival kit designed to sustain you through the journey to your destination once you've decided to 'Bug Out' in the event of an emergency evacuation. Typically, the Bug Out Bag (BOB) is a self-contained kit designed to get you through at least 72 hours.