Negocios
The 25 most difficult questions. If you are one of those executive types unhappy at your present post and embarking on a New Year's resolution to find a new one, here's a helping hand.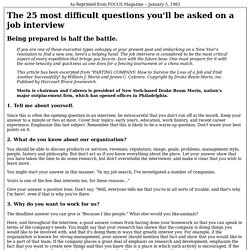 The job interview is considered to be the most critical aspect of every expedition that brings you face-to- face with the future boss. One must prepare for it with the same tenacity and quickness as one does for a fencing tournament or a chess match. Entry-level resume samples - Templates. How to Answer The 64 Toughest Interview Questions. Interview Questions General Basic Interview A&Q XML Interview A&Q Windows Programming A&Q Web Service A&Q.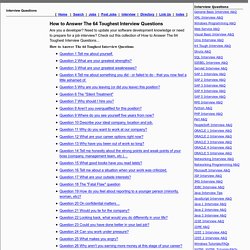 Do Nothing for 2 Minutes. The Resume Is Dead, The Bio Is King :: Tips :: The 99 Percent. If you're a designer, entrepreneur, or creative – you probably haven't been asked for your resume in a long time.
Instead, people Google you – and quickly assess your talents based on your website, portfolio, and social media profiles. Do they resonate with what you're sharing? Do they identify with your story? Are you even giving them a story to wrap their head around? One are the days of "Just the facts, M'am." The 10 Best Questions to Ask at a Job Interview. You're interviewing for a job.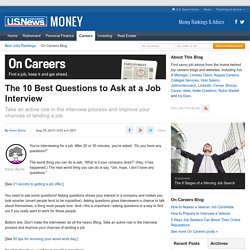 After 20 or 30 minutes, you're asked: "Do you have any questions?" The worst thing you can do is ask, "What is it your company does?" (Hey, it has happened.) The next worst thing you can do is say, "Um, nope, I don't have any questions." Job Search | View All Job Openings | Local Jobs Now Hiring. 15 Simple Ways to Make Extra Money SmarterSpend.com. Posted in Personal Finance by Kevin | Tags: career, income, job, jobs, make money, money, Work During a recession, where jobs are scarce and unemployment is high, extra money is something most people can look forward to earning.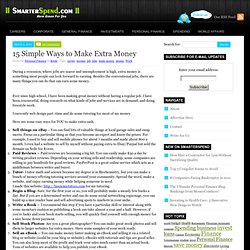 Besides the conventional jobs, there are many things you can do that can earn some money. Ever since high school, I have been making great money without having a regular job. How To Start A Business From Your Dorm Room - Forbes.com.
---