Photography
Photography School. Adorama.com Adorama Photography TV presents the Canon EOS-6D.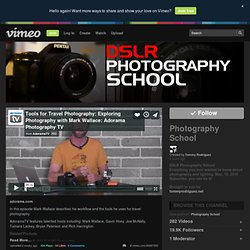 Rich is back from Vegas and eager to share his experience with this great new Digital SLR from Canon. Join Rich as he takes you through a more in-depth review of all the functions of this reliable and cost efficient camera. The Canon EOS-6D falls between the Canon EOS-5D Mark III and the Canon EOS-7D in price and features. This is perfect for the photographer who likes a high quality, easy-to-use camera that has high ISO performance, fast auto-focus and great image quality.
_lpnpfqyY931qapvpto5_250.gif (GIF Image, 250x131 pixels) _lpnpfqyY931qapvpto1_250.gif (GIF Image, 250x131 pixels) 42968098_dfPdIkJ3_c.jpg (JPEG Image, 553x1743 pixels) S Best Photos - Flickr Hive Mind - August 8, 2011. Free Photos - Free Photo Website - Royalty Free Photos.
Picnik. Effects | PhotoFunia. Citrify Free Photo Editor for the Web. Welcome to Fotobabble - Talking Photos. I <3 NYC. 22586632_5mh95IaX_c.jpg (JPEG Image, 500x673 pixels) - Scaled (74.
---