HITZ EGITEA: Audio grabazioak egiteko 2.0 tresnak
Teatro Testuak: Eskola Antzerkia
AudioDope Free Audio Editor
Joxepa astronomu-Txotxongiloak Legardan
jendaurrean berba egitea
Jendaurreko ahozko adierazpenetan kontuan izatekoak - Euskal Mitologiaren Ataria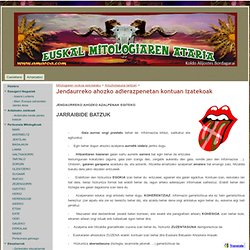 - Gaia aurrez ongi prestatu behar da. Informazioa bilduz, sailkatuz eta egituratuz. - Egin behar dugun ahozko azalpena aurretik idatziz jarriko dugu. - Hitzaldiaren hasieran gaian sartu aurretik sarrera bat egin behar da entzulea testuinguruan kokatzeko (agurra, gaia zein izango den, zergatik aukeratu den gaia, nondik jaso den informazioa …). Ondoren, gaiaren garapena azalduko da, eta azkenik, hitzaldia amaitzeko azalpenari amaiera bat emango zaio, hitzaldia bukatu dela jakin dezaten entzuleek. - Erabiltzen den hizkuntza EGOKIA izan behar du: entzuleei, egoerari eta gaiari egokitua.
Urkitza 2. zikloa: HITZALDIAK 2012/2013 IKASTURTEA
KURUBIOA : Olerkiak
"Irakurketa sustatzen" planari jarraituz, pentsatu genuen olerkiak edo testu laburrak grabatzea. Horretarako, kasu honetan, Mertxeren gelakoek prestatu dute olerki bana eta hemen ditugu emaitzak: Aurkezpena,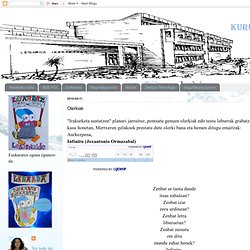 ZUEKIN, TXINTXARRI IRRATIA!!! 107.2 SINTONIAN...
Welcome to PodOmatic! Please carefully read our Terms of Use before using this Site or downloading any of our products, so that you are aware. These Terms and Conditions of Use (the "Terms of Use") apply to the PodOmatic web site located at www.PodOmatic.com, and all associated sites and software linked to www.PodOmatic.com by PodOmatic The site is the property of PodOmatic, Inc. ("PodOmatic") BY USING THE SITE, YOU AGREE TO THESE TERMS OF USE; IF YOU DO NOT AGREE, DO NOT USE THE SITE.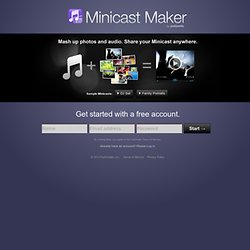 Best Free Podcasts
Podcast & Grabadoras digitales de voz. Espacio podcast
Canal: Kurubioa Por: kurubioa Ranking: 15621 - Ver evolución Descripción del podcast de Podcast Kurubioa : Eskolan lantzen ditugun gaiak, azalduko ditugu, bereziki irratian grabatzen diren irratsaioak. Ver +
Podcast Podcast Kurubioa en Kurubioa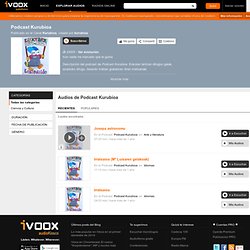 Podcast Podcast Bolintxu en Bolintxu
IPUINAK 1-2 MAILA B: itziar | Glogster EDU - 21st century multimedia tool for educators, teachers and students
With Dictation, you can use the magic of speech recognition to write emails and documents in the browser without touching the keyboard. The app internally uses the built-in speech recognition engine of Google Chrome to transform your voice into digital text. It works offline as well. You don't have to speak in English as Chrome's engine can recognize quite a few languages including Arabic, Chines, Spanish, French, German, Italian, Malay, Indonesian and more. Dication will automatically determine your browser's default launguage and uses it for subsequent transcriptions.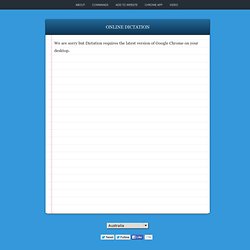 Nire lehen proba Audioboo erabiliz
Euskadiko paraje naturalak
Unai - 'Barrueta kapitaina' by RomoG205 on SoundCloud
Irudia&ahotsa/Voice & photo
pixkabatesmucho: Grabazioak
PhotoFace Demo