3D
Home. Photoshop Tutorials and Flash Tutorials. 3D Design & Engineering Software for Architecture, Manufacturing, and Entertainment. Game Development Tool. Unity is a game development ecosystem: a powerful rendering engine fully integrated with a complete set of intuitive tools and rapid workflows to create interactive 3D and 2D content; easy multiplatform publishing; thousands of quality, ready-made assets in the Asset Store and a knowledge-sharing community.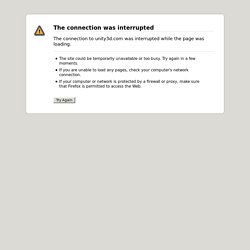 For independent developers and studios, Unity's democratizing ecosystem smashes the time and cost barriers to creating uniquely beautiful games. They are using Unity to build a livelihood doing what they love: creating games that hook and delight players on any platform. What's new in Unity 4. Talk:Main Page.
Unity 3D Video Tutorials | 100% Free | Unity3D Student | The Best Way to Learn Video Game Development. 3D, Maya, Blender and more tutorials from beginner to advanced | Cgtuts+ 3D World – The Magazine for 3D Artists. Tutorials for visual effects artists, concept designers, sculptors and comic book illustrators and traditional artists using Maya, ZBrush, 3ds Max, Photoshop and Painter as well as traditional drawing and painting.
---