Comic 08
"Got Links Shop: General Directory, Free And Paid Listings". Got Links Shop. "Got Links Shop: General Directory, Free And Paid Listings". 30 Artistic and Creative Résumés.
In these tough economic times, many designers find themselves applying for jobs and freelance gigs on a regular basis.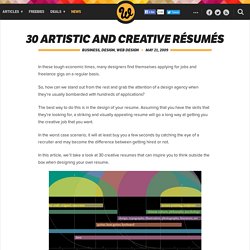 So, how can we stand out from the rest and grab the attention of a design agency when they're usually bombarded with hundreds of applications? The best way to do this is in the design of your resume. Assuming that you have the skills that they're looking for, a striking and visually appealing resume will go a long way at getting you the creative job that you want. In the worst case scenario, it will at least buy you a few seconds by catching the eye of a recruiter and may become the difference between getting hired or not. 70 High Resolution Wood Textures for Designers. Carlincaturas. Carboncito. Calico Electronico. Calbur. C of Circles. Bruno Duhamel. Brian McGee. Brandon Reese.
Brandon Reese. Boris Vallejo. Bob Staake. Blog Ruben Meriggi. Blog de Fernado Sosa. Bko. Bevingtoons.com. Batiborrillo. Barbara Canepa. Awn.com. Autoliniers. Artistic-Point. Artistas Graficos Peru. Arthur De Pins. Apuntes de Ica. Antonio bonicelli. Anime Retro. Animationarchive.org. AnimaMangaWeb. Andrew Shek. Andrew Langley. Andres Edery. Amanda Woodward. Alvarado Arts. Alessandro Toccaceli. Alessandro Barbucci. Alejandro vilas.
Aldo Peredo. Alberto Pagliaro. Alberto Corradi. Alberto Cereiteno. Alan Cook. Adlo. Acid Planet.
---